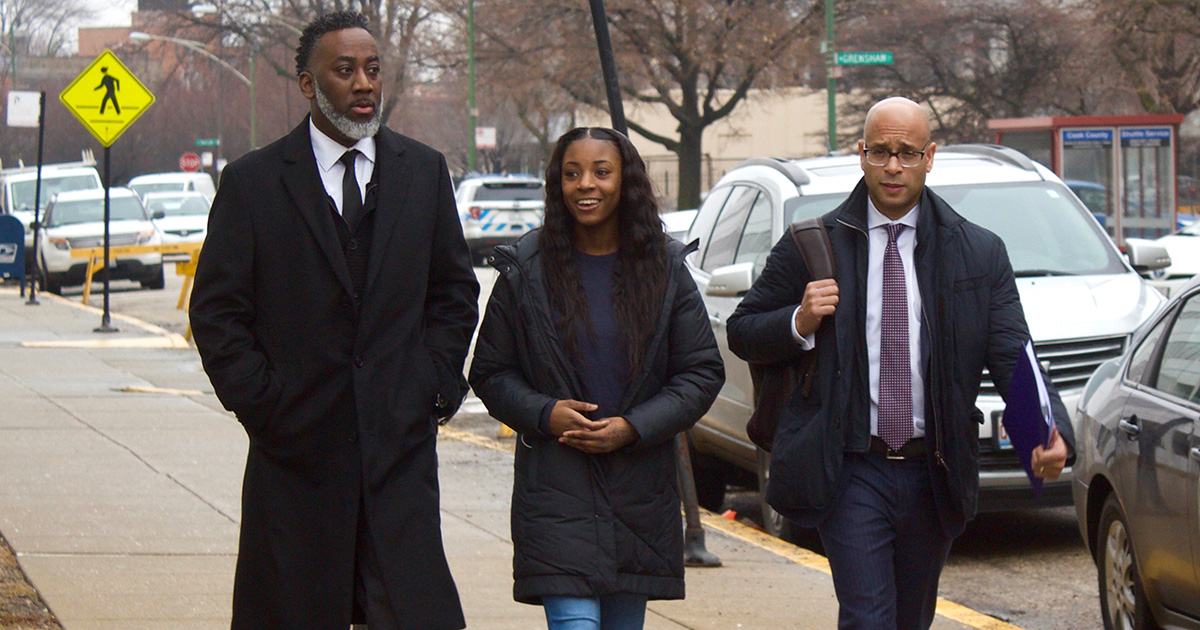 All charges have been dropped against the Marshall High School Student who was tased and punched by Chicago police officers during an incident at the school last month, the Chicago Sun-Times reports.
Three Chicago police officers were seen on video punching and tasing a 16-year-old female student. The disturbing footage shows the officers subduing Dnigma Howard, a black student, by repeatedly using a stun gun on her and striking her with a closed fist.
The incident happened after Howard was suspended the morning of Tuesday, January 29th after getting into an argument with an assistant principal.
When she reportedly refused to leave the building, the officers said she kicked, bit and spit on them, and eventually caused the three of them to fall down a flight of stairs. The teen and the arresting officers were taken to two different hospitals following the confrontation to be treated for their injuries.
Dnigma's account of events is completely different from the story police told Cook County prosecutors though.
The teen told the Chicago Sun-Times that she wasn't asked to leave the building before officers grabbed her.
And though she admitted to biting a female officer's hand (the same officer she said struck her several times), Dnigma said she and an officer fell after she was pushed by one of the cops, and she grabbed the officer's vest as she was tumbling down the stairs.
The incident rekindled the discussion over what role, if any, police should play on K-12 campuses.
Howard was charged with two felony counts of aggravated battery to a peace officer and two misdemeanor counts of resisting and obstructing a peace officer, however, the state of Illinois ultimately decided not to pursue those charges.
"I'm relieved. I'm ready to get back to school," Dnigma told reporters after her hearing at Cook County Juvenile Court on Wednesday, February 6th. She acknowledged she "was wrong" for the role she played in the incident, but said she was simply defending herself against the police's aggressive actions towards her.
Dnigma's father, Laurentio Howard, said he too was pleased with his daughter's charges being dropped.
"I'm very satisfied," Mr. Howard told reporters after the hearing. "This process has been stressful, but I know I have a strong support system in my family that helped us get through this whole situation."
Chicago police, however, weren't so happy with the state's decision to drop the charges against the teen. The police union slammed prosecutors in a statement, saying that they were "shocked and outraged" over the decision.
"This decision is one more example of Kimberly Foxx's administration refusing to protect police officers in favor of offenders," said the Fraternal Order of Police in Cook County.
Even though things turned out well for his family, Mr. Howard is still against having police officers in schools.
"Even though I'm happy that [the officers] are gone, who's to say it won't happen again when new officers take their place," he said before the hearing. "That's what we want to sort out."
Federal data shows that arrests by school police officers affect black students disproportionately. Even though Black students only make up about 15% of school enrollment nationwide, 30% of them are either arrested or referred to law enforcement at school.
Because her charges were dropped, Dnigma Howard is now allowed to return to school, but her dad said he wasn't sure whether she would go back to Marshall High or find a new school.
Be the first to receive breaking news alerts and more stories like this by subscribing to our mailing list.