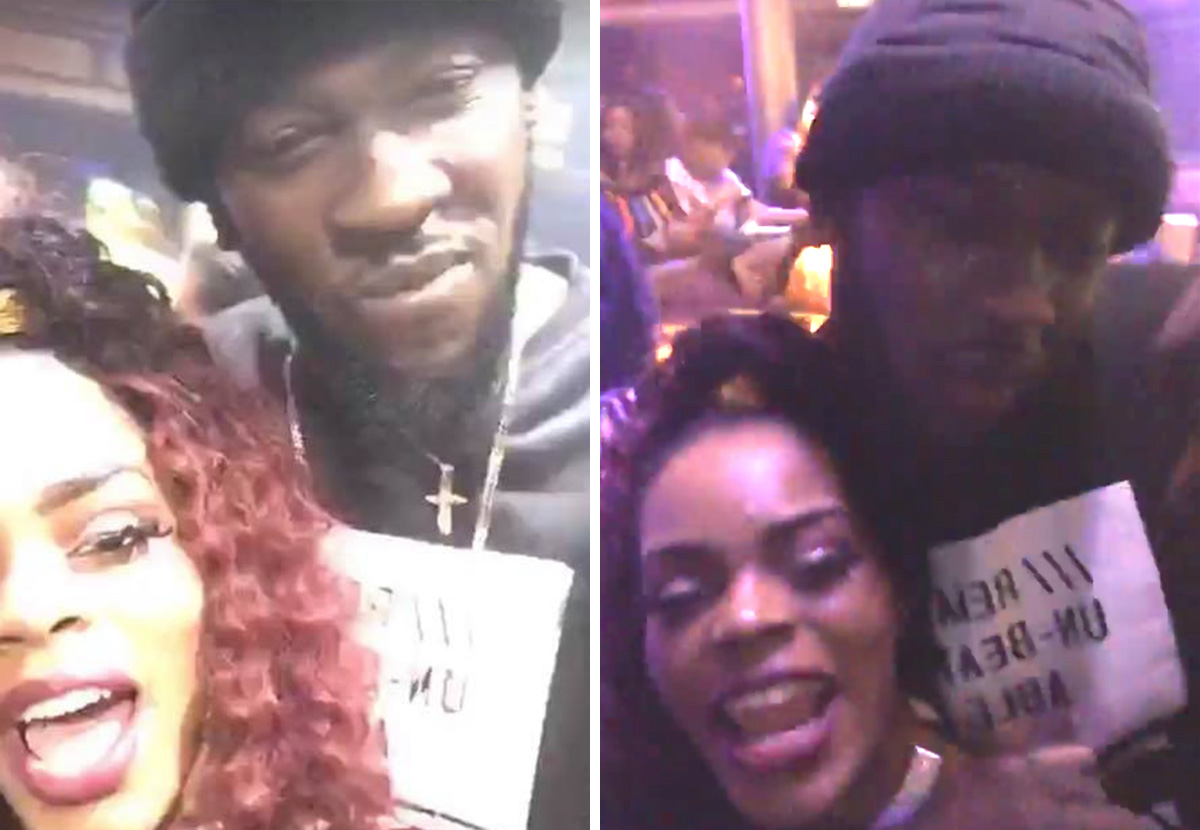 The man who appeared to sexually assault Jasmine Eiland on Facebook Live has reportedly been arrested and charged with aggravated sodomy.
According to Fameolous, Dominique Williams was booked Tuesday (Jan. 29) for the crime and is awaiting his court date.
Online arrest records confirmed Williams was booked in the Fulton County Jail and is currently being held without bond.


Jasmine Eiland was celebrating her birthday at Opera nightclub on the night of January 19th, and was live streaming when she captured the attack as it happened.
Video of the alleged sexual assault went viral on Facebook before being removed. Eiland later posted a video saying she was OK.
A few days after the incident went viral on social media, Williams spoke with Fameolous and told a totally different account of what appeared in the video.
"She got me in this video looking like I really did something to her. She has messages between her and her friends saying that she wasn't raped," he said. "But, she's not coming out and saying that she wasn't raped. She didn't come out and say that she was raped either. These folks are running with it like she was actually raped."
"Nothing happened to this girl," Williams said. "She went to the hospital and got a rape kit. I don't know if I can say this on record, but I'm pretty blessed and I'm 6'4" and she's short. At no point, did I bend down and try to put anything in her. There were lots of people around! Lots of people around."
Williams also said that Jasmine was doing all of this to get back at her ex-husband.
"I guess they were going through something," he said. "So, she's doing all of that mess on social media to get back at her ex-husband. And now the sh** done went viral and got my name all in it and people got video of her dancing with several other people before me!"
In the part of the clip that appears to show Eiland being raped and begging for help, Williams said he was actually helping her off the floor.
"I simply helped that girl!" he said. "I was trying to help her off the floor and she's doing all of that, 'Help me'—all that extra stuff for no f***ing reason!"
Williams has retained the services of an attorney who released a statement proclaiming her client's innocence.
Attorney Shequel Ross said that it was a "consensual dance" (in the beginning) and since the police weren't called as soon as the alleged violation happened, and since Eiland participated in a twerk contest with no panties, Williams should be given the benefit of the doubt.
"I think the evidence will show otherwise… that this was not a rape," she said.
Reports of Williams' arrest comes nearly a week after Eiland reportedly attempted suicide.
"I have no service in the hospital, but she's okay y'all, she responsive now," a family member wrote on Facebook. "She has a 2nd chance at life but she still saying she doen't wanna be here so can THE WHOLE FB just keep y'all negativity & other bs [to] y'all self please. My cousin need his wife & Jasmine Eiland needs to be here with her babies…"
L. Chris Stewart, an attorney hired to conduct an independent investigation on the matter, also gave an update regarding his client's mental state:
#jasmineeiland is alive, despite the rumors. She will get through this. How some people can harass a woman whom they watch get assaulted on video is mind boggling. But that's between them and God. We will get justice.
Meanwhile, an attorney not related to the case, posted a video from a bystander on Instagram appearing to show the moment Jasmine Eiland was allegedly raped.
Attorney Joshua E. Palmer wrote: "For all the skeptics. Video shows #jasmineeiland clearly passed out when the suspect appears to spit on his hand and you see the rest smh. He then carries her passed out body into another room. The video in the other room is too horrific and graphic for Ig. But you saw it. He must be stopped! Where the f@*¢ was security?!?"
Be the first to receive breaking news alerts and more stories like this by subscribing to our mailing list.