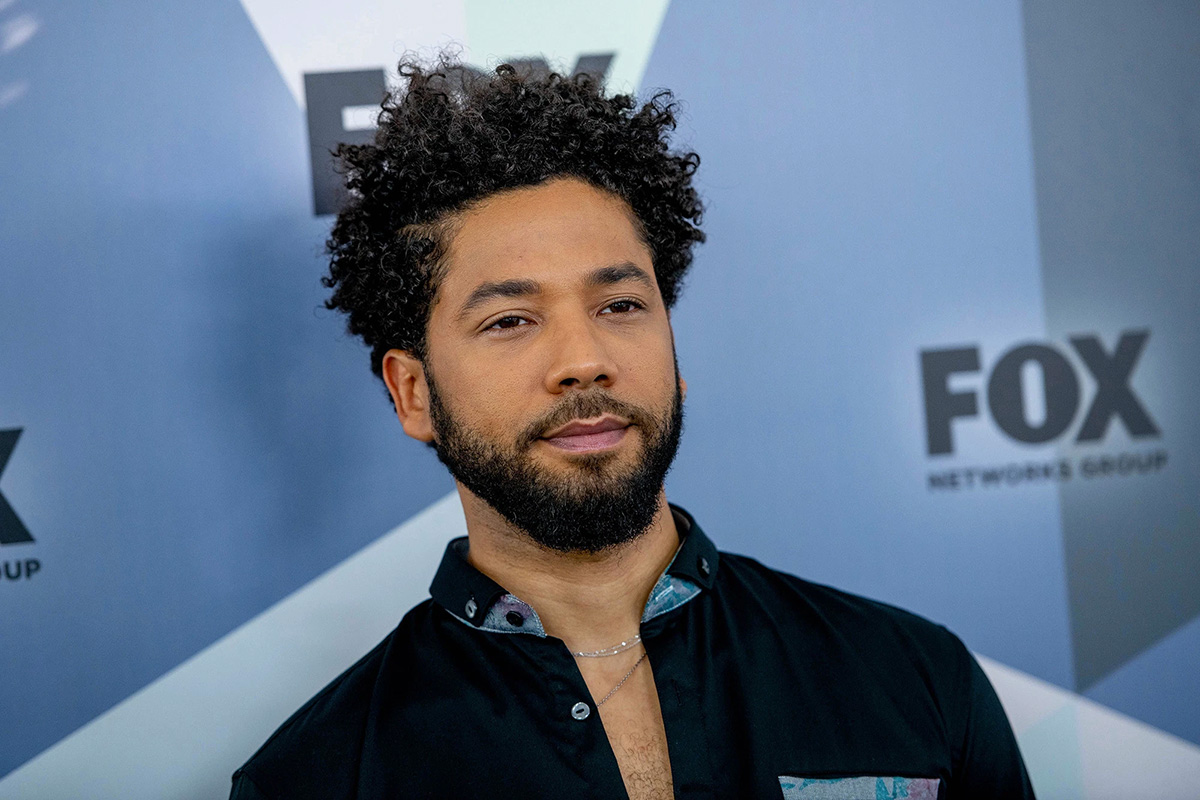 Empire star Jussie Smollett was hospitalized in Chicago Tuesday (Jan. 29) following a homophobic, racist attack from two men who physically assaulted him, put his head in a noose and yelled "This is MAGA country."
Our friends at That Grape Juice first broke the story. According to TGJ, the 35-year-old—who lives in Chicago while filming Empire—was attacked early Tuesday morning.
TMZ reported that the actor/singer had arrived in Chicago from New York just hours prior to the attack.
Sources close to Smollett said that around 2 a.m. he was hungry and decided to walk to a nearby Subway to grab a bite to eat. As he was walking, someone reportedly shouted at him: "Aren't you that f***ot Empire n***a?"
Then two white men wearing ski masks viciously attacked Jussie, who fought back but was outnumbered. The men also reportedly put a rope around his neck, poured bleach on him, and as they left, they yelled: "This is MAGA country!"
Jussie took himself to Northwestern Memorial Hospital where he was treated for injuries including a fractured rib. He was discharged Tuesday morning.
That Grape Juice shared this photo of a letter that was sent to Fox Studios in Chicago with cut out letters spelling out "You will die black f*g."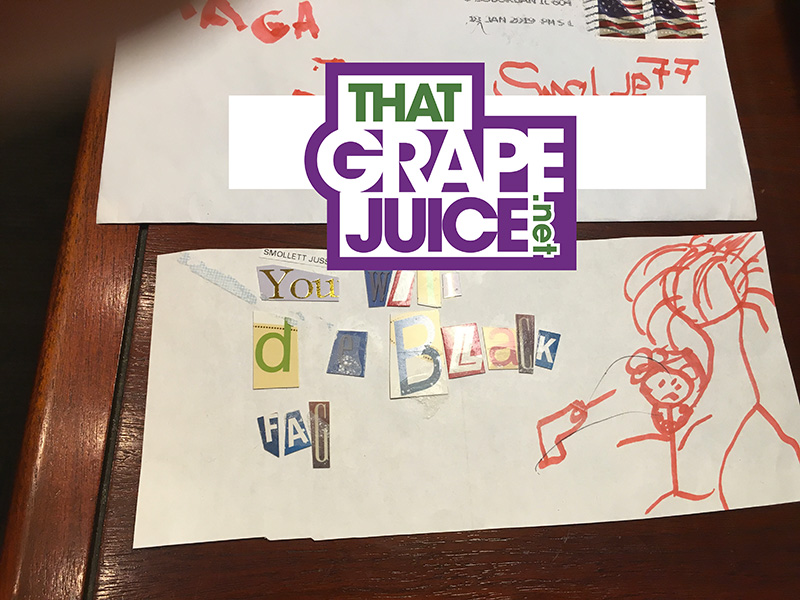 The envelope the letter was mailed in appears to say "MAGA" in the top left corner. TMZ's sources say the letter was sent eight days ago.
The Chicago Police Department is investigating the attack as a possible hate crime and they're trying to determine whether any nearby security cameras were able to record the incident.
Empire co-executive producer Danny Strong issued a statement on Twitter in response to the attack, which he called "racist and homophobic."
"I'm deeply horrified and saddened by the racist and homophobic attacks against @JussieSmollett," Strong wrote. "He is a kind and profoundly talented soul whom I respect with all my heart. The terror of racism and homophobia has no place in our society, it is the most indecent way to live. Whoever did this, do not forget that you are nothing but hate filled cowards while Jussie's talent and activism will continue to shine a bright light on to the world for decades to come."
…whoever did this, do not forget that you are nothing but hate filled cowards while Jussie's talent and activism will continue to shine a bright light on to the world for decades to come.

— Danny Strong (@Dannystrong) January 29, 2019
20th Century Fox has also reacted to the news of the brutal assault on Smollett, saying in an official statement:
"We are deeply saddened and outraged to learn that a member of our Empire family, Jussie Smollett, was viciously attacked last night. We send our love to Jussie, who is resilient and strong, and we will work with law enforcement to bring these perpetrators to justice. The entire studio, network and production stands united in the face of any despicable act of violence and hate — and especially against one of our own."
A number of celebs have also taken to social media to show their support for Smollett, including Lena Waithe, Kerry Washington, Viola Davis, Jackée Harry and more.
https://www.instagram.com/p/BtOiP6MA0ny/
DEAR GOD! Prayers and justice for Jussie Smollett.

— kerry washington (@kerrywashington) January 29, 2019
OMG!! THIS is why the LGBTQ community continue to fight to be seen and PROTECTED against hate!

We ALL have to take this racist and homophobic act of violence very personally! My arms are around you @jussiesmollett. You are loved! https://t.co/bprDZ3Luah

— Viola Davis (@violadavis) January 29, 2019
https://www.instagram.com/p/BtOt-7zhP22/
https://www.instagram.com/p/BtOpgQygFIn/
https://www.instagram.com/p/BtOv6LVgg3O/
We ALL have a responsibility to rise up against the ignorance and hate out there. If you know who did this to @JussieSmollett, REPORT THEM TO THE POLICE.

— shonda rhimes (@shondarhimes) January 29, 2019
I am shaking. I am angry. I am so hurt for you my friend @JussieSmollett. Prayers for your speedy recovery and swift justice for the rotting human flesh carcasses who did this to you. I love you. Story here: https://t.co/H4Ipvci2Vz pic.twitter.com/Vfc5kxlBCq

— Robin Thede (@robinthede) January 29, 2019
Sending love to my brother @JussieSmollett . These trash ass individuals will not go unpunished. pic.twitter.com/IK0kId3tcZ

— Amanda Seales ?? (@amandaseales) January 29, 2019
This is heartbreaking and terrifying…please pay attention to what's happening here. Sending all my love to @JussieSmollett https://t.co/YTJ6bwLDkZ

— Zendaya (@Zendaya) January 29, 2019
Be the first to receive breaking news alerts and more stories like this by subscribing to our mailing list.