It's 2019 and (some) white people still don't understand that food needs to be seasoned. ESPECIALLY CHICKEN.
Case in point:
Y'all wanna get upset by the lack of seasoning on my boyfriends roommates chicken with me pic.twitter.com/R72oHmAf3G

— Anustart (@corihealey) January 8, 2019
28-year-old Cori Healey of Baltimore, MD posted the above photo on Twitter, and it instantly went viral … for very obvious reasons.
"The questionable cutlets belong to Cori's boyfriend's roommate, Steve," BuzzFeed reported.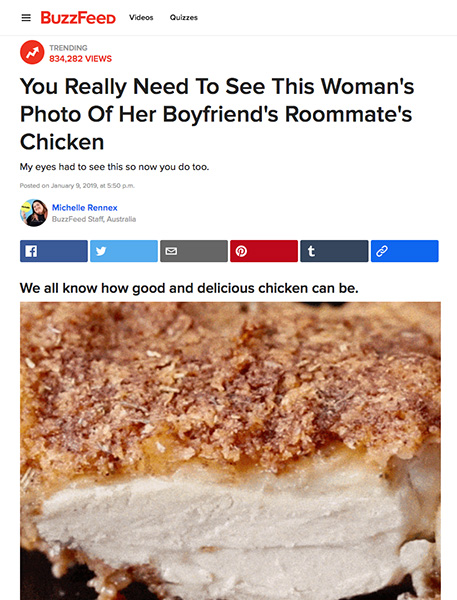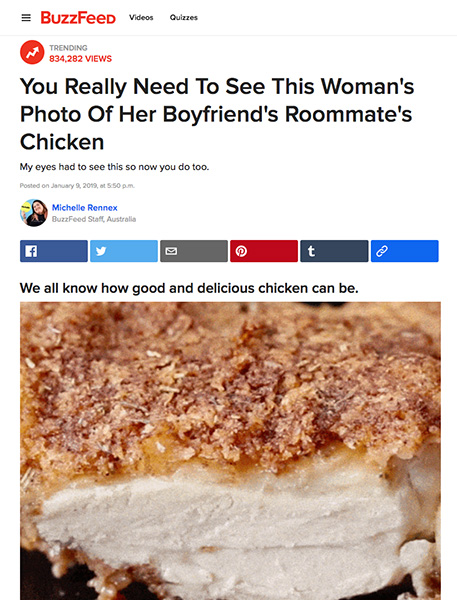 In case you're unaware, THIS is what properly seasoned baked chicken is supposed to look like: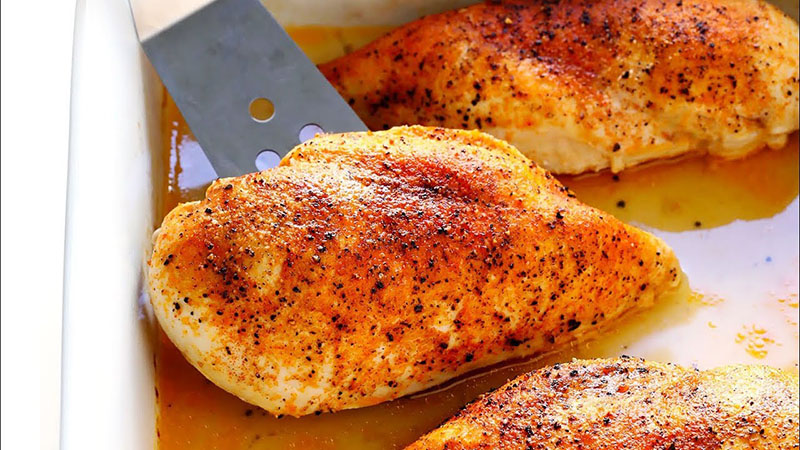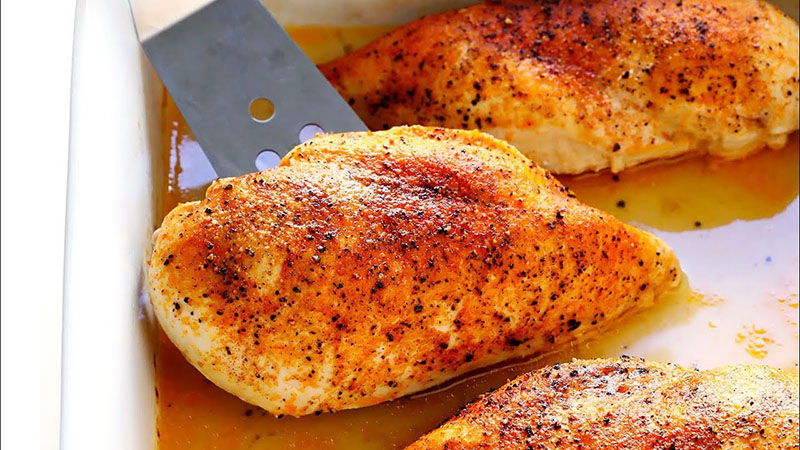 "I am DISTRAUGHT," Healey said in a follow-up tweet. "Pray for him."
Pray for him

— Anustart (@corihealey) January 8, 2019
"We were all cooking food in the kitchen and I opened the oven to check on food on the top rack and then saw the chicken," Cori explained to BuzzFeed.
"I immediately grabbed my phone, took a picture, looked at my boyfriend and said 'want to see a viral tweet?' knowing Twitter would have a FIELD DAY with these unseasoned cutlets."
And, as Cori astutely predicted, Twitter had one helluva field day:
I can taste the sadness.

— Jas Said What (@Pir8Tia) January 8, 2019
Looking like 3 failed heart transplants.

— Tamarra The Aries (@T_monster) January 8, 2019
Dear Lawry's help him for he knoweth not how to season his meat. In the name of the father, salt and pepper shakers. pic.twitter.com/qE3jAjY7sm

— Mocha (@Mochaq2k) January 8, 2019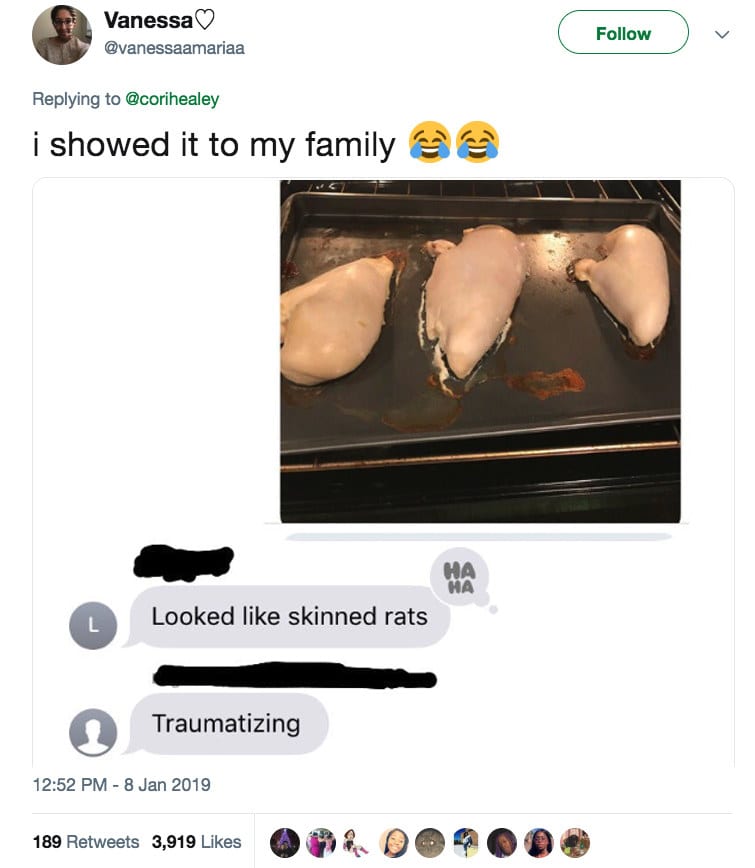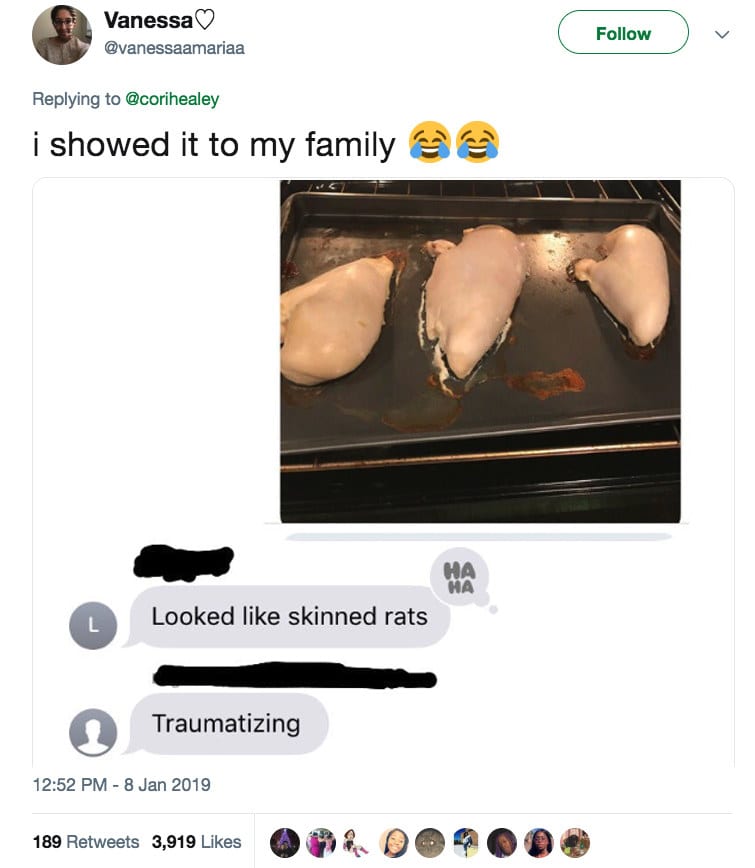 Not even a little S&P? Someone didn't love him enough to teach him how to season things.

— Ben Layne (@BenLayne) January 8, 2019
Not even aluminum foil on the tray- pic.twitter.com/0a0Nj5Qy5g

— Caolicolor (@CaolicolorArt) January 8, 2019
"You gonna oil the pain at least? Even just a little Pam?"
"No, too spicy."

— Benge Drinking my life away. (@AndrewDBenge) January 8, 2019
You'll need a hammer and chisel to get it off that tray. Here's how to do a chicken!! pic.twitter.com/qwYt4xBLnf

— Darren Boyle ???? (@misterscoop) January 8, 2019
This chicken just locked its car doors as I walked by

— liked your reply (@J0J0sC1rcus) January 8, 2019
— BonAppéDee [D'Angela] (@BonAppeDee) January 8, 2019
That chicken's ring tone is "Sweet Caroline"

— JD Cannon (@JamaulCannon) January 8, 2019
This chicken wanna speak to the manager and use her expired coupons

— Tiana Camacho (@TianaCamachoVO) January 8, 2019
I'm almost impressed that it looks both cooked AND raw somehow

— A Gritless Bitch (@KhoiTus) January 8, 2019
In the black community we would call this chicken a crime against humanity.

— Peter Junot (@pjunot) January 8, 2019
Y'all might as well had just cooked some water and threw in on a plate https://t.co/RTJyM1qWzW

— Casey (@LeanandCuisine) January 8, 2019
I'm convinced that's just clay and this is some sort of sick joke

— ?alex?? (@alexsnewname) January 8, 2019
No seasoning, no sauce, not even any butter. This is a crime against poultry.

— Tariq Moustapha (@TheTariqM) January 8, 2019
Vegans Meat eaters
?
This bird died in vain https://t.co/86r0D8UNxs

— kuribucha (@Shower_Capy) January 8, 2019
According to BuzzFeed, Cori kinda sorta confirmed our suspicions, clarifying that "he's half white, so people are half right there."
She also tweeted that the media attention that she's getting is "out of control."
This is out of control. Why do people want to interview me about this. I thought I liked attention but I'm not tryna go on tv and be interviewed about chicken breast. Unless you pay me. I will do it for money AND attention.

— Anustart (@corihealey) January 10, 2019
Somehow someone got my phone number which is creepy as hell

— Anustart (@corihealey) January 10, 2019
But she did enjoy the fact that a local CBS news station didn't censor her vulgar Twitter handle.
Local news displays anustart ?? pic.twitter.com/RRrLIb1ddF

— Anustart (@corihealey) January 10, 2019
Anyhow… Hopefully, her boyfriend's roommate has learned his lesson and in the future will treat chicken with the respect that it deserves.
Chickens gave their lives to feed us. Least he could do to honor their memory is season adequately! ?

— Jana Smith (@HawaiiJEMS) January 9, 2019