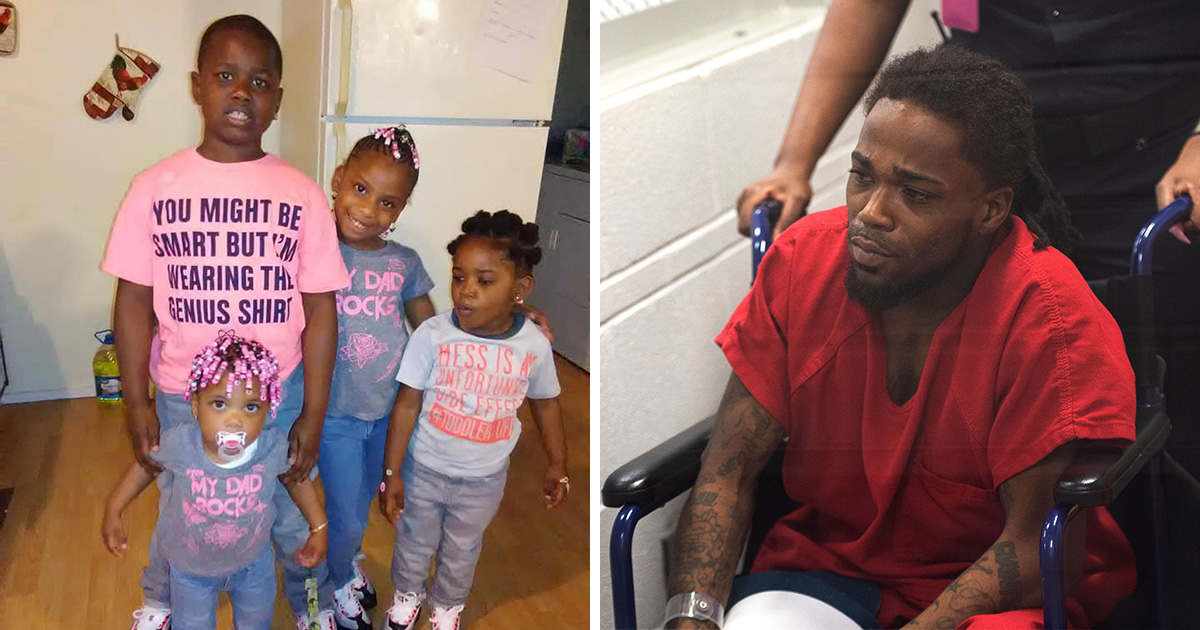 The man responsible for the fatal car crash in South Carolina that claimed the lives of four young children, including two of his own, was hit with a number of charges and could spend more than 100 years in prison, according to news reports.
27-year-old Arnez Yaron Jamison was driving on a country road in Travelers Rest, S.C. (near Greenville) on December 7th when he lost control of the vehicle, ran off the road and slammed into several trees.
There were a total of five people in the 2004 Pontiac van, including Jamison and four young children. Three of the four children—4-year-old Arnez Yaron Jamison Jr., 6-year-old Robbiana Evans, and 8-year-old Jamire Halley—all died at the scene of the single-vehicle crash.
The fourth child in the vehicle was severely injured and taken to the hospital, along with Jamison. The fourth child, 2-year-old Ar'mani Jamison, later died in the children's ICU unit of Greenville Memorial Hospital after being taken off life support. The two younger two of the four children were biologically Jamison's, although his family said he raised all four as his own.
The children's mother, Jacqueline "Jackie" Brown told the Greenville News that her children meant the world to her. "I'm just incomplete now without them," she said. "They were my everything — my heart, my blood, my breath, my motivation. They helped me get through everything I needed to get through."
Jamison, who was in a relationship with Brown, was slapped with a number of charges as a result of the crash, including child endangerment, driving under suspension, driving an uninsured motor vehicle and four counts of felony DUI resulting in death. He was also hit with an additional criminal charge after marijuana was found in the vehicle—possession of one ounce or less of marijuana.
The fatal crash is not Jamison's first run-in with the law. The Greenville News reported that in June 2015 police were called to the apartment he shared with Brown. During that incident, a person who called 911 to report the domestic disturbance said they heard Jamison yelling to Brown "Don't make me knock you out," the News reported.
A responding officer noticed blood on Jamison's clothing and said he reeked of alcohol. The police report stated that Jamison had come home after drinking with friends to pick up more alcohol when Brown told him she thought he'd had enough. That's when Jamison became angry and punched a hole in their wall, the report said.
According to the report, at one point during his arrest, Jamison tried to kick out a window of a police vehicle and later threatened some of the officers. The following month, he pleaded guilty to third-degree domestic violence and resisting arrest and was sentenced to 45 days in jail, according to county court records.
In March 2016, Jamison was involved in a hit-and-run where two vehicles were hit in different locations, the Greenville News reported. He was identified as the suspect in the case and was arrested at his home before being sentenced to 18 months probation.
The Greenville News reported that Jamison was also sentenced to 30 days in jail after being charged with public disorderly conduct and resisting arrest in May of that year. In that incident, officers were responding to a call at a Walmart where Jamison's vehicle was parked in a fire lane.
When officers told him to step out of the vehicle, they detected a strong odor of alcohol on him. He resisted arrest, causing officers to fight with him for several minutes before he was handcuffed.
Later that same year, he was given a trespass notice from an apartment complex, and in November, the apartment manager called the police because he had violated the trespass notice.
When officers arrived, they found him sleeping in an upstairs bedroom, and while escorting him from the premises, Jamison tried to run away, forcing officers to tackle him to the ground. Jamison pleaded guilty to hindering a police officer and violating a trespass notice and was ordered to a pay a fine of more than $1,000.
At Jamison's court hearing for the fatal car crash in December 2018, his family described him as "the sweetest, most generous boy that really screwed up."
Carol McNeil, Jamison's cousin who said she raised him as her own son, told the Greenville News: "I want the community to know that he's a good kid. I understand they're upset and mad, but he's not a monster. He loved his kids. If he can sacrifice his own life for them, he would."
McNeil said Jamison's mother died when he was 11 years old and he's struggled with depression ever since. She told the Greenville News that Jamison told her he "doesn't want to live anymore" after losing his children. "Without his kids, there's nothing to live for," she said he told her.
The four children were laid to rest following two funeral services—one on Saturday, December 15th at Mountain Creek Baptist Church in Greenville, South Carolina, and the other in their mother's hometown of Jersey City, New Jersey on Wednesday, December 19th.
Be the first to receive breaking news alerts and more stories like this by subscribing to our mailing list.