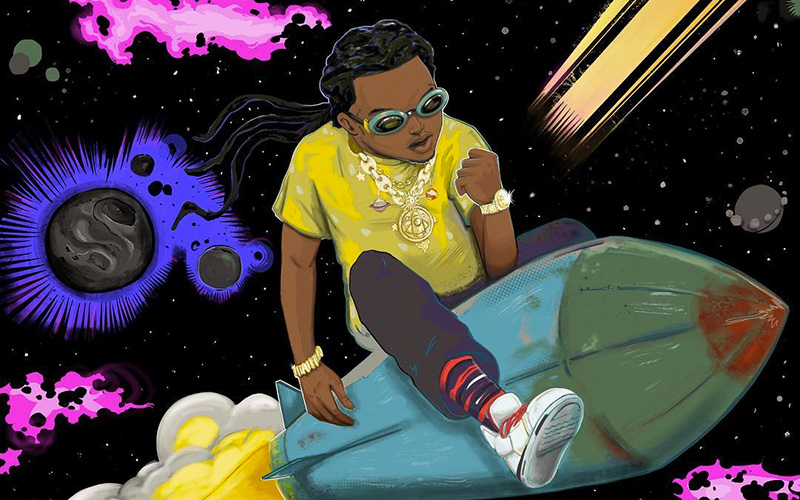 The day has finally arrived. Takeoff's solo debut "The Last Rocket" was released Friday (Nov. 2), and Twitter couldn't be more excited about it.
Last week, the Migos rapper—viewed by many as the group's sharpest lyricist—teased fans with the release of his debut solo single "Last Memory" along with its video, and now, everyone can finally hear what Takeoff has been cooking up behind the scenes.
Takeoff's Solo Album 'The Last Rocket' is Finally Here; Stream: https://t.co/c0zFvHun5b pic.twitter.com/kQSWjzCcrs

— Karen Civil (@KarenCivil) November 2, 2018
Takeoff's solo project, possibly the most anticipated of the trifecta, comes just three weeks after Quavo dropped his debut solo album Quavo Huncho.
Also of note, The Last Rocket only features guest appearances from two artists—Takeoff's uncle Quavo and somebody named Daytona Fox.
LISTEN/STREAM (VIA ITUNES, SPOTIFY & TIDAL) BELOW:
Does The Last Rocket live up to the hype? According to Twitter, yes it does. Peep some of the best/funniest reactions below:
It's Takeoff's turn. #TheLastRocket OUT NOW ? pic.twitter.com/2P6xMVo4la

— Complex (@Complex) November 2, 2018
Takeoff's album is out I repeat Takeoff's album is out!!!!!!

— Kellogz (@4everKelz) November 2, 2018
Someone said this was Takeoff holding all the hot beats for himself ???#TheLastRocket #TAKEOFF pic.twitter.com/42GNsdGNRL

— Doughboy (@DoughboyStar) November 2, 2018
Maybe Takeoff wasn't left off "Bad & Boujee, Maybe Bad & Boujee was left off of Takeoff #TheLastRocket pic.twitter.com/MMvcdKBlHz

— Kendrez Shaffer (@Drez1488) November 2, 2018
New Migos Fans: Takeoff is the worst member

Day one fans:
#TheLastRocket pic.twitter.com/x6z382rjiq

— Kendrez Shaffer (@Drez1488) November 2, 2018
As a migos stan, there are songs on Takeoff's album that are better than Quavo's whole ass album. Takeoff the best Migo 100% pic.twitter.com/4Rru7EHwFB

— Cole Gedwillo (@cole_tg) November 2, 2018
Everybody: can I be featured on your alb-

Takeoff:pic.twitter.com/2MMcmTQSFd

— ?uey. (@SeeHueAround) November 2, 2018
When Takeoff goes platinum & Quavo realises he's not our favourite Migo pic.twitter.com/GmiJr6kfDD

— SUBURBAN DUDE (@BougieVyntage) November 2, 2018
all of us who have been in the "takeoff is the best migo" camp looking at everyone joing our side after listening to #TheLastRocket pic.twitter.com/zibs9LnwKJ

— ??? (@JUL2523) November 2, 2018
Cuz Takeoff did it better https://t.co/06udBdXq2w

— Rev. Eric Dunn (@ericvdunn) November 2, 2018
takeoff album already better than quavos

— BJ ®? (@BASEDJESUS) November 2, 2018
Me after being one song into this new takeoff album pic.twitter.com/MfZiVq9H9E

— Marbgin (@smbmguy) November 2, 2018
Half way into the first song and it's already better than Quavo's album #takeoff pic.twitter.com/HAzubVojbN

— JA (@ASTROSEASONTS) November 2, 2018
Takeoff on the beat be like:#TheLastRocket #takeoff pic.twitter.com/65cNYFS2fZ

— Doughboy (@DoughboyStar) November 2, 2018
this Takeoff solo album: pic.twitter.com/yxtwLzWob6

— francisco (@FHx214) November 2, 2018
I'm only 10 seconds into Takeoff's album and it's already better than that mess Quavo released. #TheLastRocket

— Kendrell Harrison (@Clark_Kentt17) November 2, 2018
Now that we all that have sorted, lets geeeet it #TheLastRocket #takeoff #MIGOS pic.twitter.com/rYCYnNhBXA

— Follow so i can Rt your tweets? (@OhbryanBrian) November 2, 2018
Takeoff leaving the studio after proving to everyone he the best Migo #TheLastRocket pic.twitter.com/fFOKXBKh2T

— Reborn???????? (@goReborn) November 2, 2018
Ok, but what we're not gonna do is ignore this beauty of a transition that Takeoff just gave us pic.twitter.com/5SPZQUUoFq

— Jepp (@j_epp22) November 2, 2018
takeoff album and these transitions pic.twitter.com/4CjTlUcxbt

— frantic?dont panic (@trappnmannequi) November 2, 2018
Infatuation has me like:
RIGHT NOOOOOwwWwwwWw#takeoff #TheLastRocket pic.twitter.com/RDEWXHfg2K

— Doughboy (@DoughboyStar) November 2, 2018
https://twitter.com/InMyZoneTho/status/1058254061282054145
Final Verdict on Takeoff's album pic.twitter.com/O9ZILV6TLg

— (Tiny Loading) ???? (@jonswavyy) November 2, 2018