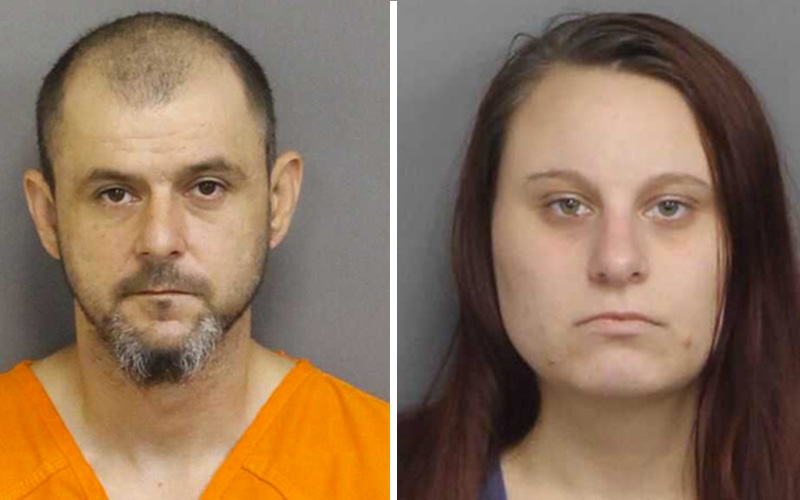 A father and daughter pair from South Carolina were both arrested on charges of incest after the woman gave birth to a baby by her own father that later died.
The Laurens County Sheriff's Office says 20-year-old Katlyn Lauren Edwards and her 38-year-old father James Travis Brown were engaged in an unnatural sexual relationship, which resulted in Edwards being impregnated by Brown and the eventual birth of a child.
After the baby boy died at a medical facility in Charleston, Edwards was arrested and charged with incest.
Brown, who is already in jail in another county on unrelated charges, will reportedly be transferred to the Johnson Detention Center in Laurens County after he's released to face his own incest charges.
The infant's cause of death was heart failure, likely due to complications related to what authorities said was a "consensual and mutual relationship."
Michael Polson, an investigator with the Laurens County Sheriff's Office, said that Edwards "left her husband to be with [her father]."
Polson added that Edwards accused her father of sexually abusing her, but said there was "no evidence of that," and she even at one point said their sexual relationship was consensual.
Polson told People: "All evidence points to the relationship. It doesn't point to abuse. And then she's admitted it was consensual." Polson said Brown also "admitted [the sexual relationship]" and said he felt that his daughter was in love with him.
Investigators said they found evidence to support the claims of a mutual sexual relationship.
Polson says that during Edwards' childhood, her father was "in and out of her life." He adds the two "have a troubled past, but she was 20 years old when she decided to do all this. She wasn't a child." Polson would not elaborate further on what he meant by "troubled past."

In October 2017, Polson says, Edwards "left her husband. She moved in with her father and then they got pregnant together in January 2018. They continued communicating until July, and then it ended. She started seeing another guy."

"She wanted [Brown] to stop and be her daddy," Polson says. "She wanted [Brown] to be a father figure to her." According to Polson, the sheriff's office has handled incest cases before, but this one is unique. "It's usually a victim saying a family member close to them forced sex on them. It's rare to have one to say, 'We had consensual sex and we got pregnant,'" Polson says.

Polson says the baby's death certificate says he died from heart failure. After speaking with doctors, investigators believe the circumstances of the child's birth were related to his death. "Anytime in an incest situation, sometimes the inside of the body doesn't work right," Polson says, citing doctors.
"It is beyond my comprehension how this could take place between a father and daughter. At this time, I can't confirm the baby died from complications related to incest, however we wonder if that's the case," said Laurens County Sheriff Don Reynolds. "We are working with medical professionals and the Solicitors Office regarding that aspect of the investigation and will update everyone if there are any additional charges."
Be the first to receive breaking news alerts and more stories like this by subscribing to our mailing list.