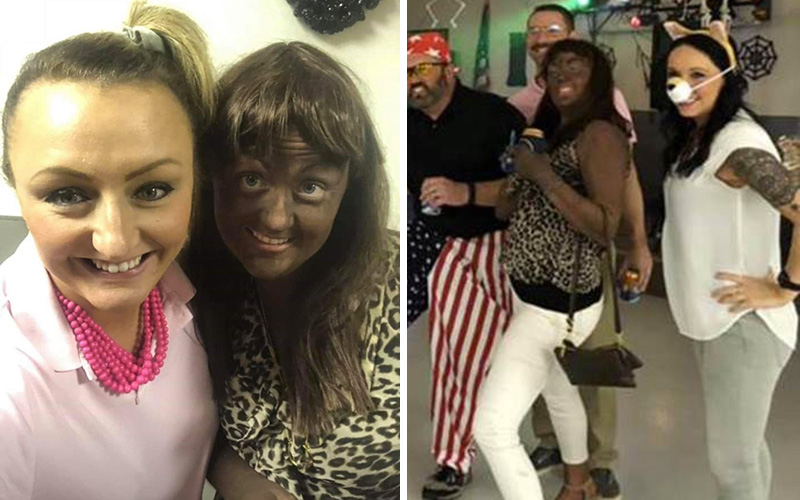 I feel like in the year 2018 (hell, it's almost 2019), the following statement should just go without saying, and every single person should have it ingrained into their subconscious: doing blackface isn't cool. Like, stop. Just stop.
Well, apparently that lesson hasn't fully sunk in for some people, because an Iowa teacher is currently under investigation after she attended a Halloween party rocking blackface. And that lady is Megan Luloff, a first-grade teacher at Walcott Elementary in Walcott, Iowa.
According to reports, Luloff (who is now being referred to as Megan the Minstrel) showed up to the Walcott American Legion's "Boos Bash" rocking an outfit that was supposed to be Lafawnduh, a black character from the movie Napoleon Dynamite.
What's even worse is it was a group costume with a handful of her friends also dressing as characters from the movie, and not a single one of them took a moment to stop and say, "Hey, maybe this isn't cool, Megan."
Instead, they all nodded and went along with it, and now look where we are.
"It's sad," said Vera Kelly, president of the MetroCom NAACP Unit 4019, Davenport. "It takes me back to when I was a little girl. You would think people wouldn't have that type of mindset now."
Because of the incident, Luloff is under investigation and her picture has been removed from the school's website. What makes this whole thing even worse, though, is that the school she teaches at is currently under strict supervision by the state of Iowa for discriminating against minority students.
This is because the district reportedly placed a disproportionate number of non-white students in special education classes and disciplined minority students more frequently and handed out harsher punishments than it did to white students.
Linda Hayes, the woman responsible for overseeing the solution to this issue, said, "I cannot clearly articulate how offensive and appalling it is to people of color. In light of our recent developments within the district, this was in very poor taste, not to mention totally out of line with regard to professionalism."
The district itself has also issued a statement, reading, "The district was very recently made aware of these images of a district employee at a non-school related event, and an internal investigation is currently ongoing…This situation is not taken lightly by any member of the board. The district will determine how to best address the matter after further investigation."
You know who hasn't made a statement? Megan the Minstrel. What a shocker, right?
All I know is that she now joins the likes of other dumb white people not understanding race relations in America today. We've got Golf Cart Gail, Cornerstore Caroline, Hallway Hillary, BBQ Becky, and Permit Patty.
Who are you taking in your starting five?
Be the first to receive breaking news alerts and more stories like this by subscribing to our mailing list.