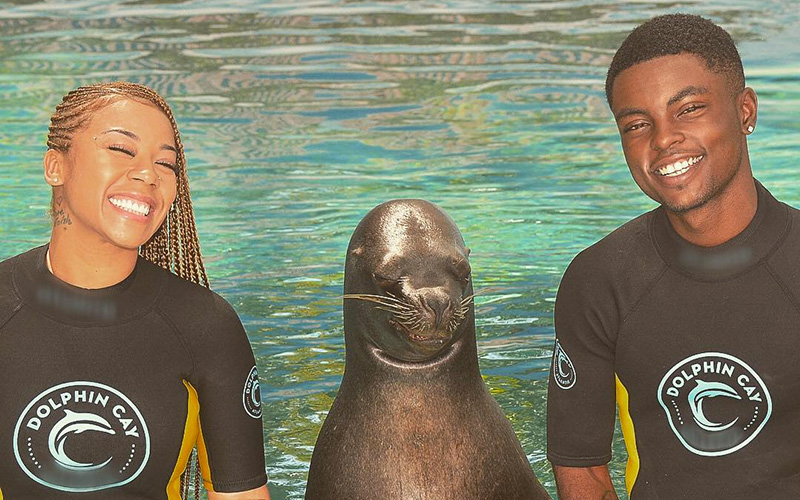 Keyshia Cole appears to be madly in love with her much younger boyfriend Niko Khalé.
Keyshia took Niko on vacation to Dolphin Cay at Atlantis Paradise Islands in the Bahamas to celebrate their birthdays, which are just a few days apart. Keyshia just turned 37 on October 15th, while her barely legal boy toy Niko turned 23 two days later on October 17th.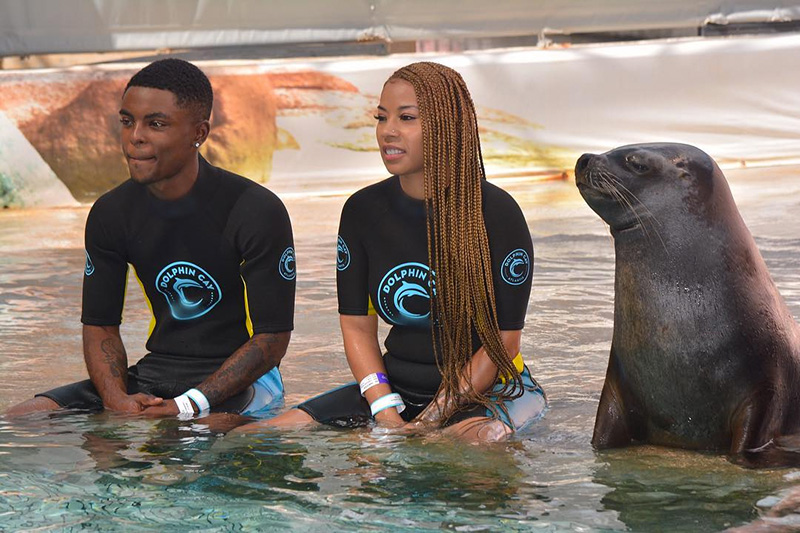 The both of them have shared photos and videos from their vacation all over Instagram. Keyshia captioned one of the photos:
My babes, @nikokhale myself and a Sea lion named Dolce … Can't even trust a sea lion, smh ? she was all up on bae, I ain't lying [y'all] … SHE WAS DEFINITELY A LITE WIBE
https://www.instagram.com/p/BpAnS7OAyNt/
Keyshia also shared a video with her boyfriend's new song playing in the background (FREE PROMO?!) along with a special message:
Happy BDay to My libra, I appreciate you, I love you, and thankful for your presence, Sooo So happy we were able to spend our BDays TOGETHER, You've also been inspiring me, to not give up on my music, in times of being discouraged, Your work ethic has been impeccable! Soo I gotta show Your new project, that you released TODAY, Some love!!!! Keep grinding Maaaa Doooooo!!!! It gets better!!! #ONMYOWN EP OUT NOW., By @nikokhale You guys check it out and let me kno what u think!?
https://www.instagram.com/p/BpDLCEkg5nU/?taken-by=keyshiacole
And Niko shared his own video, this time with music playing in the background, as he and Keyshia sang to each other about "birthday d**k":
It isn't clear exactly how long Keyshia and Niko have been dating, but the couple first went public with their relationship on social media back in February, and they've been regularly posting photos of each other on their respective accounts since. She even wrote a lengthy post defending her relationship against "judgemental" people:
"Now the reason I'm posting The pepper to my salt @nikokhale is because he's been such a sweetheart to me, and I know people have been very judgmental about our relationship but I gotta nurture what nurtures me."
The pair apparently hit a rough back in June, however, when Keyshia deleted all of her Instagram photos and made her account private and Niko deleted most of the pics and videos of Keyshia he had on his page as well.
At the time, Niko posted a photo of himself with the caption "What's far fetched to a dog off the leash?" insinuating that he was single before changing the caption to "My drip a little different" after folks started questioning him in the comments.
About a month later, the two were back on strong like donkey kong, as Niko updated his IG with a bunch of new photos/videos of Keyshia, captioning one pic: "N**** that's ALL ME… she ain't goin no where." And Keyshia posted a bunch of photos of them enjoying the Fourth of July together with Keyshia's 8-year-old son DJ, whose father is Keyshia's ex-husband, former NBA player Daniel Gibson.
Also in July, Keyshia Cole trolled the internet with a fake pregnancy announcement for which she later (kinda sorta) apologized:
"I KINDA APOLOGIZE for #TROLLING yesterday, telling y'all I was ##Preggo !!!! Buuuuuuut y'all need to stop body shamming me and sayin I'm PREGNANT EVERY OTHER DAY !!!! Like seriously, it hurts my feelings … HEY @fashionnova … thought it was sweet that you all were excited about the news tho"
https://www.instagram.com/p/Bk6KSGoA0jA/?utm_source=ig_embed
Be the first to receive breaking news alerts and more stories like this by subscribing to our mailing list.