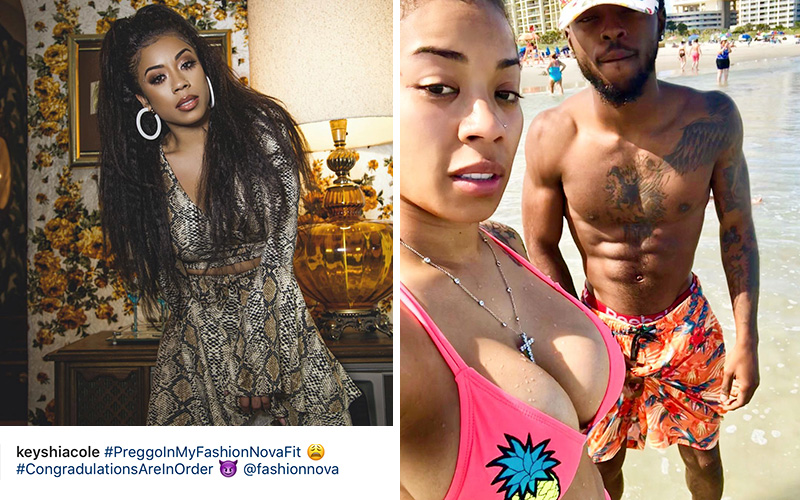 UPDATE: Keyshia Cole says she was just trolling about the whole pregnancy thing.
"I KINDA APOLOGIZE for #TROLLING yesterday, telling y'all I was ##Preggo !!!! Buuuuuuut y'all need to stop body [shaming] me and sayin I'm [PREGNANT] EVERY OTHER DAY !!!! Like seriously, it hurts my feelings HER @fashionnova thought it was sweet that you all were excited about the news tho @NikoKhale."
---
Original story:
Keyshia Cole is pregnant with her second child.
Just days after a gossip site spilled the tea that Keyshia Cole was pregnant with her young boyfriend's baby, the 36-year-old singer decided to go on ahead and confirm the news herself via Instagram.
In an Instagram post advertising clothing brand Fashion Nova on Thursday, Keyshia confirmed her pregnancy with the use of hashtags: "#PreggoInMyFashionNovaFit #CongradulationsAreInOrder" and the weary and devil face emojis.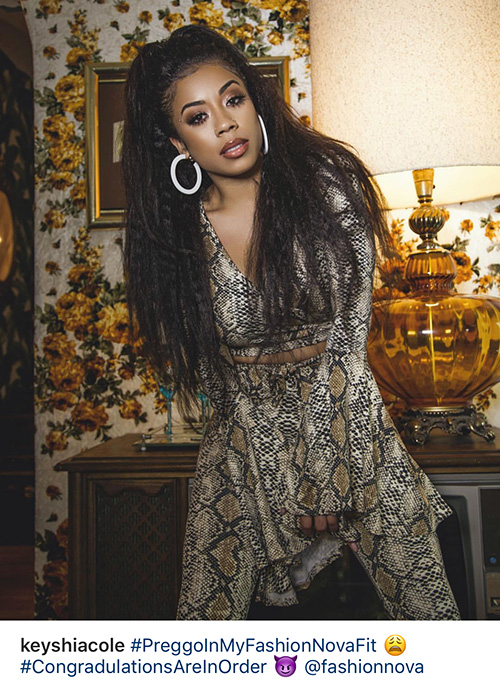 Gossip In The City broke the news via their private Facebook group first Sunday evening (Jul. 1), writing, "Keyshia Cole a** is pregnant by the little boy. I thought they broke up but they didn't. She should announce it soon as she makes it past the safe zone."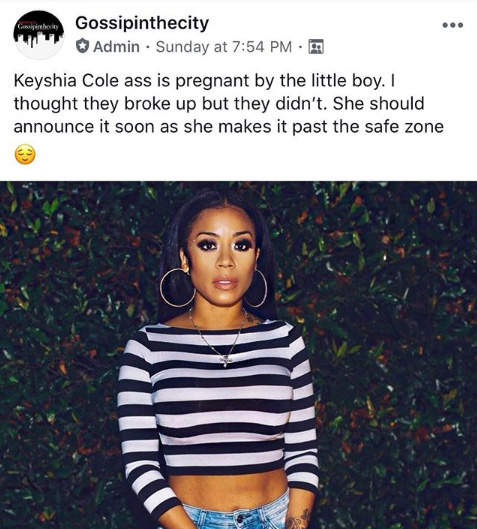 We're not sure if Keyshia is "past the safe zone" just yet, but it looks like Gossip In The City's report made her go on ahead and announce the news herself.
Though she didn't explicitly reveal who her baby daddy is, it wouldn't be wrong to assume that it's her 22-year-old rapper boyfriend Niko Khalé, considering she just posted a photo of him with her and her son DJ on the 4th of July.
"#HAPPY4Th from Me and My loves @daniel_gibsonjr & @nikokhale," she captioned the pic.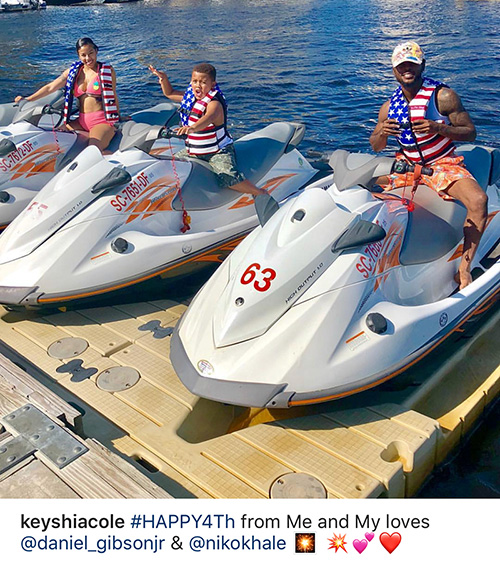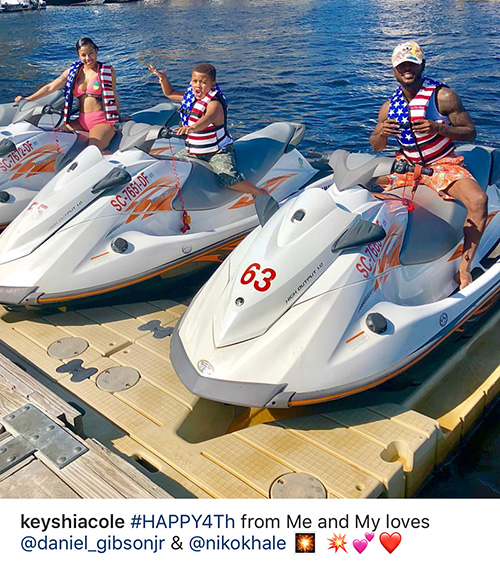 Khalé posted the same photo along with another one of just him and Keyshia. He captioned his pic: "Jus livin our best lives."
DJ (Daniel Gibson Jr.) is Keyshia's 8-year-old son with her ex-husband, former NBA player Daniel Gibson. Cole and Gibson split in 2014 and documented the aftermath of their divorce on last season of Love & Hip Hop Hollywood, which showed off a pretty awkward living arrangement (he was living in her house).
If you've been following Keyshia and Niko's relationship, you'll know that the couple broke up not even a full month ago.
Back in mid-June, Keyshia deleted all of her Instagram photos and made her account private, and Niko deleted most of the pictures and videos of Keyshia he had on his page as well. He also posted a photo of himself with the caption, "What's far fetched to a dog off the leash?" (insinuating that he was single) before changing it to "My drip a little different" after folks started asking him questions in the comments.
But it looks like all of that is in the past for the couple, who have only been dating for a few months. Niko has even updated his IG with a bunch of new photos/videos of Keyshia. "N**** that's ALL ME… she ain't goin no where," he captioned one pic. He even posted a video of the two of them enjoying some of his new music:
Keyshia and Niko first went public with their relationship on social media back in February, and the two have regularly posted photos of each other on their respective accounts since. She even wrote a lengthy post defending her relationship against "judgemental" people:
"Now the reason I'm posting The pepper to my salt @nikokhale is because he's been such a sweetheart to me, and I know people have been very judgmental about our relationship but I gotta nurture what nurtures me."