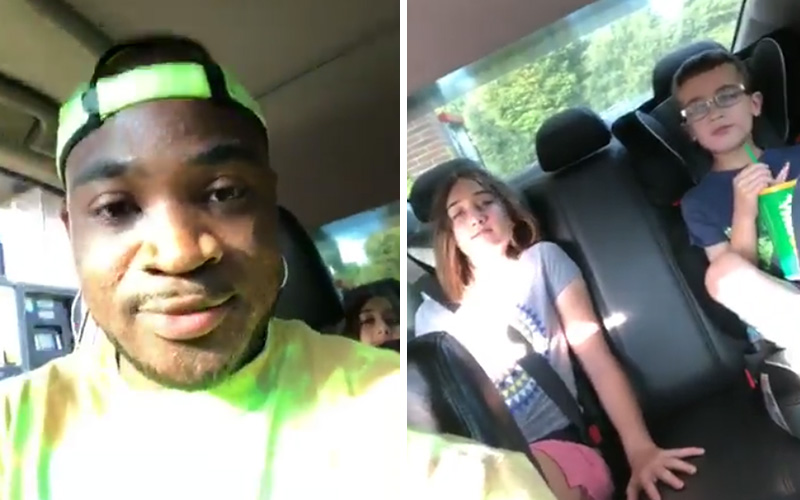 A black man named Corey Lewis said that a white woman followed him and called the police on him while he was babysitting two white kids.
Lewis was leaving a Walmart Subway in Marietta, Georgia on Sunday (Oct. 14) with two white children he was babysitting when a white woman drove up beside his car to ask if the kids were OK. "Why wouldn't they be OK?" Lewis responded, according to an interview with NBC News.
The woman, apparently concerned for the children's safety—because white children with black people is always cause for alarm—didn't stop there.
Lewis said after the woman drove off, she returned and asked to speak to the oldest child, Addison. Lewis said no, because stranger danger, which upset the woman and prompted her to take down his license plate number. And if that wasn't enough, Lewis said the women followed him all the way to his house, where he was met by a police officer.
Lewis recorded the entire interaction and posted the video on Facebook, where it quickly went viral.
"All because I got two kids in the backseat that do not look like me, this lady has took it upon herself to take my plate down and call the police," Lewis said in the video. "It's crazy. It's 2018 and this is what I gotta deal with. I can't go out with two kids that do not look like me and without something being weird."
"This lady followed me all the way home to my neighborhood. I'm about to pull up to my crib and let my mom handle this," he said.
"What's up, man?" the police officer asks Lewis. "I'm being followed and harassed, that's what's up," Lewis responds.
"Please explain to the officer who Mr. Lewis is, please," Lewis tells the kids, 10-year-old Addison with her 6-year-old brother Nicholas, as the cop asks them to get out of the car.
Addison explained that Lewis has a youth center and he's babysitting them. She said he took them to Walmart, then eat at the Subway, and on the way home, they were followed. The cop, clearly annoyed by the whole thing, told Lewis and his mother he was just making sure they were alright.
After being questioned, the kids called their parents, who were not pleased with what went down.
"I said are you telling me that because a woman saw a young African-American male with two white kids that they were pulled over by the police?" the children's mother, Dana Mango, said she asked the police officer. "He was apologetic and said, 'Yes, ma'am, I'm sorry that appears to be what happened,'" she recalled.
Mango said she didn't think the woman was truly concerned for her kids. "It doesn't make sense in light of what happened. They weren't crying, they weren't distressed," she said. "There was only one thing that she saw that was out of place and that was kids of a different race than the person they were with. That's not a concern for the kids. That's racial profiling."
The couple told Atlanta's CBS46 news that they had arranged for Lewis to babysit their kids two weeks ago. Their son attends Lewis' youth mentor program called "Inspired by Lewis." The children's father, David Parker, said Lewis was harassed and stalked. "B-W-B which I guess is the new thing, babysitting while black," said Parker.
The woman who called the cops on Corey Lewis has not yet been identified, which means the internet has some work to do.
Be the first to receive breaking news alerts and more stories like this by subscribing to our mailing list.