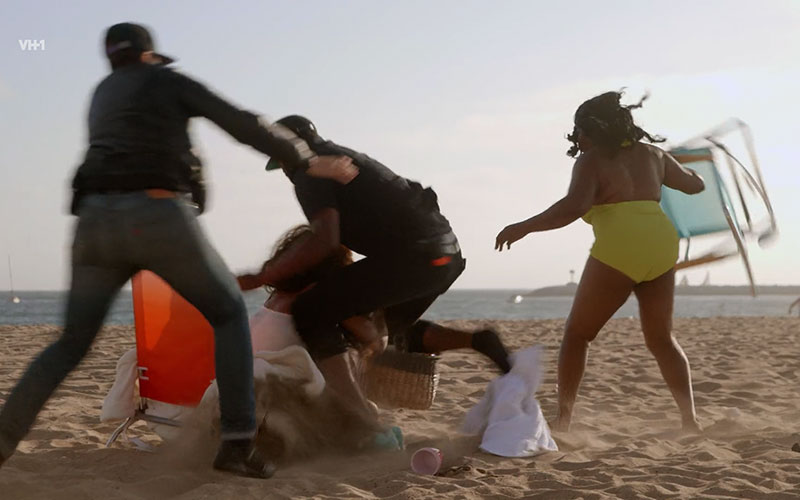 Those of us who've regularly been following Love & Hip Hop Hollywood already know about the off-and-on feud between A1 and Lyrica's mamas Pam Bentley and Lyrica Garrett. One minute they're brawling, the next they're patching things up, and then a minute later they're back to beefing all over again.
This season, they've been at odds over rumors that Lyrica cheated on A1 with Safaree. On this week's episode, A1 and Lyrica "surprised" their mothers with a beach house vacation, where they were supposed to patch things up.
Just when things started to look like they were going well between these two, sh** started to go all the way left when Pam got pissed off that she wasn't invited to A1 and Lyrica's first ultrasound appointment. "How come I wasn't invited?" Pam asks, to which Lyrica G responds, "I don't know… maybe you need to ask A1."
This question always starts an issue. #LHHH pic.twitter.com/aR9oqtCgR0

— Love & Hip Hop (@loveandhiphop) October 2, 2018
Then all hell broke loose after Pam brought up the fact that she wants "to have a DNA" once the baby is born to see if he's really her grandson. (Spoiler Alert: A1 and Lyrica said they're having a boy yesterday on Wendy Williams, plus they already did a pre-birth DNA test, and A1 IS the father.)
Lyrica G called Pam "ignorant" and Pam responded by trying to throw a beach chair at her. The whole thing was a hilarious mess, and Twitter was in shambles over it, and the fact that Pam and Lyrica G can't ever seem to get their wig game straight.
Bossip probably said it best: "It's a shame these women couldn't get along because they could really bond over blend struggles and bundle poverty."
Peep the hilarious tweets below:
Pam was looking crazy af with that lipstick and we won't revisit Lyrica and her wigs because that's a dead horse at this point. #LHHH pic.twitter.com/zP1NsEjNkG

— ????? (@String_Bean_15) October 2, 2018
Lil Lyrica, Big Lyrica, Mama Pam….These wigs ain't it, chief. #LHHH

— The Soul Gem ?? 14,000,605 (@AfrocentrkGypsy) October 2, 2018
#LHHH
I was hoping grandmom Lyrica and Pam was going to put on their cover ups before the fight..but they didnt..who was responsible for this scene. ???

— Elaine Costa (@elove817) October 2, 2018
I'm just waiting on Big Lyrica and Pam to fight in their bathing suits on the beach lol #LHHH #lhhhollywood pic.twitter.com/7sPJQ40ZwN

— A'Dayja Cook (@dayja_a) October 2, 2018
I wish my momma would be on tv acting or looking like Pam or Lyrica G #LHHH

— Valesha B. (@Valesha31) October 2, 2018
Pam take that up with A1 #LHHH with that tacky wig pic.twitter.com/TmDRnEBNQh

— Jason's Lyric (@JRzthoughts) October 2, 2018
Pam & Lyrica have the worst wigs on the ?#LHHH

— ???????????? (@AbsolutLIBRA) October 2, 2018
I think Lyrica & Pam argue so much because their wigs are always a hot ass mess. Who does their fucking hair?! I just wanna talk. Like, why are their wigs always a mess? Lyrica's wig is never that fucked up. But, mama Lyrica's is. And so is Pam's. ? #LHHH

— ????? ????? (@_AsToldByVAL) October 2, 2018
#LHHH Pam and Lyrica G. struggling to get out of their chair to fight is the highlight of the episode ??????? pic.twitter.com/hROo1fYMYK

— Bowser with the Good Hair??? (@POPOFFSON_) October 2, 2018
Lyrica G almost died trying to get to Pam. Yall seen how security tackled auntie? Lmaooo. Ayo. #LHHH pic.twitter.com/oiLyXuu3p1

— Heavy on da Mak Sauce (@themaleunicorn) October 2, 2018
Pam: Why wasn't I invited?!?!

Lyrica G:#LHHH pic.twitter.com/FLoECUR3cT

— J.Solo (@JJustITA) October 2, 2018
Lyrica G and Pam at the beach after Pam asked for a DNA test #LHHH pic.twitter.com/TkrOALRwr2

— B E A N Z | Living My Best Life Right Now! (@PhotosByBeanz) October 2, 2018
???? Lyrica Sr. and Mama Pam fighting in these swimsuits #LHHH pic.twitter.com/nZJ7AXgc4Z

— ??Freestyle Unity's Biggest Fan?? (@1LipstickBandit) October 2, 2018
I'm sick of Lyrica and Pam geriatric fight club bullshit ??. But Ima still watch it ?#LHHH pic.twitter.com/NrZ5aofJJz

— SOLO (@dnzl96) October 2, 2018
I live for the Lyrica Sr. and Mama Pam scenes!! They need a spinoff! ? #LHHH

— ??Freestyle Unity's Biggest Fan?? (@1LipstickBandit) October 2, 2018
Pam and Big Lyrica every damn scene. #LHHH pic.twitter.com/yuXftViCFE

— Brooke (@BigBroPeanut) October 2, 2018
I swear Pam and Lyrica G need to be in the main cast they are much more exciting then their kids #LHHH

— shay (@gemini6490) October 2, 2018