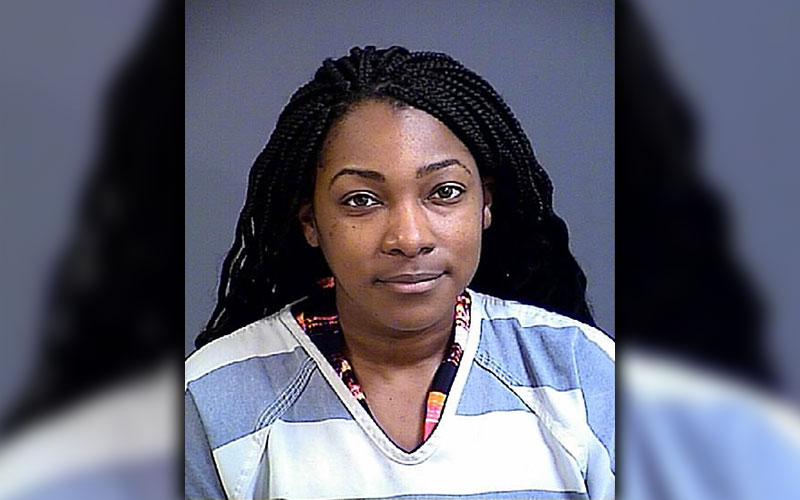 A former South Carolina teacher allegedly forced a student to have sex with her multiple times, and actually lowered his grade after he began to fend off her advances, according to a lawsuit filed by the student's mother.
The suit, which was filed last month on behalf of the then 17-year-old male student and his mother, alleges that 28-year-old Jennifer Danielle Olajire-Aro—who taught math and was a tennis coach at Burke High School in Charleston, S.C.—blackmailed the teen into having a sexual relationship with her, and when he eventually refused, she would remind him that she controlled his grade.
The lawsuit says that the boy told his mother after the teacher dropped his grade from a 98 to 89 when he refused to have sex with her in December 2017. After confessing to the sexual encounters with the teen, Olajire-Aro was arrested that month and charged with sexual battery with a student. She was released on $100,000 bail and her criminal case is still pending.
The suit, which claims negligence, is against Olajire-Aro's employer (the Charleston County School District). She is not named as a defendant.
The student's complaint argues that the district failed to properly give him a "safe, educational, and harassment-free environment to receive a high school education" and accommodated "an environment which enabled [Olajire-Aro] to prey on the vulnerabilities of adolescent males."
According to an affidavit, Olajire-Aro allegedly engaged in "an intimate and sexual relationship with her 17-year-old male student" on three occasions between November and December 2017 at her home and other locations in Charleston.
Olajire-Aro taught pre-calculus and algebra at Burke, the Post and Courier reported. She graduated from the University of Texas with a master's degree in education, and had no prior record, her attorney said.
Olajire-Aro—a native of Dallas, Texas—also has a family of her own. "She is married. Her husband is a student at the Medical University of South Carolina (in) the residency program. She has a 10-month-old baby, a girl," her attorney said in court in December.
A Charleston County School District spokesman declined to comment on the lawsuit as it is pending litigation. He said Olajire-Aro was hired by the district in 2017 and was placed on leave on December 18th, the same day officials found out about the allegations.
Olajire-Aro was fired in late January 2018, the district spokesman said.
Be the first to receive breaking news alerts and more stories like this by subscribing to our mailing list.