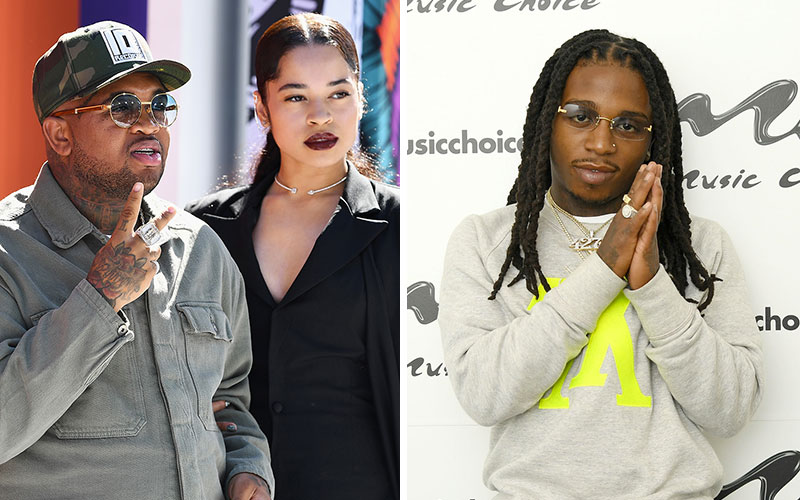 DJ Mustard is letting it be known that he was the one who had Jacquees' viral cover of Ella Mai's newest hit single "Trip" removed from the internet.
Jacquees, who is known for his "Quemixes," decided to put his own spin to Ella Mai's "Trip" and even shot and released a video for the song before she had a chance to.
Ella's video was uploaded to YouTube last week (Tuesday, September 18th to be exact) and since then, Jacquees' version has been scrubbed from the web.
Fans on social media started dragging Ella after news spread that she reportedly had Jacquees' version of the song deleted and allegedly planned to sue him.
ella mai a whole bitch for making jacquees delete the trip remix just because he had more views than her.

— c babi? (@Carleywebster9) September 25, 2018
Ella mai a hating ass hoe .. how you mad cause Jacquees version better? ???? bitch really sued him

— LATIE.? (@theylovelatie) September 25, 2018
Jacquees trip wayyyyy better than ella mai's idc what y'all sayyyy?

— instagram: @maceo ? (@maceoxo) September 26, 2018
Jacquees did a whole 2 mixtapes called Quemix where every some was a remix to somebodies song. And here he is working on Quemix Vol 3 and Ella Mai wanna get mad because his songs better then her original pic.twitter.com/HQYmi8tNJv

— Perfect Imperfection (@Mr_Harrington42) September 26, 2018
@ellamai YOU MAD JACQUEES TRIP WAS BETTER THAN YOURS BITCH FUCK YOU

— jariyaah.?? (@theonlyriyaah) September 25, 2018
But, none of that was true, according to DJ Mustard, and he has since come to the defense of Ella—who is signed to his 10 Summers record label—after folks accused Ella of forcing Jacquees to delete his "Trip" cover/remix from YouTube and Soundcloud because his version had more hits than hers.
In response to the speculation, DJ Mustard decided to set the record straight once and for all because he's "tired of people picking on" Ella Mai.
"Our artists don't send cease and desists, we do," the producer wrote in a Twitter post. "When you monetize content you don't own you are stealing and no one steals from 10 Summers. Ella had no say in the matter and any platform reporting differently is spreading falsities."
I'm not going to blogs or any media outlets to address this Jacquees situation ima address it right here and after this we will never address anything like this again I'm just tired of people picking on @ellamai !

— Mustard (@mustard) September 26, 2018
To whom it may concern . pic.twitter.com/w3lzuU5tqM

— Mustard (@mustard) September 26, 2018
Jacquees' team has also responded to the drama with their own statement (via Billboard), confirming that there is no beef between the two artists.
"For the new people who are just catching up to who Jacquees is as an artist, this has become very controversial for no reason," reads the statement. "We love Ella and are cool with her team as well. He has been releasing not only Quemix songs but entire projects with remixes of other artists' songs ranging back to 2013. This was an act of genuine support and should not turn into negativity for either of the artist or from their supporters."
Jacquees also hopes that he and Ella Mai can work on an official collaboration in the near future.
"There is still hope for the song as an official remix or maybe fans will get something better that is an original collaboration," the statement added.
https://www.instagram.com/p/BnG9cYplyZl/?utm_source=ig_embed
Be the first to receive breaking news alerts and more stories like this by subscribing to our mailing list.