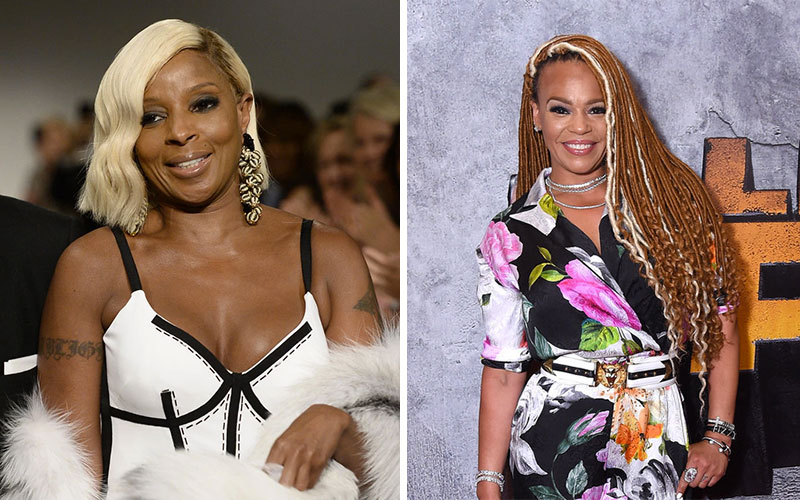 Mary J. Blige and Faith Evans became trending topics on Twitter over the weekend after a rumor spread that they had gotten into a fight at a New York Fashion party hosted by Diddy in the Hamptons.
Well, as it turns out, the whole thing was just fake news. Mary J. Blige and Faith Evans DID NOT get into a fight at a NYFW party hosted by Diddy in the Hamptons.
As a matter of fact, Diddy didn't even have a party in the Hamptons. And on top of that, Mary J. Blige was thousands of miles away in Louisiana that night … and Faith Evans was even further away in Newport Beach, California.
"The story is completely fabricated," the Executive Vice President of Communications for Combs Entertainment told Heavy.
"This is totally false," a rep. for Faith Evans assured Hollywood Life. "I have no idea how this rumor started. Puffy didn't even have a party." The "Soon As I Get Home" artist reportedly was in Newport Beach, California, not Long Island, New York, at the time of the alleged incident.
Mary J. Blige shut the rumor down herself while doing press at a Dennis Basso show for NYFW Monday (Sep. 10). "Of course that was made up. I was shooting a movie in Louisiana … I just got here today," she told Page Six.
Rumors of a fight between the R&B legends were fueled by accounts of a fight that really went down between rap stars Nicki Minaj and Cardi B Friday night (Sep. 7).
Video footage from the highly publicized brawl shoes Cardi trying to go after Nicki Minaj, but after being stopped by the latter's bodyguards, the former took her high-heeled shoe off and threw it at her.
Cardi—who left the party with a huge knot on her forehead, either from getting hit by Rah Ali (someone in Nicki's entourage) or one of Nicki's bodyguards—then took to Instagram to explain that Minaj had insinuated she wasn't a good mother to her child, Kulture.
As news of that fight spread, someone made up a rumor that Mary J. Blige and Faith Evans had also gotten into a brawl, and it quickly spread like a wildfire on an already busy weekend for news and crazy headlines: Mac Miller died, George Zimmerman threatened Beyoncé and JAY-Z, Machine Gun Kelly dropped an Eminem diss track, Post Malone got into a car accident, a white female cop walked into a black man's home and shot him to death, and more.
Opens twitter:
– Cardi B and Nicki Minaj fist fighting at a fashion week event. In gowns.
– Mary J. Blige & Faith Evans throw hands at Diddy's party. In the Hamptons.
– George Zimmerman reportedly threatened the lives Beyoncé and JayZ pic.twitter.com/sCCKXYFTiD

— Darlene Rodriguez (@Darlene4NY) September 8, 2018
Recap of yesterday:

1. Mac Miller passed away, RIP
2. Post Malone got in a car accident
3. Nicki and Cardi fought
4. Mary J. Blige and Faith Evans fought
5. The cop from the apartment lied
6. George Zimmerman sent threats to Beyonce
7. Obama gives speech bashing Trump

Wild

— Chavis ™? (@Official_Chxvis) September 8, 2018
The person who started the rumor about the Mary J. Blige and Faith Evans fight eventually came forward and apologized, saying that they were simply making a joke to "illustrate how stupid the [Cardi B]/Nicki Minaj beef was" and they "didn't [think] people would believe it."
Fake pic.twitter.com/RGVjYwn3ou

— The Gospel Gangsta ™? (@TheSongLion) September 8, 2018