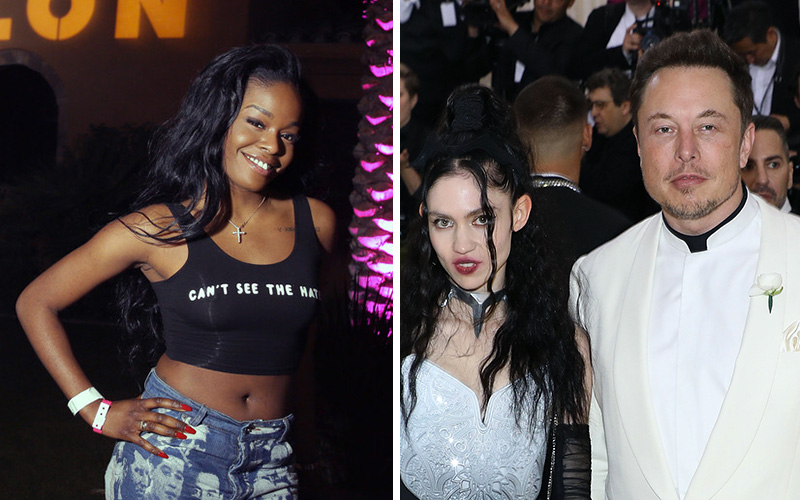 After deciding to put her upcoming album Fantasea II: The Second Wave on hold after the Wildn' Out debacle, it looks like Azealia Banks is back in the studio working on new music.
And it seems like she's doing whatever it takes to finish her collaboration with Canadian singer Grimes, even if that means waiting around the musician's boyfriend Elon Musk's home all by herself for days.
The rapper and professional word vomiter said that's exactly what she's been doing in a message share shared to her Instagram story over the weekend.
"Literally been sitting at Elon Musks waiting for Grimes to show up and start these sessions," she wrote. "I have no idea when she is coming back. I'm going to wait one more day then I'm going to go home."
Later, she compared her stay at Musk's house to Jordan Peele's 2016 Oscar-winning movie "Get Out." She wrote: "Staying at Elon Musk's house has been like a real [life] episode of 'Get Out'"
She then went on one of her signature rants full of slurs and TMI, suggesting Grimes and Musk wanted to have a threesome with her and calling them both "crackheads" and Musk a "trash a** beta male pig."
She also accused Musk's family of profiting from mining emerald and ore in southern Africa during apartheid, called him ugly said he was on the Down Syndrome spectrum. Oh, and she also said he was a "mutant."
Read her entire rant below:
"LOL, Elon Musk is better off hiring an escort. At least an escort would have kept her mouth shut about his business. He's got some dirty-sneaker-inbred-out of the words Pabst beer p***y methhead-junkie running around town telling EVERYONE EVERYTHING ABOUT HIM. All because he needed a date to the Met Gala to hide his shrinking d**k from Amber Heard LOL.

"A f***ing rebound. A beta male who took steroids and got hair plugs to convince himself he was alpha. There's no reason, that in this collab with Grimes, I know so much about 'Elon Musk' … Grimes is really an idiot.

"And Elon Musk is really a part of the problem. When you talk about white male privilege and colonialism… His family's wealth is rooted in emerald and ore mines in southern African during apartheid.

"This trash a** beta male pig was given his start in life because his disgusting racist parents took advantage of thousands of black people…..

"Ask Elon Musk what the f*** he does for Africa? Nothing, he ignores it. These fake a** libertarian sh** bags.

"And hes ugly. The thin grey lips. The froggy eyelids. Un-uniformed hair growth pattern. Pork skin. He's own the Down syndrome spectrum. FOR SURE

"There's something not quite right about that man. I wouldn't give the credit of calling him an alien. He's a mutant. His humanoid group emerged/crawled out of the Caucasus cave system 15,000 years after the first Caucasian homo-sapiens did. He's really a caveman."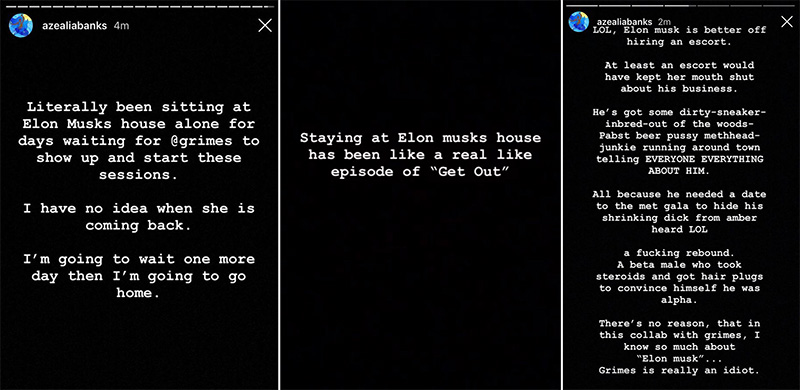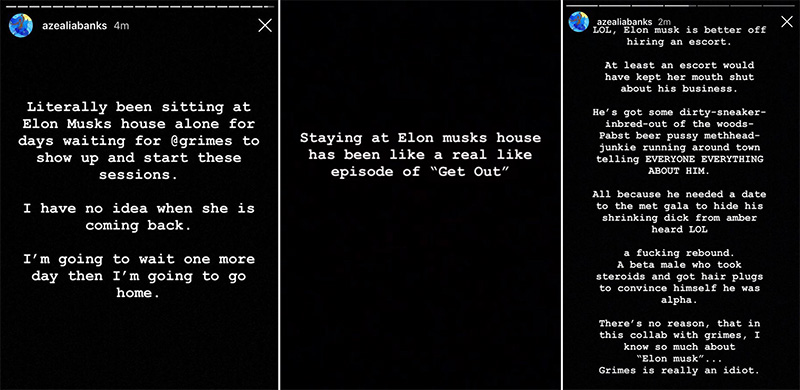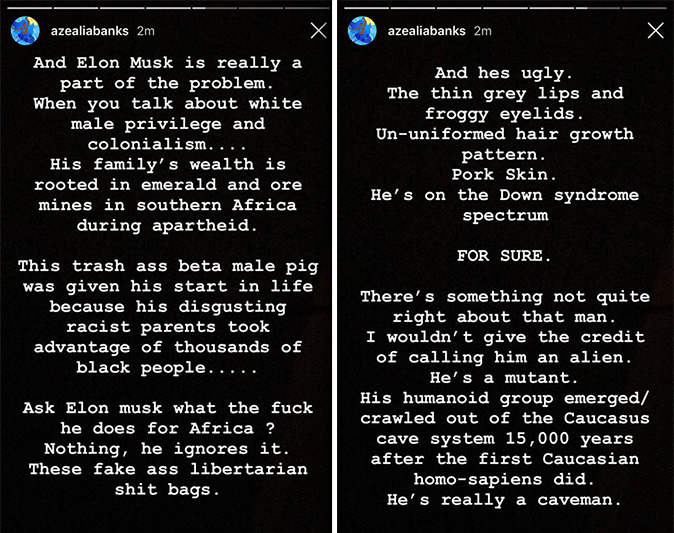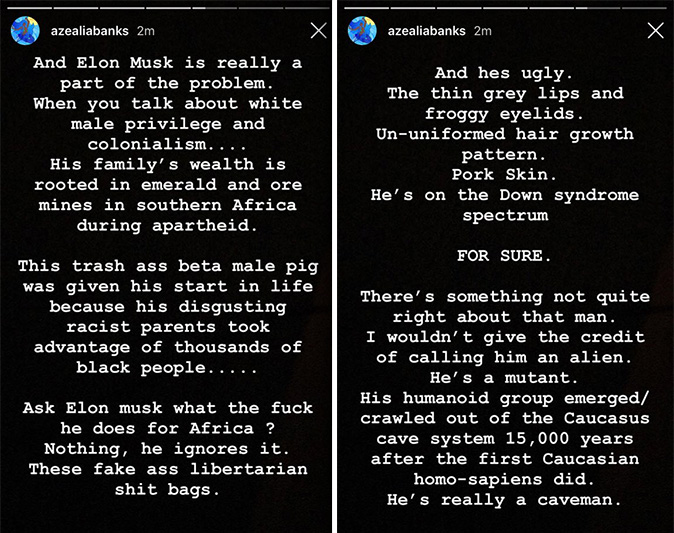 And that's not all. Banks, apparently after being accused of holding herself hostage, continued:
"Holding myself hostage? So you mean to tell me I specifically invited myself into your home after weeks and weeks of you telling me how your man thinks I'm hot and begging me to come to LA to work with [your] crusty a**? F***ing crackers. The last time I try working with a white b**ch.

"They're both two f***ing crackheads. [He's] tweeting on acid f***ing up his own stocks and whatnot. A real life dummy The nerve of these crackheads to think I would put my fully human lips on them. Absolutely atrocious.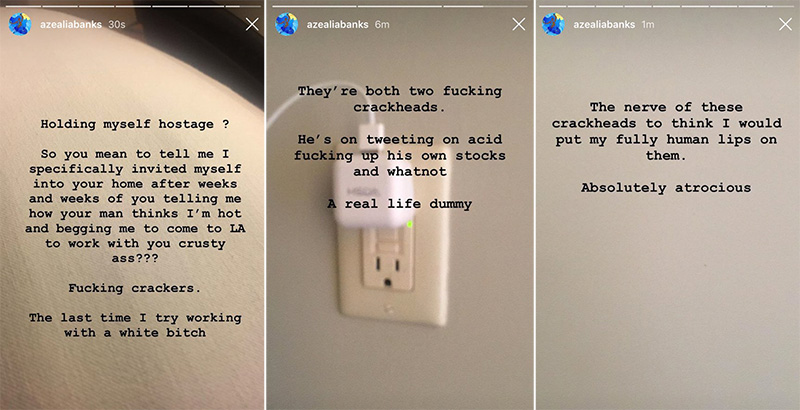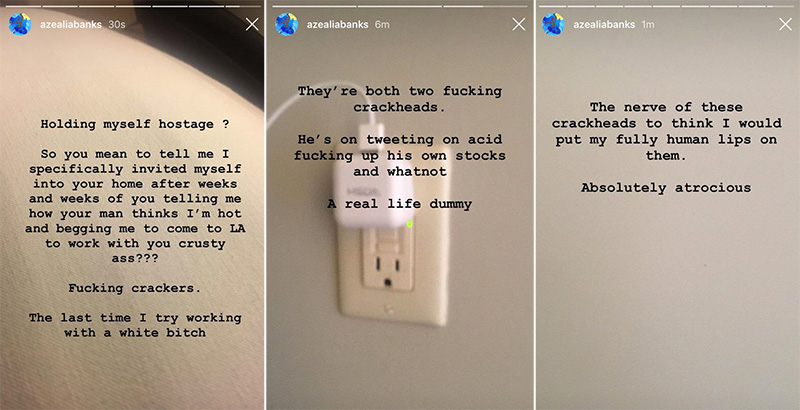 After waiting for days, Banks said she received a first-class plane ticket out of L.A., which she did not appreciate.
"Lol I waited around all weekend while Grimes coddled her boyfriend for being too stupid to know not to go on Twitter while on acid. Then she had the nerve to go ghost and 'book me a first class flight' thru Roc Nation as if she's big enough to send ME out of La. Ha!

"I should have stayed my ass in NYC. They invited me here to stay and told me I couldn't bring my boyfriend…. Lol… it was probably some weird threesome sex sh** to begin with….."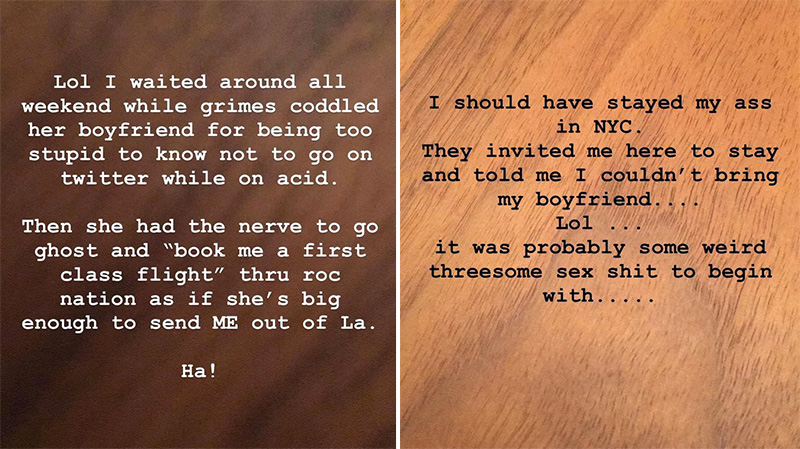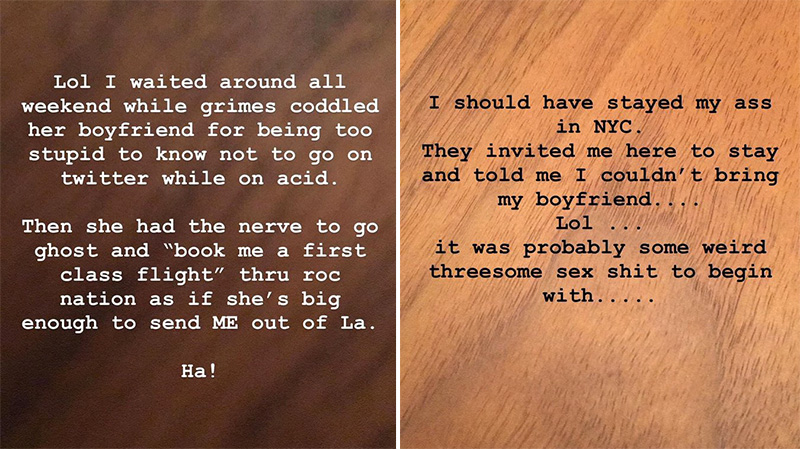 Yikes. This is a far cry from the excitement Banks expressed last month on Twitter when she found out she was going to collaborate with Grimes.
"Omg I'm listening to f2!!! All the songs are finished except Lorelei and Grimes song," she tweeted. "I have a session next week with Alex Carapetis to lock Lorelei down. Then I go to LA to finish grimes and oh yes!! Finish Paradiso two! But daaaaaaaamn there's some heat!"
Guess it's safe to say this Grimes collaboration won't be happening after all.
Be the first to receive breaking news alerts and more stories like this by subscribing to our mailing list.