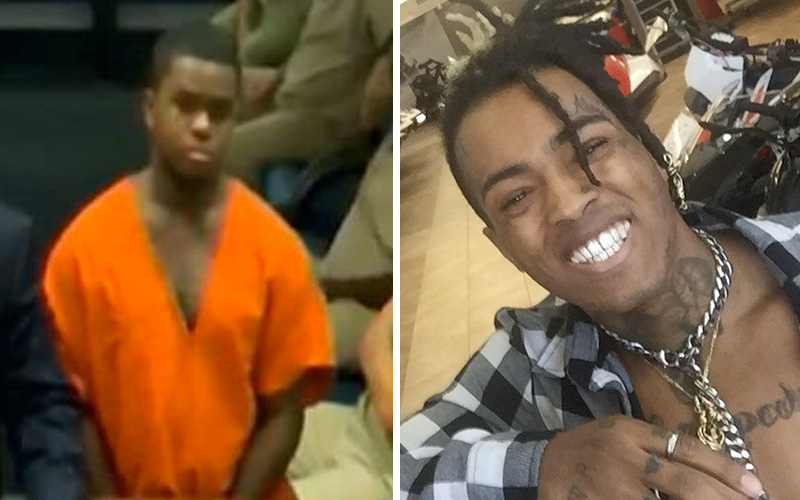 According to the Broward County Sheriff's Office, reports that XXXTentacion's murder suspect was raped in a Florida jail are NOT true.
TMZ says that law enforcement officials at BSO told them the story floating around the internet over the past few days saying that 22-year-old Dedrick D. Williams was raped in the Broward County jail facility is "flat-out false."
The report from the website Hip Hop Overload cited someone claiming to work in the Dade County Jail system who said that Williams was "getting a shower when he was ambushed with an attempted rape."
BSO's Public Information Officer Veda Coleman-Wright said the story was "unfounded" and that none of what was said didn't happen. Basically, Williams was NOT physically assaulted nor was he raped.
Two weeks ago today (Mon, Jun. 18), XXXTentacion was shot to death outside of RIVA Motorsports in Deerfield Beach, Florida. Police were able to track Williams down and arrest him because he was seen wearing the same orange sandals he had on when he allegedly took part in the shooting death of the 20-year-old rapper on Instagram. He's being held without bail.
Police have reportedly identified a second person of interest in XXX's murder case, a 22-year-old man named Robert Allen, who was captured on surveillance video at the same motorcycle shop where X was gunned down. Investigators haven't released the name of the third person involved, who they're still looking for.
Last week, XXX's family, friends, and fans celebrated his life with two separate services—a public memorial service held Wednesday (Jun. 27) at the BB&T Center in Sunrise, FL, which was attended by thousands of the rapper's fans, and a private funeral held the next day.
In an incredibly eerie instance of art imitating life, XXXTentacion released a music video showing him attending his own funeral. The video was for the rapper's latest single "SAD!" which is currently the No. 1 song in the country after experiencing a massive sales and streaming boost after his tragic death.
Be the first to receive breaking news alerts and more stories like this by subscribing to our mailing list.