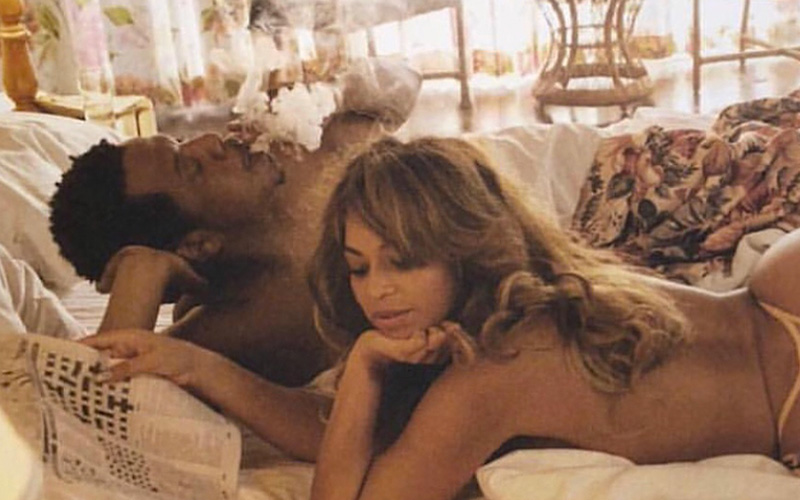 It's rare that we get a glimpse into the uber-private lives of Beyoncé and JAY-Z, so you'll have to excuse the Internet for losing it over recently released photos of the couple basically naked in bed together.
Mr. and Mrs. Carter kicked off their "On the Run II" stadium tour in Europe last Wednesday (Jun. 6), which gave the world an inside look at the twins, their vow renewal and some intimate home videos of Bey's second pregnancy.
https://twitter.com/OTRIITour/status/1004478866793132032
https://www.instagram.com/p/BjwP7Pgn-XF/?tagged=beyonce
Bey and Jay also decided to put their nekkid bodies on display in a tour book featuring some private photos of the two lovers laid up in bed.
In some of the photos, you can clearly see Beyoncé's "cheeks," and in the pics of her and JAY-Z, it's obvious that both were definitely in their birthday suits with only a bed sheet (or cleverly placed arms and legs) to cover them.
Fans who have purchased the $30 "OTR 2" tour booklets uploaded some of the photos online…
https://instagram.com/p/Bj05kf0gGAD/?utm_source=ig_embed
…And the internet, unsurprisingly, absolutely could NOT handle it.
Beyonce got yams for days. Help me Lord.

— Jehovah's Thickness (@ksmityyyy) June 9, 2018
Beyonce in a thong?

Kim Kardashian about to post an X-ray. pic.twitter.com/wTCR2cnAkf

— e m e k a ? (@emekanu) June 9, 2018
What time does the Beyonce challenge start? pic.twitter.com/uk1JyP4yeJ

— ????? (@samanthe_H) June 10, 2018
Beyoncé left you dancing to single ladies, went home and made twins ?

Now she's gonna leave you posting nudes on social media with niggas who ain't ready to settle? pic.twitter.com/higYwjdVis

— OFENTSE ® (@ofentse_potase) June 10, 2018
Y'all already know jay Z and Beyoncé picture about to be all over your timeline now like "MOOD" ??????

— Z? (@ChocolateDropZa) June 9, 2018
While some of the comments were generally positive, most of them were focused on how uncomfortable JAY-Z looked, and let's just say… those were the best/most hilarious reactions:
https://twitter.com/CrazyClarine/status/1005541987997675520
Hov took a pic with a naked Beyoncè with a "I guess if that's really what you want to do fine do you boo" look on his face. What is life?

— Desus Nice (@desusnice) June 11, 2018
Y'all too ugly to say "I'm good love, enjoy" and to comment on Hov laid up with naked Beyonce, but there's no NBA games on today so i got nothing to tweet about either.

— Kazeem Famuyide (@RealLifeKaz) June 10, 2018
Just gonna save the Internet real quick: pic.twitter.com/jGizB2OFRq

— my fav photog (@messy_mimi) June 11, 2018
Soooo…on the Beyonce & Jay z pics #OTRII pic.twitter.com/c02iA2U91K

— curb_ur_criticism (@Urbanvizion75) June 10, 2018
me after seeing jay z shirtless pic.twitter.com/bh4Ly8SFZU

— zainab (@zaizyx) June 9, 2018
https://twitter.com/Jessiewoo_/status/1005559771238469632
https://twitter.com/IamStrokz/status/1006089472369405954
Too bad JAY-Z already let us know on 4:44 he gives not one damb about what we think about his looks: "Ain't no such thing as an ugly billionaire. I'm cute."
"Ain't no such thing as an ugly billionaire, I'm cute" – Jay Z.

You're trying to call Jay Z ugly but he's already told you guys.

Use your energy elsewhere.

— ?? (@jayajaks) June 10, 2018
Looks like Beyoncé and JAY-Z get the last laugh.

Be the first to receive breaking news alerts and more stories like this by subscribing to our mailing list.