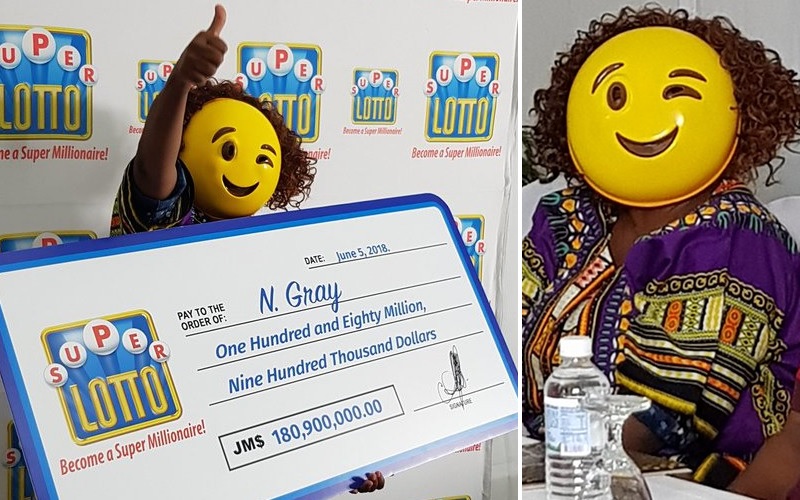 A Jamaican lottery winner went all out to make sure no distant cousins bothered her as she collected her multi-million dollar check. In what has become a viral moment, the lottery winner showed up wearing an emoji mask.
Identified only as N. Gray, the woman received her $1 million (USD) giant check from Supreme Ventures Limited on June 5th at the Spanish Court Hotel in St. Andrew, Jamaica. She wore the yellow wink-face emoji mask for privacy and out of fear she might be robbed.
And just like that, N. Gray goes from being an ordinary Jamaican to a #SuperMillionaire. Congratulations from Supreme Ventures. pic.twitter.com/OUrOkEvanc

— Supreme Ventures Ltd (@SVLGrp) June 5, 2018
Jamaican lottery winners often wear disguises due to high crime rates. Simone Clarke-Cooper, assistant vice-president of Group Corporate Communications at Supreme Ventures Limited explained:
"Unfortunately, Jamaica is not like other markets. In other markets, they don't necessarily do it, but here I think they opt to do it to keep themselves safe. We are not going to tell them not to do that because their safety is of paramount importance to us as well."
Gray won the regional Super Lotto jackpot drawing on May 8th. She won $180 million in Jamaican dollars, which is the equivalent of $1 million USD. Gray plans to treat herself with the winnings, but also wants to help the youth in her community.
"I am elated, because I was drowning in debt. I started buying Super Lotto in January… Now [that] I've won, I want to clear my debt, invest and I want to do some traveling. I would like to construct a community center for the youths in my community, so they can engage in something productive; somewhere where they can do information technology."
The face you make when you become a #SuperMillionaire ? pic.twitter.com/R2arlb69Kj

— Supreme Ventures Ltd (@SVLGrp) June 5, 2018
USA lotto winners have also begun to urge courts to allow them to conceal their identities as they collect their large payouts. A winner of a $560 million drawing recently brought the issue to court in February, and a judge ruled that she would be able to keep her identity a secret when she collected her earnings.
Be the first to receive breaking news alerts and more stories like this by subscribing to our mailing list.