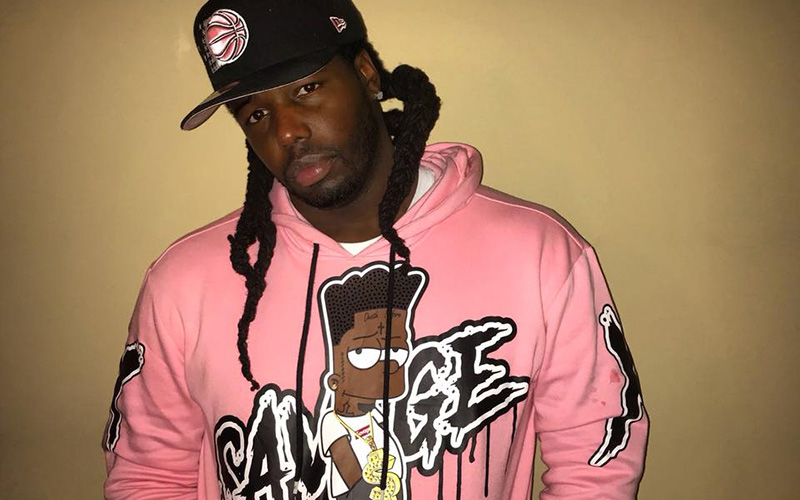 A popular YouTube vlogger known for showcasing and interviewing up and coming Chicago rappers and other popular figures in the area was shot and killed early Wednesday morning (May 30).
Chicago police said 30-year-old Zachary Stoner, also known as "Zack TV," was shot multiple times in the city's South Loop neighborhood. Stoner was driving his Jeep around 1:30 a.m. local time when a driver of another vehicle pulled up beside his car and fired a number of shots, police said.
30 year old man dead in Printers Row shooting on Clark btwn Harrison & Polk. He was the driver of this silver Jeep that crashed into a light pole after he was shot in the head & neck. @WGNNews @WGNMorningNews pic.twitter.com/wzSuxBZxwV

— Courtney Gousman (@cgousman) May 30, 2018
Zack was shot in the head and neck before he hit a curb and crashed into a light pole, WGN 9 reported. He was rushed to Northwestern Hospital in critical condition, where he later died of his injuries.
Video footage showing the shooting's aftermath was posted on social media (see below). A man can be heard frantically shouting "Let's go!" as several others run from a damaged Chevy Caprice to a third car that was on the scene, which drives away. The footage shows a taxi passing the fleeing car before backing up and stopping at the scene.
Friends said Stoner had just left a rap concert at Refuge—a nightclub less than half a mile from the scene of the shooting.
Police haven't identified the suspected shooters and are still piecing together evidence to help find them.
Here's what you need to know about Zachary "ZackTV" Stoner and his shooting death:
1
Zachary "ZackTV" Stoner was shot multiple times in the head and neck while driving his Jeep, which crashed into a light pole.
WGN 9 News reported that Zachary Stoner (aka "ZackTV") was driving his Jeep Cherokee around 1:30 a.m. local time when he shot multiple times in the head and neck by bullets fired from another car.
001:
8-10 shots heard
Polk, Harrison/Clark#Chicago #ChicagoScanner

— ?????????????? (@Chicago_Scanner) May 30, 2018
001:
Male shot 700 S Clark
Multiple GSWs including head#Chicago #ChicagoScanner

— ?????????????? (@Chicago_Scanner) May 30, 2018
After losing consciousness, Stoner hit a curb and crashed into a light pole. He was taken to Northwestern Hospital in critical condition and was pronounced dead at 4:20 a.m, the Chicago Sun-Times reported.
According to friends of Stoner, he had just left a rap concert at Refuge—a nightclub less than half a mile away from the scene—right before the shooting.
"I'm hearing stories like they may have been mad at him because he did interviews with certain rappers," said friend Phor Robinson, a reality TV star on the VH1 show 'Black Ink Crew Chicago.' "But that's not his fault for him doing his job. I don't know why anyone would attack Zack and shoot him. He's not that type of person. He showed love to everybody in Chicago."
Robinson believes his friend may have been an unintended target of the shooting.
"It just [doesn't] make sense that they would just kill Zack and drive off. I don't know if it was a setup or what… I don't know if they [were] personally shooting at him, or if it was somebody he was with," Robinson said. "I don't know what it was. All I know is my friend is gone."
Chicago police are still investigating the shooting, and so far, they don't have any suspects in custody.
Chicago activist and mayoral candidate Ja'Mal Green, who is also a friend of Stoner's, said he's offering a $1,000 to anyone who has any information that would lead to an arrest and conviction.
My friend.. WOW! Seen a few times in the last few weeks. Was just about to do an interview for my campaign! I want to offer an award for information leading to the arrest of the suspects. This is sickening! https://t.co/suZZQNPpI9

— Ja'Mal Green (@JaymalGreen) May 30, 2018
2
Video footage shows cars fleeing the murder scene and a man can be heard yelling "Let's go!" in the clip.
Someone who heard the gunshots and people shouting from below their apartment recorded a video of the scene from their cell phone. In the video, Stoner's jeep can be seen, as well as three men jumping from one car into another, leaving a damaged Chevy Caprice behind as they fled the scene.
One of the men can be heard frantically yelling "Let's go!" in the clip as they run from the Caprice and pile into a third tan-colored. The footage also shows a taxi passing the fleeing car before backing up and stopping at the scene.
"I heard a couple of individuals say, 'Let's go,' and they were yelling and jumping up and down in the middle of the street in the middle of the night," said Reyna Levine, who lives near where the shooting occurred.
"There wasn't a lot of traffic, but there was a couple of bystanders and there was a taxi cab. After they sped off, the bystander and the taxi cab [driver] engaged and called emergency services," Levine said.
3
Zachary Stoner had a popular YouTube channel called "ZackTV" (aka "The Hood CNN") with over 170,000 subscribers where he interviewed and promoted up-and-coming Chicago rappers. He also interviewed friends of Kenneka Jenkins, the young woman who was found dead in a hotel freezer.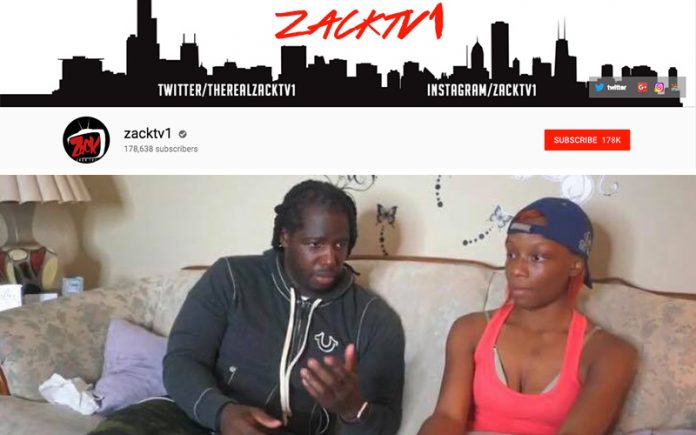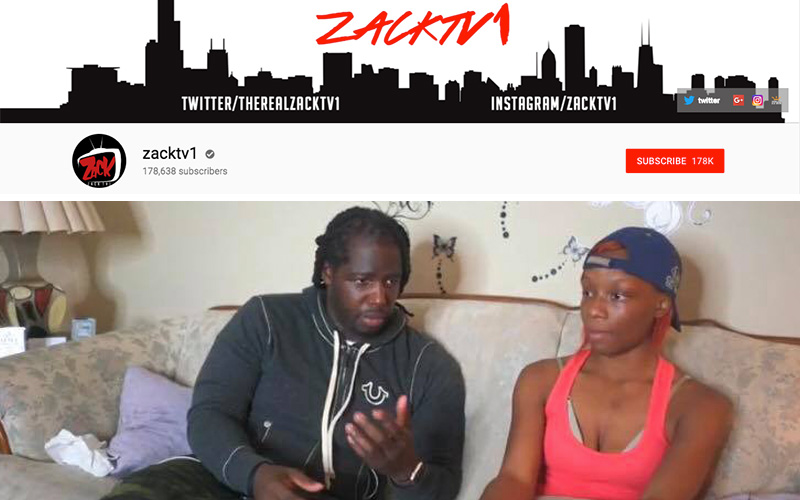 Zachary Stoner was known for interviewing and promoting a number of up-and-coming Chicago rappers via his "ZackTV" YouTube channel, which boasted over 170,000 subscribers and featured thousands of videos, some with millions of views. He also interviewed Chicago gang members and highlighted the city's infamous gun violence problem.
Stoner was credited with giving some of Chicago's most controversial artists their first on-camera exposure, including then-teenage drill music pioneer Chief Keef. He also posted clips showing young men from rival gangs flashing guns and threatening each other.
Stoner described himself on Twitter, where had had over 14K followers, as the "best interviewer in the world" who took his faith in God and his camera to "some of the dangerous hoods in America."
Eerily, one of his last tweets posted just hours before his murder was a tongue-in-cheek reference to the "death" of rapper Drake as a result of his beef with Pusha T.
October 24, 1986

May 29, 2018

R.I.P. Aubrey Drake Graham ????

— TheRealZacktv1 (@TheRealZacktv1) May 30, 2018
ZackTV said in an April interview with the Chicago Defender that he wanted to show an alternative view of Chicago and its residents with his YouTube channel, which was often nicknamed the "Hood CNN."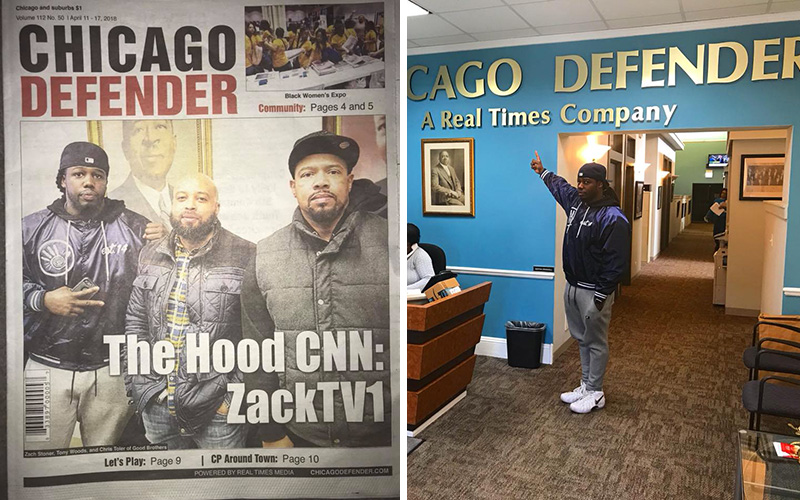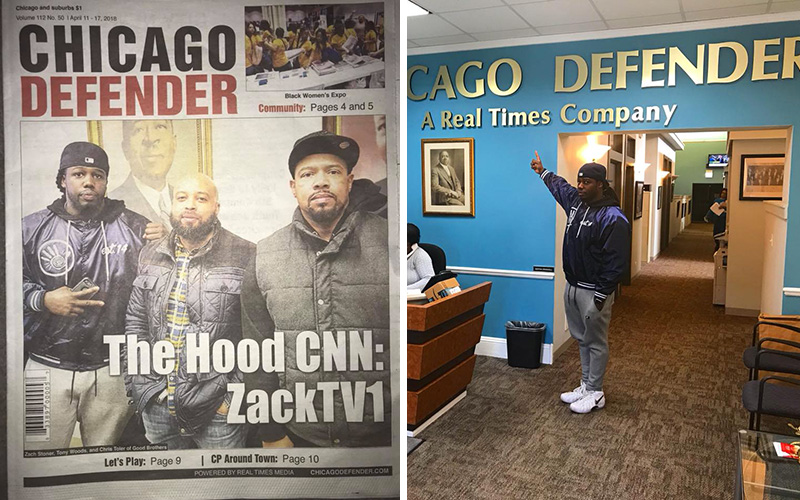 "I wanted to show the world the other side of Chicago. Back when I was growing up, we had Common and Kanye West. Those are great brothers and great entertainers, but I didn't think they represented Chicago the way that I've seen Chicago," Stoner said. "I wanted to show the world what the other side of Chicago looks like … our culture—the way we dress, what we eat, how we talk, how we walk."
The Defender wrote that Stoner "documents what others neglect and repeatedly interviews personalities who many had hoped would never grace a camera. His videos are not fluffy, glitzy, and sentimental documentary shorts; on the contrary, they are more like visceral punches to the gut that can leave you either inspired for change or disturbed by reality."
"A lot of people respect what I do. I'm the 'Hood CNN,'" Stoner told The Defender. "A news station is one-sided. They'll get your full interview, but they will cut and edit and put whatever they want out. Whatever you say to me will get put out in full no matter if it's positive or negative. I show both sides."
Two of ZackTV's most popular interviews were with friends of Kenneka Jenkins, the young woman was who became the subject of a viral story and public investigation after she was found dead in a freezer at a Chicago hotel.
In one interview, Zack spoke with Jenkins' friend Irene Roberts, who also went viral on social media in connection with the case after her Facebook Live video showing the hotel party was dissected by internet sleuths in an effort to determine what happened to Jenkins.
Another interview was with two men who were also at the hotel party before Jenkins was found dead. Both interviews were published in November 2017, two months after Kenneka's death, which was ultimately ruled an accident.
Just three days before Stoner's murder, Jenkins was remembered on Sunday (May 27) during a tribute at the Crowne Plaza Hotel in Rosemont, Illinois where she died. The celebration of life marked what would have been the Chicago teen's 20th birthday, ABC7 reported.
ZackTV's most recent interview was posted on Sunday (May 27), featuring Drake of Chiraq discussing the recent shooting death of Chicago rapper Mubu Krump and King Yella being in federal prison.
4
Close friends of Zack's say he was a peacemaker who looked out for everyone and would look for ways to help rival gangs settle their difference to help lower Chicago's violent crime rates.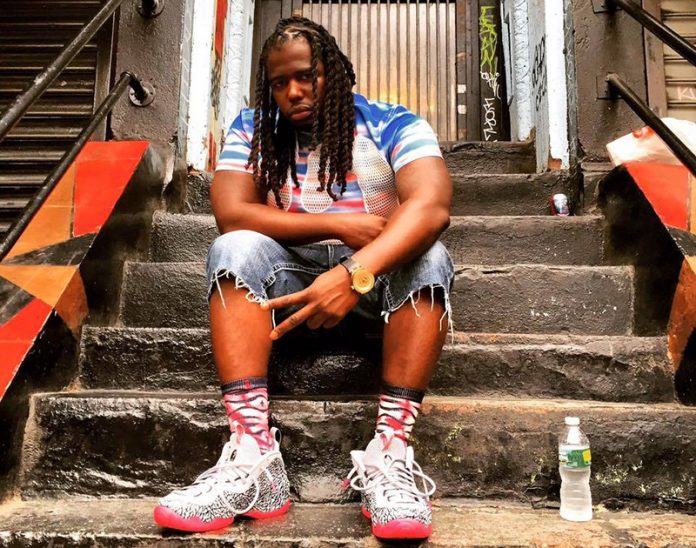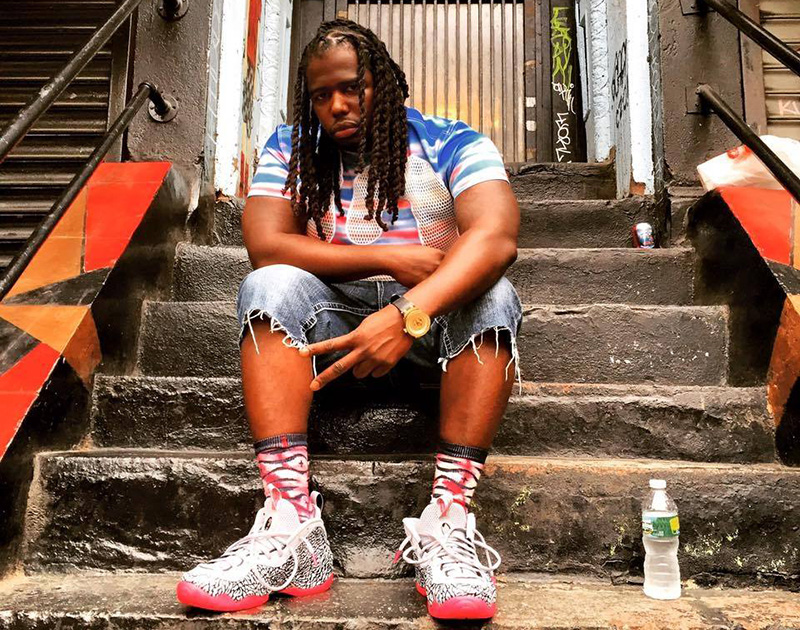 JP "Jaepilla" Lee, owner of Groundzero Studios, had known Zachary Stoner since 2002. He said Stoner's ZackTV YouTube channel was considered the "Hood CNN" because of its influence with young people in the community.
Lee said one of ZackTV's missions was to help rival gangs settle their differences, which in turn would help lower Chicago's violent crime rates. Lee said weeks before Zack's murder he contacted him about an idea he had to link up with Chicago's rival gangs and record a collaboration song and accompanying music video.
"What's even worse about all this sh*t is Zack just hit my line a couple weeks ago talking about setting up a few blocks of studio time to do a collaboration song with all the Chicago 'organizations' and their rivals and was gonna have me record the song and he was gonna drop a video and all to it," Lee said in a Facebook post. "It was dope to see him make his own lane and become very successful at it."
Lee told the Sun-Times that Zack's main focus was bringing people together.
"He wanted to see young people come up. He was a motivator to the youth. He was about his money and his business," Lee said. "He was always giving to the needy and poor. And even just looking our for guys in the hood. He also managed and supported a young artist by the name of Rome. He wasn't in any gangs and he would and could literally go into any hood with his camera and get nothing but love."
Unfortunately, not everyone was a fan of ZackTV's style of journalism and reporting. As word of his death spread, social media insinuated that his shooting may have been retaliation for the interviews he did with Kenneka Jenkins' friends (which you can watch above).
"He said he was getting threats and sh*t from powerful people telling him not to release the interview. I believe he released it anyway. Or at least some of it," Lee said. "He was literally like the Hood CNN. I hate to say it but sh*t like 'his death' is the type of story he would be all over and have footage and interviews on already. He jumps on sh*t as soon as it pops."
5
Zachary Stoner headed a for-profit collaborative called "Good Brothers" that did a lot of community service work in Chicago.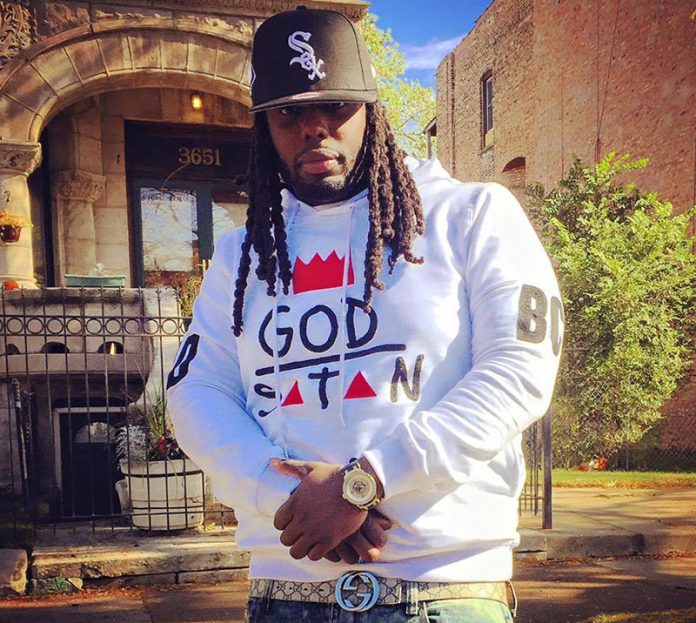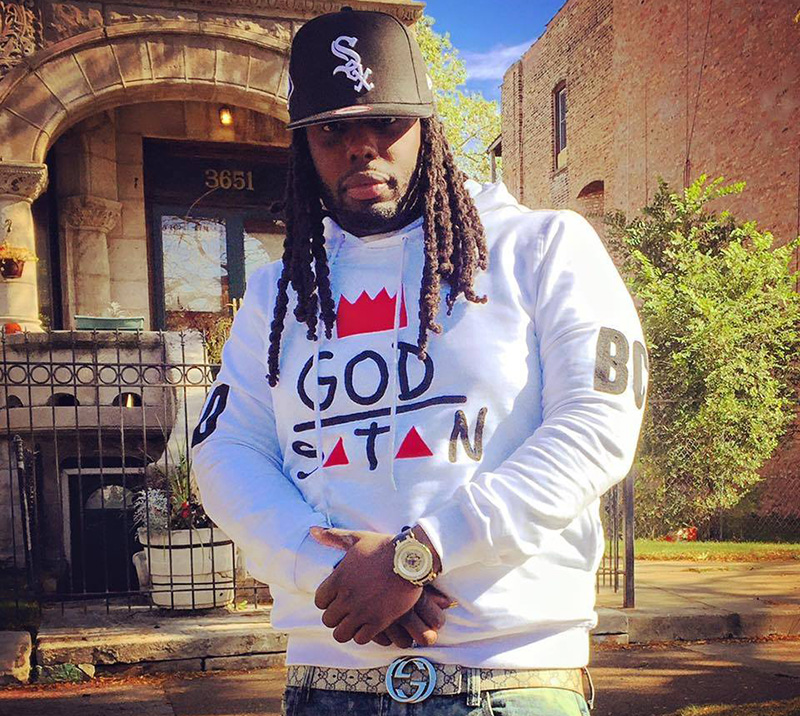 Zachary Stoner's 37-year-old business partner and mentor Tony Woods said Stoner didn't get the credit he deserved for his work behind the camera.
"People don't see what he does behind the scenes," Woods told The Chicago Defender. "There have been many occasions where a guy will call Zack on his way to ride on his opps (slang for enemies) and Zack would talk him down. The brother has a jail phone. He sends money to incarcerated brothers and takes care of their families. People don't get to see that side of it. They assume because he's interviewing the GD's or BD's that he's fanning the flames and that's not the case."
Along with Tony Woods and actor Curtis Toler, Stoner headed for-profit collaborative called "Good Brothers." Toler said the name came from how they refer to stand-up men in their community.
"The name is self-explanatory," Toler said. "In Chicago, we use a lot of different terms like 'beloved.' Cats in LA and New York start to use our lingo. 'Good Brother' is a term of endearment and also vouching for a person's character."
https://www.instagram.com/p/BitBVDpnox8/?taken-by=zacktv1
"The Good Brothers is a behind-the-scenes organization that prides itself on doing community service work," The Chicago Defender wrote. The organization has mentored youth, hosted workshops teaching youth how to monetize their social media presence, and they also partnered with a church for a gun buyback event. Last November, The Good Brothers used ZackTV's platform when they went to try and broker a peace treaty between two rival gangs in the Altgeld Gardens neighborhood.
Before his death, Stoner, who stressed entrepreneurship, tweeted that he and "a few other important people in the city" were due to host a seminar on Thursday (May 31) to help people looking to start their own businesses.
? Food ? Drinks ????????Who all looking for jobs or looking to start their own business, for entrepreneurship. I along with a few other important people in the city will be throwing a seminar this Thursday in Roseland At 11209 s. Michigan at 1:00 p.m. All are invited?

— TheRealZacktv1 (@TheRealZacktv1) May 30, 2018
"We're trying to make peace profitable. People make a lot of money off of violence," said Woods. "The legal system. Social service organizations. Non-Profits. The people make a bag off of us, death, and everything that goes wrong in the community. We can use Zack's platform as a method of promoting peace indirectly."
The Defender described ZackTV as the city's "Bat Signal" and "The Good Brothers are are Batman coming to Gotham's rescue." ZackTV challenged traditional journalism by not being afraid to address the issues that he covered, "a model worth emulating given the relationship with Black communities and exploitative media," wrote the Defender.
Stoner—who said he wanted to "change Chiraq into Chicago"—explained to The Defender: "If you study ZackTV's interviews, you'll notice that at the end of them, I often ask 'What can we do to resolve the violence in Chicago?' But a lot of young men feel that their hood will look down on them if they wanted to fix the problem. A lot of people may look at these individuals like they're thugs, ghetto hoodlums, or nobodies. But to me, I look at each artist as a human being that is stuck in this box that they are trying to get out. When you're in the hood—ghetto, urban communities, whatever you want to call them—it's a way of life but also survival tactics. Never judge a book by its cover. Never look down on the next man."
6
Fans of ZackTV and members of the Chicago Hip-Hop scene have taken to social media to offer their condolences regarding Zachary Stoner's death.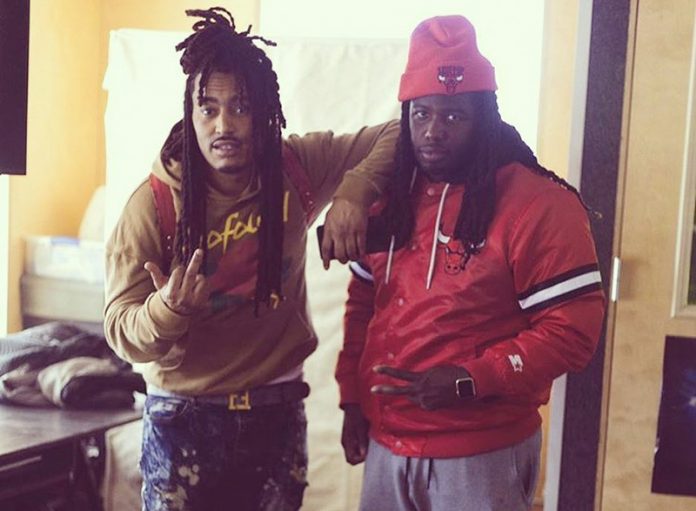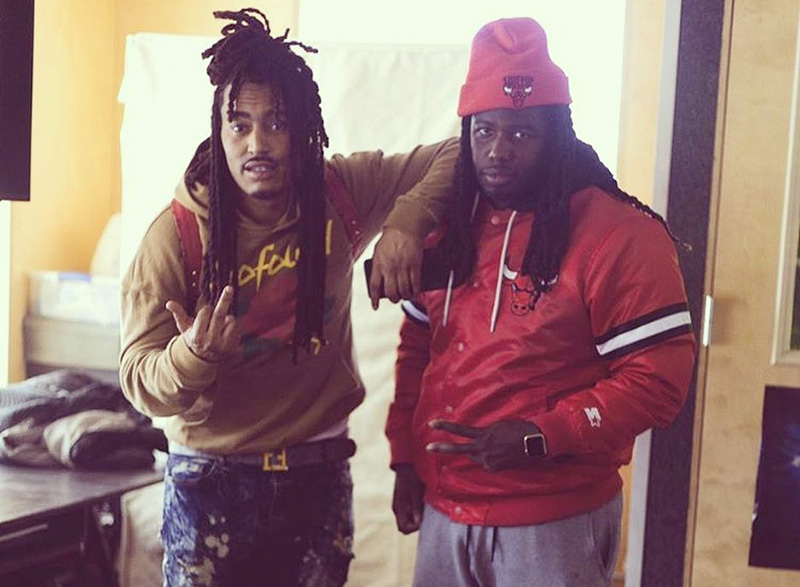 Zachary "ZackTV" Stoner pictured here with Chicago rapper Mubu Krump, who was also killed in a drive-by shooting just days before Stoner.
As news of ZackTV's death spread, tributes began to pour in on social media, with many praising him for his work shining a light on people often overlooked by mainstream media.
Andrew Barber, founder of the Hip Hop blog Fake Shore Drive tweeted: "RIP ZackTV — a dope Chicago journalist," to which Chance the rapper replied, "Oh no man RIP."
RIP ZackTV — a dope Chicago journalist

— Andrew Barber (@fakeshoredrive) May 30, 2018
Oh no ????? man RIP

— Chance The Rapper (@chancetherapper) May 30, 2018
See more poignant tributes below:
Rip ?? @TheRealZacktv1 u did so much for Chicago that the people with power didn't even do. Rest up Chicago legend ?#zacktv

— Daishun Luckett (@DaishunL) May 30, 2018
I really respected what #ZackTV was doing and I watched his interviews daily and his IG lives when he was educating us about some real shit ?

— John Glockton ? (@ProdbyJbandz) May 30, 2018
R.I.P #Zacktv man. Shit makes no sense

— … (@KGSenpai) May 30, 2018
I ain't see nobody in Chicago take a kid off the street , treat him like family buy him kicks food all that Shit just to let lil homie know SOMEBODY OUT HERE CARE ABOUT YOU. @TheRealZacktv1 #ZackTv was a real dude for that and Chicago needed him real talk ?

— Keyshon Santana (@ShonDouble0G) May 30, 2018
Damn never thought this would happen to you ? thank you for exposing me to the great talent and awesome,culture of your city my life got a lot more turnt cause of you ? from the 100's to the world zacktv4L #ZackTV ? pic.twitter.com/DMTR72agBQ

— Hagan beyers ?? (@iamwacko_demon) May 30, 2018
RIP to ZackTV. He helped me out alot giving me 2 interviews plus advice n help on my channel, always encouraged me n supported me from the start. I owe him alot. Im prayed up and ready to go cuz every public person in chicago is a target. RIP Zack BIP Forever ??

— Chicago World News (@Provatakis) May 30, 2018
If it wasn't for Zack, half these Chicago rappers now wouldn't even be on the map ????? RIP #zacktv

— Phase1 ??? (@phase1BRose) May 30, 2018
Im So Sick of this City thats Why i Never Stay In Dis Hell Hole. ? Zack Tv You know what You did for the City Bro You Know the Talks we Had I seen u Last Night So Ima cherish dat Handshake u gave Me after i Performed ?? Rest Up Bro ? Your soul was So Pure @TheRealZacktv1 ?? pic.twitter.com/GRL0ONYhXy

— Swagg Dinero (@SwaggDinero) May 30, 2018
First person to give me a chance. First person to interview me. #ZackTV

RIP @TheRealZacktv1 pic.twitter.com/NjYuMpyS3I

— LAKA (@LakaFilms) May 30, 2018
R.I.P. ZACK TV…. SMH WE GOTTA DO SOMETHING ABOUT CHICAGO

— MATHEVELI (@MATHHOFFA) May 31, 2018
Be the first to receive breaking news alerts and more stories like this by subscribing to our mailing list.