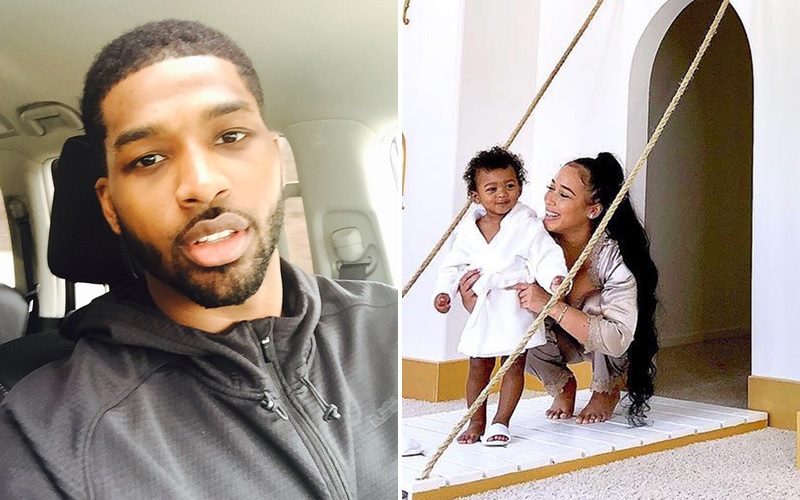 While the mothers to Tristan Thompson's two kids were being celebrated on Mother's Day, it's looking highly unlikely that Thompson will be receiving a World's Greatest Dad mug for Father's Day next month. A source says Thompson is basically an absentee father to his first-born child.
Prince Thompson is just 17-months old and is Tristan's son with his ex, Jordan Craig. A close friend to Craig tells HollywoodLife that she's raising her son alone. "Tristan is pretty much an absent father," the source said.
"[A]lthough he regularly pays his child support, that is something he can't be faulted for. But when it comes to parenting of his son, it's pretty much all on Jordan.

"Of course Jordan wishes Tristan was more present in Prince's life, but it is what it is. Jordan accepts that it's all about Tristan and that basically he's like a big kid, so she really can't expect too much more from him really."
Amid a major cheating scandal, Tristan welcomed daughter True with Khloe Kardashian last month. Though Khloe also spent her first Mother's Day alone (as far as we know), the two remain a couple and Tristan recently admitted that he already has a closer bond with True than Prince.
Tristan said during a May episode of Allie Clifton's Road Trippin podcast:
"I think with a girl, you're just so much more emotionally like… with a boy, it's just like, 'Hey man, you'll be all right man. Stop crying.' But [with True], it's like, 'True, it's gonna be okay. You know, we're right here. Daddy's here to feed you. It's me! Look, yeah!' It's way different, but it's fun, though. It changes you."
Craig recently dedicated a Mother's Day post to Prince that was accompanied by a photo of the massive castle-themed playroom she designed for him. She wrote in part:
"There's absolutely no feeling in the world greater than bringing a smile to your face! Forever in love with being your Mummy."
There may be some friction between Craig and Tristan. Craig was already pregnant with Prince when the Cleveland Cavaliers player began dating Khloe Kardashian in August 2016. There are still questions regarding the timeline of the relationships and if Tristan cheated on Craig with the Khloe.
Hopefully, Tristan's relationship with his son and both of his baby mamas improve in the near future
Be the first to receive breaking news alerts and more stories like this by subscribing to our mailing list.