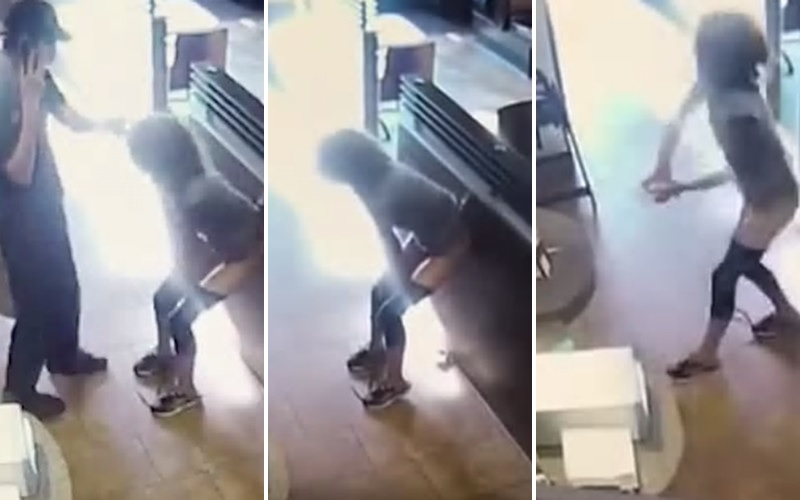 It's very rare that we hear any disturbing news coming from Canada. But one woman just did something so disgusting that it will not only test your gag reflexes but may also turn your Canadian rose-colored glasses to a poopy shade of brown.
A woman was recently caught on camera taking a dump on a Tim Hortons floor, picking her poop up with her hands, and then throwing it at an employee!
If your stomach can handle it, you can watch security footage of the bizarre incident which has gone viral on social media.
So today at a Tim Hortons 20 mins away from me this happened….???? pic.twitter.com/6aPRSu1w1M

— jess. (@jessicawaddell) May 16, 2018
The woman, who has yet to be identified, apparently became upset after a Tim Hortons employee denied her access to a bathroom. She can be seen arguing with an employee for nearly 20 seconds, before ultimately deciding to poop in the middle of the floor.
She not only tossed the poop, but also threw the soiled napkins she used to grab her excrement and wipe herself with at the Tim Hortons cashier.
The unhinged woman was arrested by Royal Canadian Mounted Police, but was later released. Though no charges have been filed, she must appear in court at a later date and authorities are still investigating the matter.
Canada law states a person could face up to two years in prison if found guilty of committing an indecent act in a public place with the intent to insult or offend any person.
Bianca Pettinaro, a spokeswoman for the Canadian-based coffee chain, released a statement, in which she said:
"We strive to create a welcoming environment for all of our guests and the communities we serve. We are deeply concerned by this video as the safety of our team members and guests is always a top priority for us."
Pettinaro says Tim Hortons does not require a person to buy something before using its restroom facilities, but added, "in limited cases across the country, restaurants have a restricted access policy for restrooms to ensure the well-being of our guests."
And in this particular case, the woman was denied access "based on past behavior," noted Pettinaro. A Royal Canadian Mounted Police spokesperson also revealed the woman was known to police who have "dealt with her before."
Here are a few social media reactions to the disgusting poop-throwing incident.
what did I just watch? People are crazy pic.twitter.com/gtBeZuVm1k

— Lo (@greenfleur1782) May 16, 2018
https://twitter.com/drakesmarch/status/996998163939692546
Omg what WHAT. I feel like she's done this before.. she was so ready to poop and throw, just like that pic.twitter.com/91dxRiTMNO

— BallpitGangsta?? (@Ballpit_Gangsta) May 17, 2018
never ordering a chocolate dip at @TimHortons ever again ?

— jenno (@jennnochristian) May 16, 2018
She got mad enough to poop on the floor? The floor. And then throw it? pic.twitter.com/wdPuJu509P

— Wu-Tang Fantastic ????? (@khaosdummy) May 18, 2018
Be the first to receive breaking news alerts and more stories like this by subscribing to our mailing list.