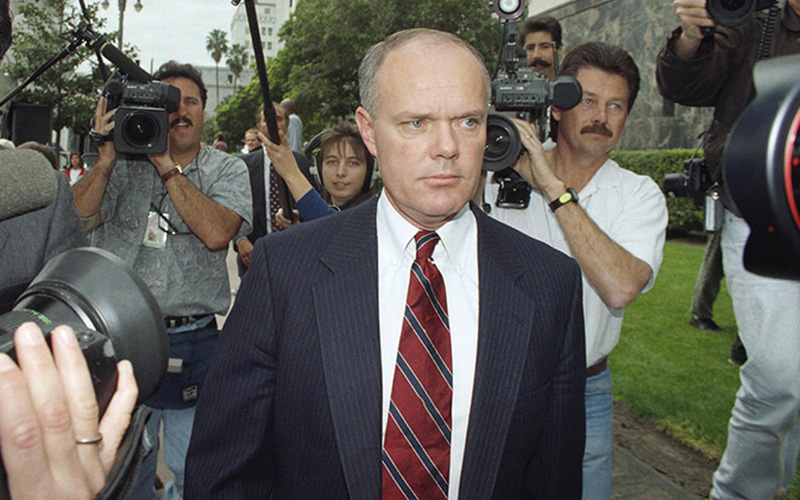 The former LAPD sergeant who went to prison for his involvement in the Rodney King beating is in trouble with the law again.
According to multiple news reports out of Los Angeles County, 67-year-old Stacey Koon was arrested on suspicion of DUI after he crashed into a parked car Tuesday (May 1).
Koon was driving a 1999 GMC Yukon along Heather Lane west of Greenwood Place around 3:30 p.m. Tuesday afternoon when he slammed into a parked pickup truck, according to a California Highway Patrol incident report.
Authorities said Koon, who was the only person involved in the wreck, sustained no visible injuries from the collision. Someone who witnessed the crash called 911, and the investigating officer who arrived at the scene determined that Koon was under the influence of alcohol at the time of the crash.
The California Highway Patrol said that Koon's BAC (blood alcohol content) was over the legal limit by a "decent amount," but not double the limit. The CHP report noted that Koon was "police and cooperative throughout the incident."
Koon, who suffered no visible injuries in the crash, was booked at the sheriff's Santa Clarita Valley station and has since been released.
Koon was the police sergeant in charge when Rodney King was brutally attacked by LAPD officers. Koon—who at the time of the King beating was a 14-year LAPD veteran—was acquitted of criminal charges in a California Superior Court in April 1992 for using excessing force on King. Koon's acquittal triggered the infamous L.A. riots of 1992.
Koon was tried in L.A. federal court in 1993 for violating King's civil rights. He was found guilty of those charges and sentenced to 30 months in prison. He later released a memoir titled "Presumed Guilty: The Tragedy of the Rodney King Affair," in which he maintained that he and his fellow officers did nothing wrong. He instead blamed the riot on the news media and city officials' reaction to King's televised beating.
In 2012, two decades following the Rodney King beating, Koon's attorney said in an interview with the L.A. Times that Koon is a family man but chooses not to talk about his personal life due to continued death threats. "He's moving forward with his life as best as he can," Koon's attorney told the Times.
Be the first to receive breaking news alerts and more stories like this by subscribing to our mailing list.