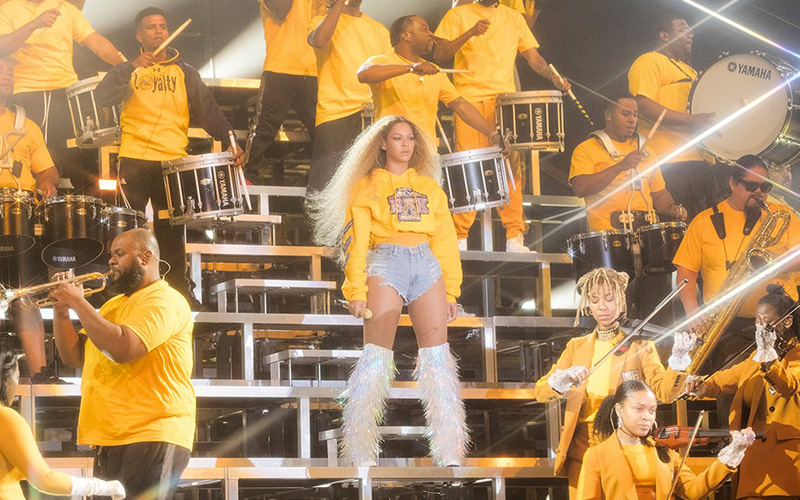 We have some sad news for the BeyHive. Beyoncé's second Coachella performance (aka #BeychellaPart2) will NOT be streamed online for free via YouTube.
Every year, Coachella headliners perform over the span of two weekends, and while the first weekend was live streamed online via YouTube, the second weekend won't be.
A source spilled a little tea to Gossip On This, telling us about some possible changes to her set (including costume changes). The source also confirmed that Destiny's Child will also perform this weekend, just like last weekend.
"This Saturday, Beyoncé is performing the same set, including Destiny's Child, but will feature new outfits," our source said. "She was rehearsing new songs (trap sound with Indian influence allegedly) which were considered for the first show but were scrapped so maybe she'll bring them out this weekend to switch it up… But it's not getting streamed."
One of Beyoncé's dancers also spoke to Variety and said that there will be a few surprises in store for weekend two. "Yeah, we're switching up a couple things, so there could still be a wow factor," Jo'Artis Mijo Ratti said.
Beyoncé's first HBCU-inspired Coachella set broke the internet and also broke YouTube's live stream record, with nearly 500,000 fans watching at its peak. Queen Bey also made history as the first black woman to headline the festival. "Ain't that 'bout a bitch?" she said during her set.
This year was Coachella's biggest yet, with more than 43.1 million live stream views in 232 countries the first weekend alone, making it the most-viewed live music festival ever on YouTube. That number represents a 75% increase over last year when Lady Gaga stepped in to replace Beyoncé after she announced her pregnancy.
While this weekend's performance won't be streamed on YouTube, the BeyHive is keeping hope alive that maybe we can watch it via TIDAL.
Although Coachella isn't livestreaming Beyoncé's second weekend, maybe Tidal will consider streaming it?

— bey.hive (@bhiveofficial) April 16, 2018
https://twitter.com/BeyReleases/status/986793198054989824
@TIDAL do your thing sis. https://t.co/etBnjF7X3G

— milkxhoney (@beyonce_awards) April 19, 2018
https://twitter.com/amirjodom/status/987063096840785920
**FINGERS CROSSED** TIDAL COMES THROUGH FOR US!!!
Be the first to receive breaking news alerts and more stories like this by subscribing to our mailing list.