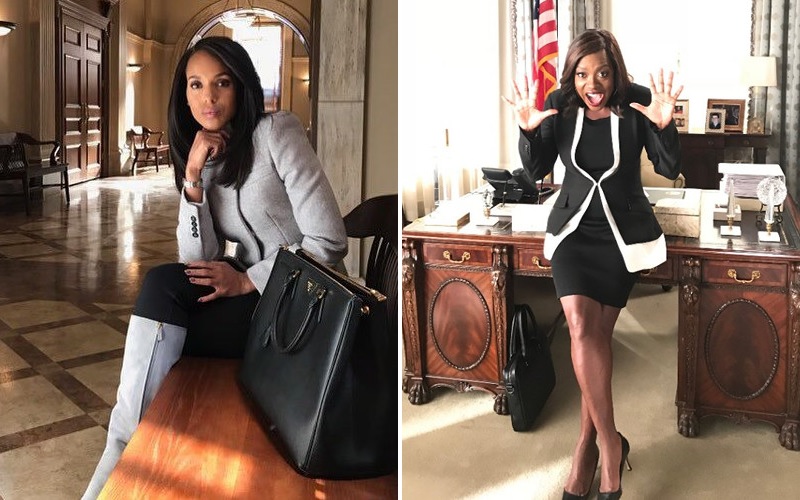 Gladiators, this is NOT a drill! Shonda Rhimes just dropped a major bombshell so that we can all prepare to have our wigs snatched when the time comes.
Olivia Pope will soon meet Annalise Keating!!
You read that right, a Scandal and How to Get Away with Murder crossover is already in production and will air in the coming months. The shows' stars, Kerry Washington and Viola Davis, each dropped hints on social media Wednesday (Jan. 3), with Rhimes later confirming the speculation.
Washington first got everyone hyped when she posted a photo of Olivia Pope sitting in the halls of the Murder courthouse. "Hey Ms @violadavis check it out. This spot look familiar?!" She wrote on Twitter. "Where are you?"
Hey Ms @violadavis ?? check it out. This spot look familiar?! Where are you? https://t.co/JFdiCTmbFs pic.twitter.com/OcLdXtS9Nz

— kerry washington (@kerrywashington) January 3, 2018
Davis responded with her own photo of Annalise leaning against the POTUS' desk in the Oval Office on the Scandal set.
Hey @KerryWashington, guess where I am?! pic.twitter.com/WKKJzrQcJx

— Viola Davis (@violadavis) January 3, 2018
Scandal creator and HTGAWM producer Shonda Rhimes confirmed the news by sharing part of the script that reveals Olivia and Annalise will be sharing scenes together. "People. It's happening," she wrote.
People. It's happening. @petenowalk, you ready for this? #TGITCrossover #HowtoGetAwaywithScandal pic.twitter.com/laROhxbeu8

— shonda rhimes (@shondarhimes) January 3, 2018
The crossover episodes will be a two-hour event that will air on the same night, with each show in its usual timeslot. This is the first time the current TGIT lineup (which also includes Grey's Anatomy) has ever had a crossover event.
Twitter exploded with joy, excitement and pure shock after the crossover was confirmed.
@JulianDionG @DamnItStu @MannBarnes take me now Jesus!!! pic.twitter.com/WfZnoVWTl4

— Kalen Allen (@TheKalenAllen) January 3, 2018
Me after the episode airs. pic.twitter.com/UZVHm0m0Wa

— Hi, I'm Juu.?? (@JulianDionG) January 3, 2018
Where will I find cement strong enough for my edges?!? ?? pic.twitter.com/Q8pkQN9DXi

— uMnqobi We Zizwe (@MnqobiKhabazela) January 3, 2018
— Kayla Marie (@Maria_Giesela) January 3, 2018
I've been waiting for this for too long!! The possible scenarios in this crossover have me hype af pic.twitter.com/COJRi25Cbi

— cj. (@_cjeezus) January 3, 2018
— Rob ? (@thisisrobbyg) January 3, 2018
— BRUNA (@eyeofthet1ger) January 3, 2018
— Zach V (@TheZachVan) January 3, 2018
Also (CC @kerrywashington @violadavis) pic.twitter.com/9kPlWr1ZPt

— Zach V (@TheZachVan) January 3, 2018
As with all Shondaland shows, little is known about what will bring Olivia and Annalise together. However, HTGAWM creator Peter Nowalk shared what he could to Deadline. He says Annalise's story arc organically crossed over into Scandal territory.
"Something in her story organically came up that was very appropriate for Scandal. When I went to Shonda, she heard it. She actually pulled up a clip of something from Scandal and their side of the story coalesced perfectly. So it was one of those serendipitous things where we both realized it was good for both characters, and it almost felt like we had been planning it since last season."
Nowalk is sure fans of both shows will be delighted with what the writers have planned.
"I will say, the Scandal read-through, I, as an audience member, just found it so refreshing and fun. It really felt like Annalise fit in that episode really well. So now the pressure for us for Murder is just to match that level of excitement that they created."
The crossover isn't just something to please fans. Nowalk says it's "very pivotal" for Olivia and Annalise's individual storylines. He also added that other characters will crossover, but did not reveal which ones.
These are truly answered prayers. Acting giants Washington and Davis on screen together as their iconic characters Olivia Pope and Annalise Keating must-see TV. And it comes just in time as Scandal's final season is in its final stretch.
Scandal and How to Get Away with Murder airs Thursdays on ABC.
Be the first to receive breaking news alerts and more stories like this by subscribing to our mailing list.