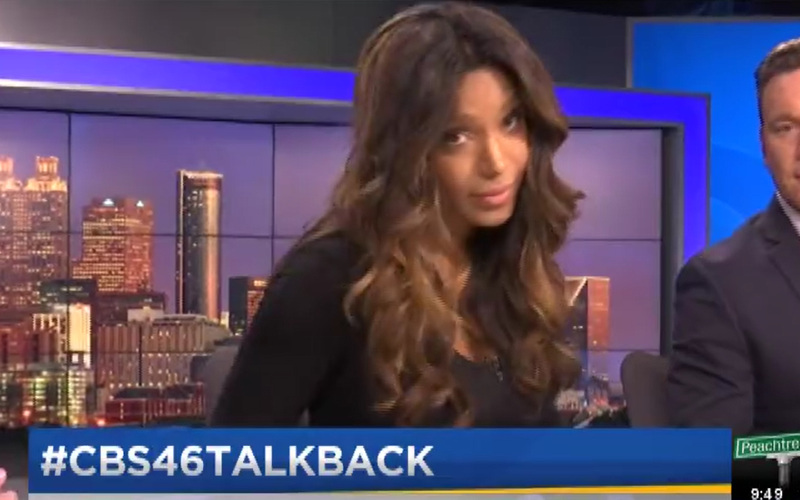 An Atlanta news anchor has gone viral after she gathered a racist viewer all the way together live on-air for calling her the "N-Word."
Sharon Reed of CBS46 News received a nasty email from a viewer regarding her comments about the role race played in the contested Atlanta mayoral race on Tuesday (Dec. 5). The viewer, Kathy Rae, wrote that Reed should be fired for "race-baiting" and also called her a "n*gger" (although she misspelled the slur, using only one "g" instead of two, like the African country Niger). The email read:
"You need to be fired for the race baiting comment you made tonight. it's o.k for blacks to discuss certain subjects but not whites… really??? you are what I call a Niger not a black person. you are a racist Niger. you are what's wrong with the world."
Within minutes of receiving the racist note, Reed read Rae's email live on-air. She then looked into the camera and directly addressed Rae, delivering one of the classiest (and best) clapbacks of 2017.
"I would say to Kathy a couple of things. Number one, you mischaracterized what I said. I didn't say white people couldn't talk about race. Quite the contrary, we think that race is an authentic discussion to have… And that's why, behind the scenes, my colleagues and I, white and black, we decided, hey, let's go for it. Because we do try to keep it real here and I think we do a very good job of it.

"So, I think when arguing with somebody, you have to be careful not to mischaracterize their viewpoint, so I won't mischaracterize your view either, Kathy Rae. I get it. On Dec. 5, 2017, you think it's OK to call this journalist a nigger. I don't. But I could clap back and say a few things to you. But instead, I'll let your words, Kathy Rae, speak for themselves. And that'll be the last word."
Reed and her fellow news anchors were discussing the role race played in the campaign because mayor-elect Keisha Lance Bottoms—who won by less than one percentage point—is black and her opponent was a white woman.
The differing races of the two candidates highlighted a racial divide in the city that is known for having mostly positive race relations between its white and black communities.
The news anchor posted her response video on her official Facebook page. The clip has gone viral and has received over 250K views on her page alone.
She also posted Rae's uncensored email, complete with her full name and email address, online and made it her Facebook header.
So, yea, Sharon Reed of CBS46 News in Atlanta is pretty amazing! Wonder what Kathy Rae is up to right now?
Be the first to receive breaking news alerts and more stories like this by subscribing to our mailing list.