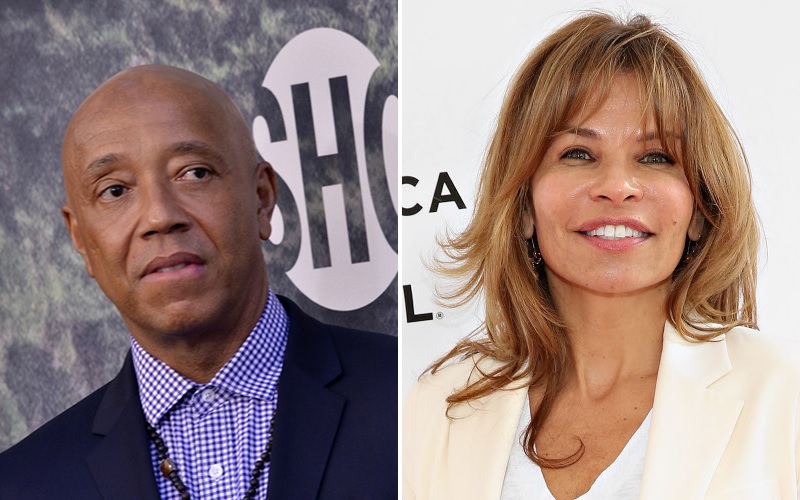 Sexual assault allegations have forced Russell Simmons to "step aside" from his companies. "I don't want to be a distraction so I am removing myself from the businesses I founded," the hip hop mogul said in a statement as three women accuse him of sexual assault.
Simmons released a written statement Thursday (Nov. 30) announcing his leave of absence. The decision and statement are in response to writer Jenny Lumet claiming he forced her to have sex with him in 1991 as well as accusations by at least two other women.
Simmons acknowledged his misconduct in the past and writes "this is a time of great transition" in regards to women speaking out and holding men accountable to sexual harassment and assault. He writes in part:
"While I have never been violent, I have been thoughtless and insensitive in some of my relationships over many decades, and I sincerely apologize. This is a time of great transition. The voices of the voiceless, those who have been hurt or shamed, deserve and need to be heard.

"As the corridors of power inevitably make way for a new generation, I don't want to be a distraction, so I am removing myself from the businesses that I founded. The companies will now be run by a new and diverse generation of extraordinary executives who are moving the culture and consciousness forward. I will convert the studio for yogic science into a not-for-profit center of learning and healing.

"As for me, I will step aside and commit myself to continuing my personal growth, spiritual learning and above all to listening."
In an open letter published by The Hollywood Reporter on Thursday, screenwriter Jenny Lumet vividly recounts a night in 1991 in which she claims Simmons forcibly had sex with her at his home, despite her never expressing consent nor showing any desire she was interested in him. Lumet was 24 at the time.
Lumet writes in part:
"I couldn't open the doors. I couldn't open the windows. The car was moving. The driver did not stop. He did not take me to 19th Street. He took me to your apartment…

"There was penetration. At one point you were only semi-erect and appeared frustrated. Angry? I remember being afraid that you would deem that my fault and become violent. I did not know if you were angry, but I was afraid that you were.

"I desperately wanted to keep the situation from escalating. I wanted you to feel that I was not going to be difficult. I wanted to stay as contained as I could.
You told me to turn over on my stomach. You said something about a part of my body. You did not ejaculate inside me.

"When it was over, I got my clothes and quickly went down in the elevator by myself. You didn't try to stop me. I went home in a taxi. I was grateful to be secure in my home. I never told anyone this story until October 27 of this year (after the Harvey Weinstein story was in the news)."
Simmons says he recalls the encounter in question with Lumet differently, but does not discount her experience. He wrote in his statement:
"I have been informed with great anguish of Jenny Lumet's recollection about our night together in 1991. I know Jenny and her family and have seen her several times over the years since the evening she described. While her memory of that evening is very different from mine, it is now clear to me that her feelings of fear and intimidation are real."
Earlier this month, model Keri Claussen Khalighi claimed that Simmons forced her to perform oral sex on him in 1991 while film director Brett Ratner watched. She was only 17 at the time.
"I looked over at Brett and said 'help me' and I'll never forget the look on his face," she revealed in an article published by the Los Angeles Times. "In that moment, the realization fell on me that they were in it together."
Khalighi says she initially fought "wildly" against Simmons attempts to force penetration, but "just acquiesced" to oral.
After the assault and feeling "disgusting," the then-17-year-old says Simmons entered the shower with her and non-consensually penetrated her.
In the same LA Times report, former hotel employee Tanya Reid accused Simmons of forcing her to perform oral sex on Ratner in 1994 when she was 18.
Simmons discounted Khalighi's allegations and stated that anything that occurred between the two was "with her full consent and participation." He went on to say he doesn't recall any encounter with Reid.
Statement of Russell Simmons in Response to LA Times Article. pic.twitter.com/iwT7Wy3SoY

— Russell Simmons (@UncleRUSH) November 19, 2017
Click here to read Jenny Lumet's open letter and Russell Simmons' statement in full.
Be the first to receive breaking news alerts and more stories like this by subscribing to our mailing list.