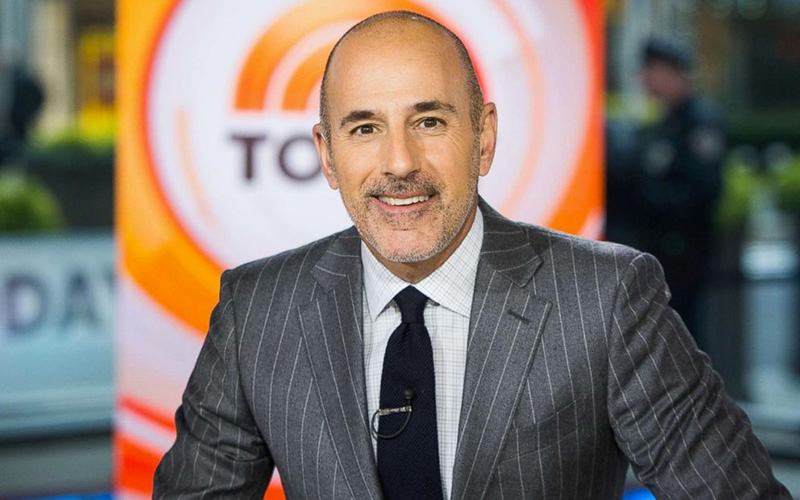 And another one bites the dust. Matt Lauer is the latest celebrity to be fired over sexual misconduct allegations.
NBC News announced early Wednesday morning (Nov. 29) that they were forced to let Lauer go after an employee filed a complaint about "inappropriate sexual behavior in the workplace."
"Today" show co-anchors Savannah Guthrie and Hoda Kotb seemed emotional as they announced Lauer's firing, telling views that they were processing his departure but weren't privy to all of the details just yet.
Matt Lauer has been terminated from NBC News. On Monday night, we received a detailed complaint from a colleague about inappropriate sexual behavior in the workplace by Matt Lauer. As a result, we've decided to terminate his employment. pic.twitter.com/1A3UAZpvPb

— TODAY (@TODAYshow) November 29, 2017
NBC News Chairman Andrew Lack said in a memo to employees Wednesday morning that a complaint made by a female colleague of Lauer's prompted a serious review and represented a "clear violation of our company's standards."
Lack said this was the first complaint about 59-year-old Lauer for inappropriate behavior since taking over as the show's anchor in 1997, however, there was "reason to believe" this may not have been the first time it's happened.
"Our highest priority is to create a workplace environment where everyone feels safe and protected, and to ensure that any actions that run counter to our core values are met with consequences, no matter who the offender," Lack said.
According to sources, Lauer has been the subject of an investigation from the New York Times for weeks, and reporters for Variety have also been discussing "serious sexual harassment allegations against Lauer" for at least two months.
"NBC was aware" of the reporting, Variety's Elizabeth Wagmeister tweeted. "There are multiple women we've spoken to with far-ranging accusations against Lauer. The power of journalism has never been more evident with this cultural change."
At @Variety, @RaminSetoodeh & I had been working on a Matt Lauer story for months and NBC was aware. There are multiple women we've spoken to with far-ranging accusations against Lauer. The power of journalism has never been more evident with this cultural change.

— Elizabeth Wagmeister (@EWagmeister) November 29, 2017
A spokeswoman for NBC News declined to comment beyond the information provided in Lack's memo.
Ari Wilkenfeld, who said he's representing Lauer's female accuser, told The New York Times that he and his client met Monday evening with reps from NBC's Human Resources and Legal Department.
"Our impression at this point is that NBC acted quickly, as all companies should, when confronted with credible allegations of sexual misconduct in the workplace," Wilkenfeld said. "While I am encouraged by NBC's response to date, I am in awe of the courage my client showed to be the first to raise a complaint and to do so without making any demands other than the company do the right thing."
Guthrie, who joined Lauer on "Today" 2012, said that she was "heartbroken" for both him and the "brave colleague who came forward to tell her story and any other women who have their stories to tell."
"I'm sure we will be learning more details in the hours and days to come," she said. "And we promise we will share that with you."
Guthrie said it can be difficult to make sense of sexual misconduct allegations against a longtime friend/colleague.
"How do you reconcile your love for someone with the revelation that they have behaved badly and I don't know the answer to that," she said. "But I do know that this reckoning, that so many organizations have been going through, is important, it's long overdue and it must result in workplaces where all women — all people — feel safe and respected."
Kotb added that she's known Lauer as a friend and colleague for 15 years and "it's hard to reconcile what we are hearing with the man who we know, who walks in this building every single day."
Lauer's name is added to an increasingly growing list of high-profile men in entertainment, politics, and media who are facing sexual misconnection allegations.
Just last week, Charlie Rose was fired by CBS News, PBS and Bloomberg after eight women accused him of past sexual harassment and unwanted advances in a Washington Post report. Rose, who co-hosted "CBS This Morning" apologized for his behavior via statement but said that some of the allegations were false.
Lauer's firing comes after NBC News also terminated its senior vice president for booking, Matt Zimmerman, after finding out about "inappropriate conduct" with more than one woman at NBC's parent company NBC Universal.
NBC News also cut ties with senior political analyst Mark Halperin after multiple reports surfaced that he sexually harassed at least a dozen women while serving as political director for ABC News.
Before joining Guthrie on "Today," Lauer also shared his co-anchor duties with Meredith Vieira and Ann Curry, who made a tearful exit from the show in 2012. Curry said she felt humiliated by a "boy's club" culture at the show.
Matt Lauer's journalism career began in television markets throughout the country before he returned to his native New York and eventually began working for local NBC station WNBC as a co-anchor of the morning news program.
The married father of three began filing in on "Today" in 1992 and two years later was promoted as a news anchor before taking over for Bryant Gumbel in '97.
Along with Katie Couric, Lauer went on to become a marquee name with NBC and helped "Today" maintain its status as a ratings powerhouse with countless interviews of world leaders and celebs, as well as coverage of presidential campaigns and Olympic Games.
Last year, Variety reported that Lauer's contract with NBC had been extended through 2018 for $20 million a year, keeping him as one of the highest-paid anchors on TV.
The flood of sexual misconduct allegations began after reports from The New York Times and the New Yorker about allegations against Hollywood producer Harvey Weinstein, and since then, actors Kevin Spacey and Louis C.K. have been suspended or removed from projects following allegations against them being made public.
Other prominent journalists, including NBC's Mark Halperin and Michael Oreskes of NPR, have been fired or suspended from their jobs as well.
In addition to the aforementioned, the growing list of men accused of sexual misconduct includes actors Jeffrey Tambor, Steven Seagal, Ed Westwick, Dustin Hoffman, Jeremy Piven and Ben Affleck. The list also includes political figures such as Senator Al Franken and former president George H.W. Bush.
Matt Lauer didn't immediately comment on the announcement of his firing.
Be the first to receive breaking news alerts and more stories like this by subscribing to our mailing list.