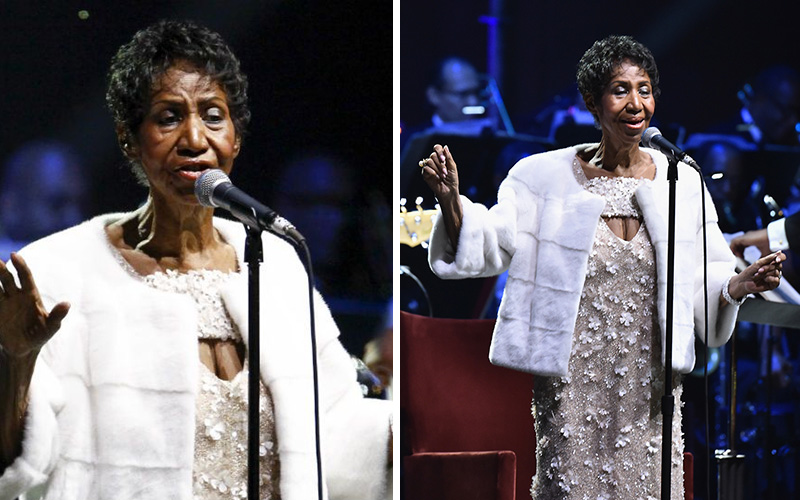 With icons like Michael Jackson, Whitney Houston, and Prince gone, we have to protect our remaining living legends at all costs, which is why Twitter is going crazy over rumors that Aretha Franklin has died (or is dying) of cancer.
Well, the good news is that those rumors are 100% false. Aretha Franklin is NOT dead, nor is she dying, contrary to the latest death hoax that has hit social media.
It all started with a tweet from this fake azz account (which has less than 50 followers):
https://twitter.com/ArethaFrankIinn/status/932871460808310784
At first glance, the tweet appears to be believable, but if you look closely, you can clearly tell that it is from a fake account. While the name on the account reads "Aretha Franklin," the username says "@ArethaFranklinn" (with two n's). Aretha Franklin's real twitter account is here, and hasn't been updated in well over two years.
Making matters worse, Fameolous, a somewhat credible Instagram blog, seems to be perpetuating the rumors with this post:
Aretha Franklin not doing good and may pass soon. Celebrities are at the hospital saying goodbye. Aretha has been battling cancer for a while now we are told. We have a source inside the hospital where Ms. Franklin is currently being held & will keep you guys updated.
https://www.instagram.com/p/BbvvKmXlxWI/
And now, Twitter is freaking out over the possibility of 2017 taking Aretha Franklin away from us, and as a result, her name is currently a top trending topic on Twitter.
The rumors come just one day after the death of the iconic actress and singer Della Reese.
While there has been ZERO confirmation of Aretha Franklin's rumored death by any reputable news outlets, that hasn't stopped the internet from voicing their concerns via Twitter:
2017 is not going to take Aretha Franklin. pic.twitter.com/wck6Qg274H

— Kellye (@_Kellye_) November 21, 2017
https://twitter.com/NasirLeigh/status/932899072490344448
https://twitter.com/SpaceOddityKell/status/932864747132932097
Lord please don't take Aretha Franklin from us. pic.twitter.com/JuDRaSmWvx

— • (@prizord) November 21, 2017
I'm gonna need a credible source to confirm this Aretha Franklin news. I refuse… pic.twitter.com/2XXccrkXVX

— Truth hurts (@Jasamgurlie) November 21, 2017
But why is #ArethaFranklin trending tho? @ArethaFranklin pic.twitter.com/XTENzHsNAs

— Fantasy (@fantasy_5) November 21, 2017
First 2017 took Della Reese and now they trying to take Aretha Franklin?? pic.twitter.com/pf60t9IJpp

— Ask The IRS?? (@onikadaughter21) November 21, 2017
According to NewsOne, Aretha Franklin, 75, has been a victim of declining health rumors for the past several years. It seems that every few months, there's a new story about Franklin having cancer.
The 75-year-old legendary soul singer has been dogged by rumors of cancer since at least 2011, which is likely fueling what seems to be resuscitated rumor and innuendo.

Rumors of the diva's health problems resurfaced in May, when she announced to an audience that she was battling an "upper respiratory viral infection." Still, she managed to sing at the event honoring Clive Davis, the New York Post reported at the time.

That same month, the National Enquirer published reports of Franklin having lost more than 100 pounds because of a "cancer relapse," an anonymous source told the news outlet known for gossip. "She was due to have radical chemotherapy treatments, and was told by doctors she needed to lose weight if she wanted to survive."

The following month, she canceled a concert in Toronto scheduled for July because of "doctors orders," according to the Daily Mail.
However, Franklin seems to be doing fine these days. The Detroit News reported that she made an appearance at Elton John's gala in New York City on November 8th. According to the report, Franklin "closed the event with a collection of songs," and the gala was successful in raising over $4 million for AIDS research. Additionally, the report didn't mention anything about any apparent health concerns.
On top of that, entertainment reporter Shaun Robinson has taken to Twitter to quell any concerns regarding Franklin's health.
"Good Morning, Everyone. I just spoke to one of Ms. Franklin's family friends in my hometown of Detroit," Robinson tweeted Tuesday morning (Nov. 21). "They spoke to Aretha moments ago and asked me to tell you please don't believe this news that was trending. Have a good day."
Good Morning, Everyone. I just spoke to one of Ms. Franklin's family friends in my hometown Detroit. They spoke to Aretha moments ago and asked me to tell you please don't believe this news that was trending. Have a good day. https://t.co/3LTyD4UlEH

— Shaun Robinson (@shaunrobinson) November 21, 2017
In 2011, when stories surfaced that she was battling pancreatic cancer, Franklin told Robinson in an interview, "I don't know where 'pancreatic cancer' came from. I was sitting there reading the newspaper and it was saying someone in my family said that. No one in my family ever said that to anybody."
Nonetheless, she did acknowledge that she was experiencing some health issues. The month prior, she released a statement via the Associated Press commenting on a surgery she underwent that was "highly successful," though she did not say what she was being treated for. "God is still in control," she said. "I had superb doctors and nurses whom were blessed by all the prayers of the city and the country."
Aretha Franklin has had an illustrious career in the music industry, which has spanned over a period of nearly six decades. In February 2017, she shocked fans by announcing that she was retiring after this year. She later clarified, however, that she still planned to record music, but she would no longer be touring, which, at her age, is completely understandable.
Franklin also revealed that she plans to open up an intimate club called Aretha's, which would be located in downtown Detroit (her hometown). "From time to time I would sing," she explained to the Detroit Free Press, "and of course, I would have special artists come in to perform for the city that people in Detroit like — Detroit favorites."
Be the first to receive breaking news alerts and more stories like this by subscribing to our mailing list.