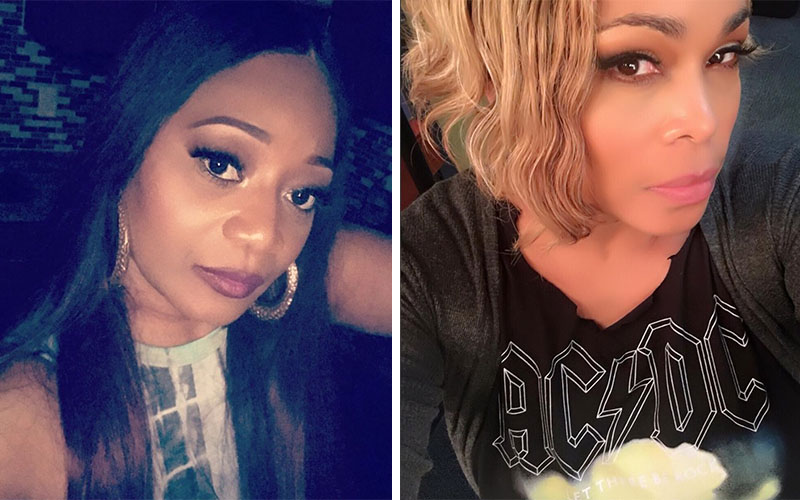 While most people enjoyed the trip down nostalgia lane for this year's VH1 Hip Hop Honors, which sought to honor "'90s Game Changers," two people who were on the scene in the 1990s were none too pleased to be left off of the honoree list: LeLee Lyons of SWV and Tionne "T-Boz" Watkins of TLC.
In a petty move, LeLee got in her feelings and took to her social media to let the world know that she did NOT appreciate SWV not getting a slot on VH1's tribute to the '90s.
https://www.instagram.com/p/BZM01pilcTn/?taken-by=therealleleeswv
LeLee's statement, which lashed out at unspecified people for benefitting from "payola," "dick riding" and "popularity contests," was immediately cosigned by her bandmate, Coco, who chimed in saying, "Say that shit sis!"

T-Boz, who was a major rival to SWV in her hey day, backed her former competitor in Instagram, saying, "I feel you."

Now I'm no Miss Cleo, but I think the angst both of these ladies are feeling stems from the fact that Xscape received a sizable portion of the spotlight during the special as they sang their hits as a group and then Kandi and Tiny came out to perform TLC's hit song "No Scrubs," which they co-wrote.
But this jealousy, envy and bitterness is wildly unbecoming and completely unnecessary given that BOTH ladies' groups have ridden recent waves of promotion and nostalgia. SWV had a lovely comeback complete with their own reality show on WeTV a few years back. And TLC had a WHOLE-ASS TV movie about their lives and impact air on VH1. So it's not like these ladies haven't been celebrated or acknowledged for their impact recently.
Xscape is having their year. They reunited for the first time since their breakup way back when at the BET Awards this year, so it makes sense that they'd be the focus for this event too. Besides, while VH1 sought to honor '90s game changers, it didn't claim to be nor did anyone expect it to be an exhaustive list of every artist who changed '90s.
Jay-Z ran '90s hip hop and he wasn't honored. Did you see him throwing a hissy fit?
T-Boz's behavior and participation in this is especially ugly since her group WAS honored, as Kandi and Tiny DRESSED UP in their likeness as an homage to TLC. And Kandi even posted her T-Boz likeness on Instagram, but Tionne didn't bother to comment, like or acknowledge Kandi's shout out.
Instead, T-Boz took to Twitter plug another TLC co-writer that she liked better:
Check Out My Girl and her new Single!!!! she co wrote on TLC's album too Sis will you plz post this for GOD's GLORY https://t.co/fpe5YUonYX

— Tionne T-Boz Watkins (@TheRealTBOZ) September 19, 2017
Ok, Tionne. We don't know this stranger girl whose Soundcloud you're posting and we don't know or recognize whatever the hell she wrote for y'all, but we peep your petty.
God doesn't like ugly or envy and T-Boz and LeLee should stop worrying about others getting shine and worry about being better people. What is meant for you is meant for you, what isn't meant for you isn't.
Be the first to receive breaking news alerts and more stories like this by subscribing to our mailing list.