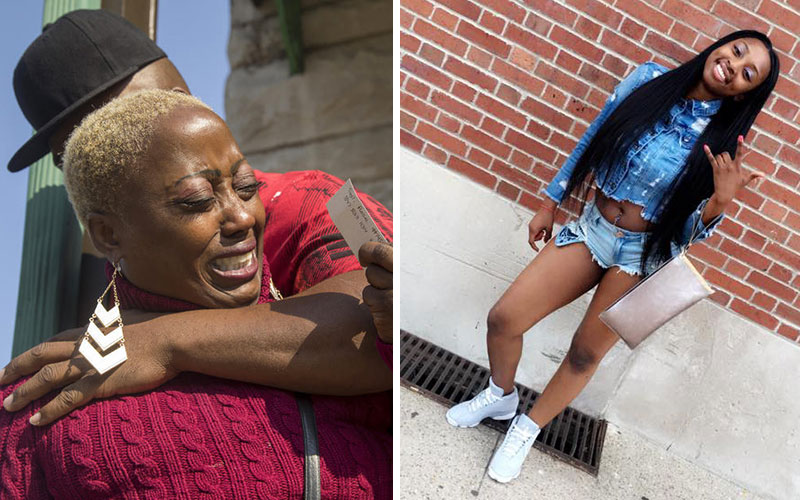 Tereasa Martin, the mother of Kenneka Jenkins, is furious with the Rosemont, Chicago police over the way they initially handled the death investigation for her daughter.
19-year-old Kenneka Jenkins was pronounced dead in the early morning hours of Sunday, September 10th 2017 after having been found in a walk-in freezer at the Crowne Plaza hotel in Rosemont, a Chicago suburb.
Jenkins was supposed to be hanging out with her friends at a party in one of the hotel rooms late Friday night/early Saturday morning, but her friends called her mother around 4:30 a.m. Saturday saying that they couldn't find her.
So Martin went to the hotel herself around 5 a.m., and after a missing persons report was filed, she asked police and hotel staffers to review the security cameras, which recorded Jenkins "staggering" drunk near the hotel's front desk at 3:20 a.m. Saturday morning.
About 20 hours after Jenkins' mother received that frantic phone call from her friends, Jenkins was found dead in the freezer.
In an exclusive interview with the Chicago Tribune, Jenkins' mother spoke out against the Rosemont police, saying that when they told her her daughter was dead, they didn't allow her to see her body until several hours later.
On top of that, when she asked for the names and badge numbers of the police sergeant and the detective handling the case, they initially refused to give them to her.
"After they declared she was dead, when I started asking can I see my baby baby body, and they first denied me. And I asked them for the detective name and sergeant name… When I asked the sergeant for his badge number, he said, 'I gotta talk to the morgue.'

"I said, can I see how my baby lying down there and how she died? And they wouldn't let me see my baby. They told me she was dead around 1 a.m. but they didn't let me see her body until four hours later."
Martin said when they did finally let her see her daughter's body, they only allowed her and Kenneka's sister in the room after they had defrosted the freezer and her body.
"They refused my mother, my sisters, her uncles. They refused my family to see her. They said, 'Only you and your daughter can see her and you can't take pictures because this is a crime scene.'

"At this time, they had let the morgue move her, and they defrosted the freezer. Her hair had water [in it]. They defrosted the whole freezer. I guess that's why they gave it four hours, right? But I asked them 'Can I see my daughter?' Why I can't see how she died?"
Police have no idea how Kenneka got into the freezer, but they theorized that she walked in there by herself while intoxicated. But Martin, who works in the foodservice industry, questioned how her daughter was able to open the heavy freezer doors by herself if she was so drunk.
"I know in the deep freezer at my job, you have to have some strength to yank the doors open. Now, mind you, they said she could barely hold herself up, let alone open a door. And the police department said, 'Freak accidents like that do happen.'"
Martin also doesn't understand how they don't know how Kenneka got in the freezer because "there's a camera sitting right outside."
Martin then broke down into tears while describing how the police department treated her and her family.
"When they discovered her body, we wasn't even allowed to stand in the hotel lobby. They put us out. We had to stand outside and look, just hoping and praying that we could get some kind of help. There were people looking at us like, 'What they doing out here?'

"We were forbidden to come back into the hotel. So we're [out there] begging for help, and the police department couldn't even help us. After they found my baby dead, they couldn't even help us. Them bastards! They couldn't even help us!"
Martin also had words for the hotel, saying that neither them nor the police were very helpful and they didn't take her repeated pleas for help seriously.
"To me, I feel like they helped kill my child: the police department and this hotel," she told CBS Chicago.
Kenneka Jenkins' death remains under investigation by Rosemont police. Jenkins' friends and social media sleuths have accused her friends, Monifah Shelton, Irene Roberts and Shamaya Winder of setting her up.
An autopsy performed on Jenkins' body on September 10th failed to determine a cause of death, and the medical examiner's office has stated that they're awaiting toxicology tests and further investigation by police, who have released few details, citing an open investigation.
At this time, Investigators are reviewing social media posts made by Shelton, Roberts and Winder, as well as a Facebook Live video that appears to show Jenkins' final moments alive.
The video has been viewed millions of times and shared all over social media, and many believe some form of foul play happened in the room, however, police have yet to confirm this.
Gary Mack, a spokesman for Rosemont, told the Chicago Tribune that investigators are reviewing the footage and have identified most of the people in it.
"Yes, they've looked at it and continue to look at it and all the other social media videos and posts," Mack said "They are leaving no stone unturned as far as trying to corral everyone they can and talk to them and interview them about what happened and what was going on that night."
A viral post on Facebook Monday (Sep. 11) suggested that Irene Roberts had turned herself in to police for questioning, but that hasn't been confirmed by officials nor have any credible media outlets reported on it.
Mack told the Tribune it may take weeks to find out what happened to Kenneka as the medical examiner's office awaits results from the toxicology tests.
"I don't think anything has been ruled in or ruled out at this point," Mack said. "It's just considered a death investigation at this point."
Be the first to receive breaking news alerts and more stories like this by subscribing to our mailing list.