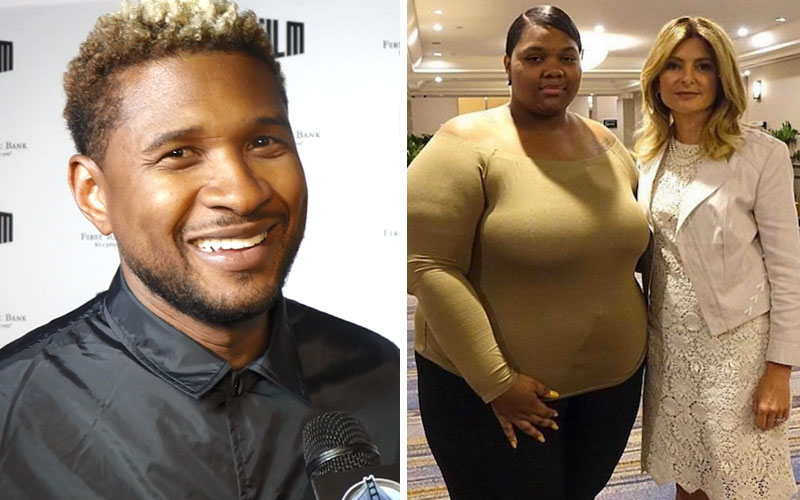 Usher says he DID NOT have sexual relations with Quantasia Sharpton.
Quantasia Sharpton (aka "Quantasia The Scammer") is one of three alleged victims—two women and a man—suing Usher for failing to disclose that he had herpes before they allegedly had sex.
During a press conference Monday morning (Aug. 7), Sharpton claimed that Usher hand picked her out from the crowd at a concert and had sex with her.
"After the show, my friends and I returned to the hotel. I got a call from Usher on a blocked number, asking me what hotel I was staying in and the room number. About an hour later, he arrived. We spoke for a while, and then we engaged in sexual contact. He never warned me about any STDs."
The 21-year-old said she first found out Usher allegedly has herpes a few weeks ago after it was reported the singer paid a woman $1.1 million in 2012 for infecting her with the incurable STD without disclosing her status before sexual contact.
Although Sharpton, who is a mother now, tested negative for herpes, she said she felt as though her rights were violated. Sharpton said the reports were upsetting to her because she "never would have consented" had she known about him allegedly having herpes, which is why she's suing.
But, according to sources close to Usher, all of this is a big fat lie (no pun intended) because Quantasia is NOT his type. While Usher has yet to respond to the herpes allegations and Quantasia's press conference, he has discussed the situation with close friends and industry associates.
One insider told TMZ that while Usher may have pulled her up on stage (and he doesn't remember whether he did or not), he "absolutely didn't hook up with her."
TMZ's report explained why Usher may have brought Sharpton onstage:
As for why he may have picked Sharpton out of the crowd and brought her onstage, the sources say Usher "looks to bring a diverse group of people up onstage, not just supermodels." One source says he believes it's "an esteem booster" to choose various people Usher sees in the audience and single them out.
After her big press conference, Quantasia was exposed as a fraud/scammer by her "friends" on Facebook. According to one friend, Sharpton has a history of "finessing" celebrity men, including August Alsina and Kirko Bangz.
Sharpton's friends also claimed that she had previously lied about being pregnant, having cancer and claimed a celebrity was her baby daddy. "We never saw that baby ever!" one of her friends exclaimed.
TMZ also came across something Quantasia posted on Facebook suggesting that she might be scheming against Usher.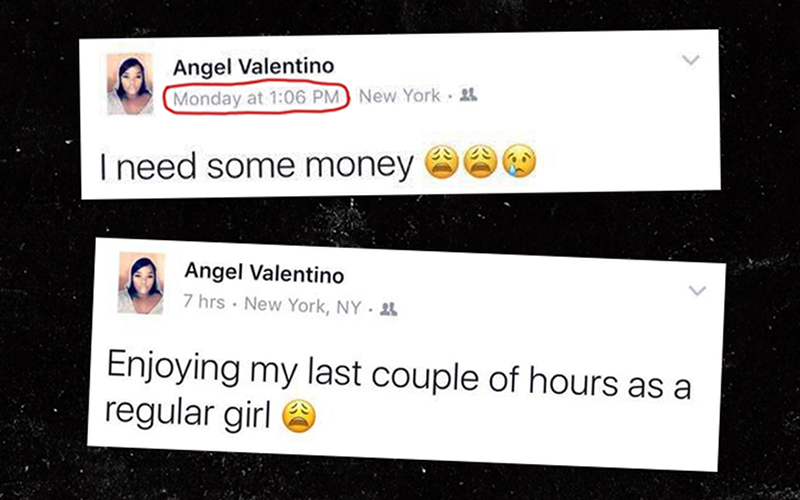 A week before her press conference, she wrote on Facebook that she was in need of money. "Enjoying my last couple of hours a a regular girl," she said in another post.
Meanwhile, amid all of this drama, there are reports floating around that Usher may not even have herpes and he's putting together a lawsuit against his accusers and their lawyers as we speak.
Be the first to receive breaking news alerts and more stories like this by subscribing to our mailing list.