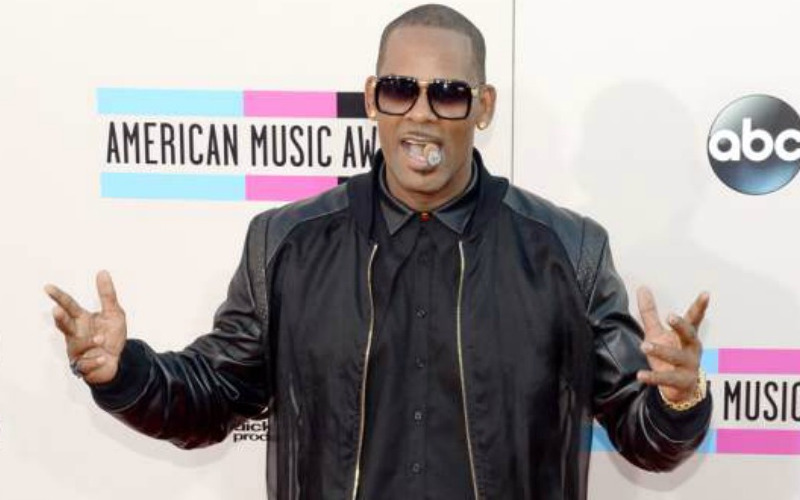 Days after several parents and former friends of R. Kelly claimed he was keeping young women in a "sex cult" on two of his rental properties, another woman has come forward to claim the singer is "very controlling and manipulative." She knows because she was one of Kelly's "babies."
A woman identified as "Kim" (for her protection and privacy) exclusively spoke to Jezebel claiming she has been in sexual relationship with R. Kelly for over a year. Though she is not being held against her will or living on his properties, she does confirm that there are several girls living with the singer.
Kim, who is in her 20s, regularly flies to meet Kelly at his Atlanta and Chicago homes and while he's on tour. She says the women who live with him are 18, 19, and in their early to mid-20s. Though they're all able to leave as they please, Kim says being around them is "like witnessing Stockholm Syndrome."
BuzzFeed News was first to report on the several women living on Kelly's properties. Kim says she was unaware of the seriousness of the situation until she read the report. She doesn't think Kelly is leader of a "sex cult," but does say she found it disturbing how he controlled the young women closest to him.
"All these girls just dote on him; It's so f**ked up. They're completely manipulated and brainwashed."

"… He never makes threats, but the girls are so eager to do whatever he wants. He'll wake us out of a dead sleep and say to this girl, 'Suck my d*ck,' or to these two girls, 'Kiss on each other,' and immediately without thought they jump right to it. It's just bizarre. It's unlike anything I've seen before honestly."

"It's not non-consensual, I guess, but I don't know if they even realize the situation they're in is wrong."
Kim also confirms many of the disturbing details revealed in BuzzFeed's report, such as Kelly ordering them not to look at other men when they're out in public together, or making them wear track suits so their bodies are not revealed or accentuated. She also says Kelly makes them call him "Daddy," while he calls him his "babies."
According to Kim, all the girls have to ask permission to enter or leave a room. Before entering, they have to knock on the door three times and can only enter once granted permission.
She also confirmed that Kelly records all sexual encounters, including ones with her. "A lot of times he doesn't have sex with the girls, he just likes to watch them on each other and records them," she says. Kim claims the singer has three iPads full of videos of the sexual encounters.
One of the women in the BuzzFeed report claimed that Kelly once slapped her for being too friendly with a male Subway employee. Kim says she has never witnessed any physical abuse, but does say Kelly "punishes" the girls for not following his order to his satisfaction.
Kim recalled an incident where one girl did not perform sexually the way Kelly wanted. Via Jezebel:
Kim said that she and the girl were instructed by Kelly to "take off your clothes and act like you miss each other." He got out his iPad and started filming, she said, but was dissatisfied by the 19-year-old's performance. He told Kim to sit on the couch and took the 19-year-old into another room. Twenty minutes later, he called Kim in. Kim knocked in the proper way, then walked in to find the younger girl nude except for one of Kelly's bigger pieces of jewelry, a heavy chain.

"He had his iPad recording and she was naked except for a big chain and she was running laps from one end of the room to the other," Kim remembers. "She was running laps around the room and apologizing. She kept saying, 'I've been bad, I'm sorry Daddy,' shit like that. And I'm standing there and she starts apologizing to me."

Kim said she told her it was all right, but Kelly cut her off. The younger girl continued in tears, she said, telling her, "I know I have to do what Daddy says, I have to act like I miss you more, I wasn't getting into it."
Kim first met R. Kelly when he invited her onstage during one of his concerts last year. He then invited her to an afterparty where he said, "Baby girl, I want you" and gave her his number. The two met at a hotel the next day and had sex on his tour bus.
While having sex, Kim says he stopped at one point to ask her age.
Their relationship is purely sexual, as Kim is not in the music industry and is not looking for him to help her career. Kim provided text messages, photos, hotel receipts, and travel itineraries to Jezebel to confirm her story. The site says it all seems to check out.
Kim also shared the following photo of a sleeping R. Kelly.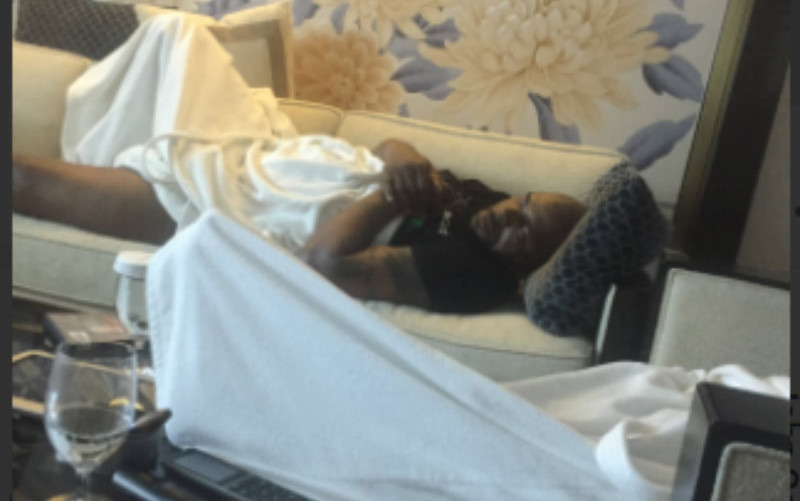 Kim last met Kelly earlier this summer, but after reading the BuzzFeed report, she says she is done with the singer. "After all this? Absolutely not. He's really f**ked up. He's gotten off for so long. It's time."
Be the first to receive breaking news alerts and more stories like this by subscribing to our mailing list.