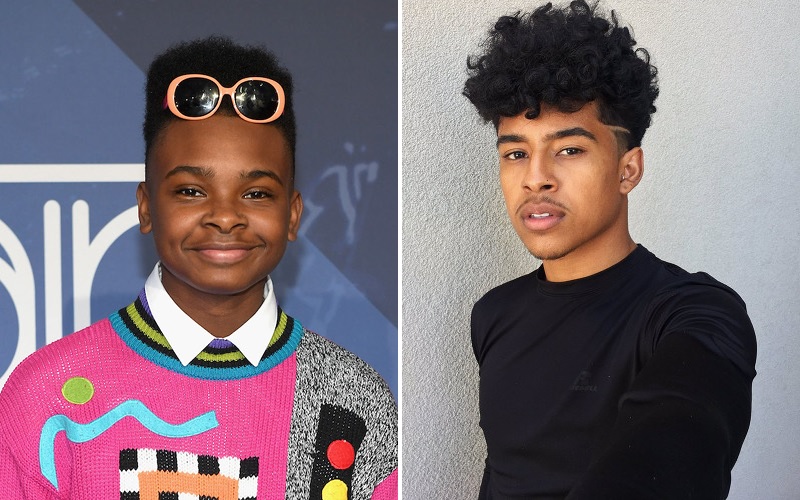 The usually hilarious Jay Versace has no one laughing right now. In fact, most of Twitter is pissed at the Vine star. Versace has found himself in hot water after outing Mindless Behavior member Princeton Perez as gay.
Versace and Perez have privately been dealing with their own social media beef recently. Despite Versace blocking the singer, he claims Perez has been using a private account and the two have been going back and forth through DMs.
Tired of the mess, Versace eventually retaliated by publicly posting screenshots of their conversations. However, one the messages seemingly outs Perez as gay. Versace writes:
"You're a low down sh—y quality ass human that is full of himself. No wonder you can't come out. You're scared of who you really are."

Perez has never publicly discussed his sexuality, but responded to Versace's comment by writing:
"Rumors will be rumors and I'm not in a closet. I don't need to be. I'm being myself. I don't have to broadcast anything."
Here are the screenshots of their conversation Versace posted: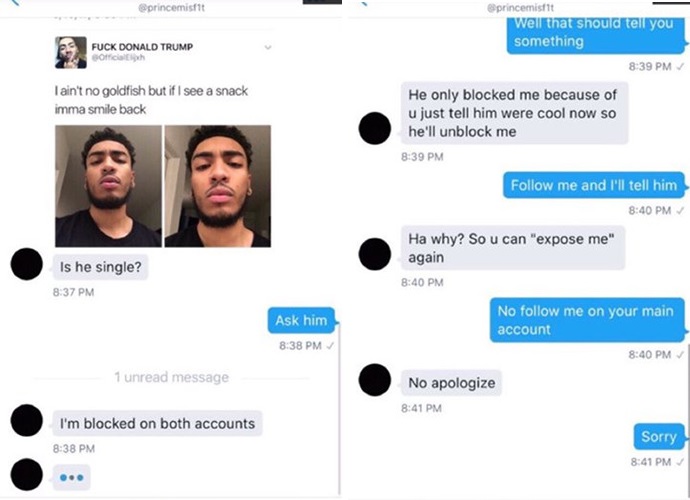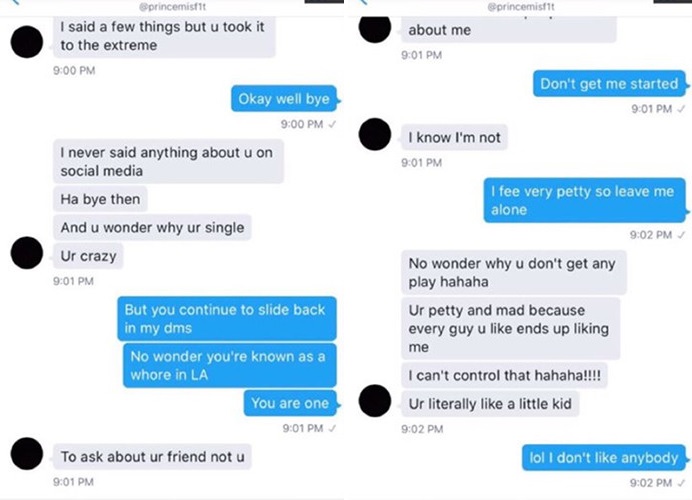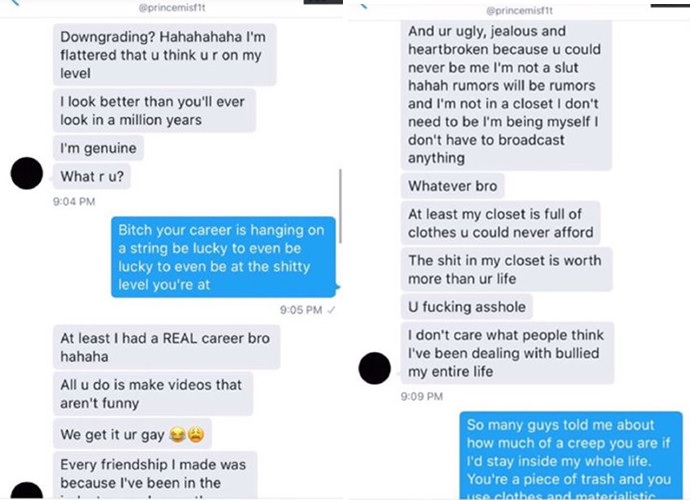 Versace's spiteful action caused him to become a top 10 trending topic on Twitter. Most defended Perez and dragged Versace for publicly outing someone.
jay versace outed princeton for the gag and no one is gagging with him. how low do u have to be? especially when you JUST came out yourself?

— evan 🙂 (@beyonseh) May 25, 2017
Forcing someone out of the closet is the worst thing you can do to someone. You literally just became comfortable with yourself @jayversace

— Massie Block (@psylockebf) May 24, 2017
@jayversace and sis…weren't you just in the closet like 3 months ago? pic.twitter.com/mZpSenDbaJ

— jolly hoe ? (@mellifluousteph) May 25, 2017
so not only is jay versace a transphobic gay man, he's also in the business of outing people who don't want his ugly ass? pic.twitter.com/B2QuSndki3

— bitches is devious (@annanicolesmilf) May 25, 2017
https://twitter.com/theIifeofpabIo/status/867603430298320897
jay versace is trash for outing princeton IF he is gay. you don't drag someone else outta the closet just because you got your feelings hurt

— ? A$AP Maree ? (@__Maree) May 24, 2017
https://twitter.com/muva_bri/status/867765195468308480
If Princeton is gay do ya'll think he'd mess with Jay Versace of all people pic.twitter.com/vZ5HwIaV3q

— Nunu saw Beyonce? (@Nunulabelle) May 25, 2017
https://twitter.com/DAVENCCHI/status/867612634203512832
I thought people already knew that jay versace was trash lol

— An Experience (@incrediblyqueer) May 25, 2017
Versace suspended his Twitter accounts after being dragged for outing Perez. However, he did offer an apology on Snapchat. He noted that outing someone is not OK and admitted he posted the screenshots out of anger.
"For months now [Princeton] has been dming on private twitter accounts harassing me and all of my friends about the people I talk to and just being a plain creep. I've warned him numerous times that if he didn't leave me alone I was going to show the screenshots to the world and let them see for themselves. But yet he still continued to bother me and DM me from accounts.

I got tired. So I posted that. That was clearly not the right way to go about it but I was so upset I didn't think about the precautions before I made those actions. But what I can say is that my intent was not to "out" him. It was to show that he's a bully and a stalker and also it was done out of temporary anger.

I apologize to prince10 and you guys for taking it way too far. I know how hard it is to come out of the closet and I've been there. But also he clearly stated that he wasn't in a closet to begin with. He never said he was straight or gay."
Versace opened up about his own sexuality on Snapchat back in September. Not giving himself a label, the social media star revealed he is not attracted to a specific gender.
"I love people in general idgaf what gender you are .. There it is .. Hate me for it.. Idgaf.. Love me for it.. Love you more."
Publicly outing someone's sexuality is never OK and anyone in the LGBTQ community especially knows this. While Perez was clearly taunting Versace, the Vine's stars reaction was completely out of line. Hopefully, he learns from this mistake.
Be the first to receive breaking news alerts and more stories like this by subscribing to our mailing list.