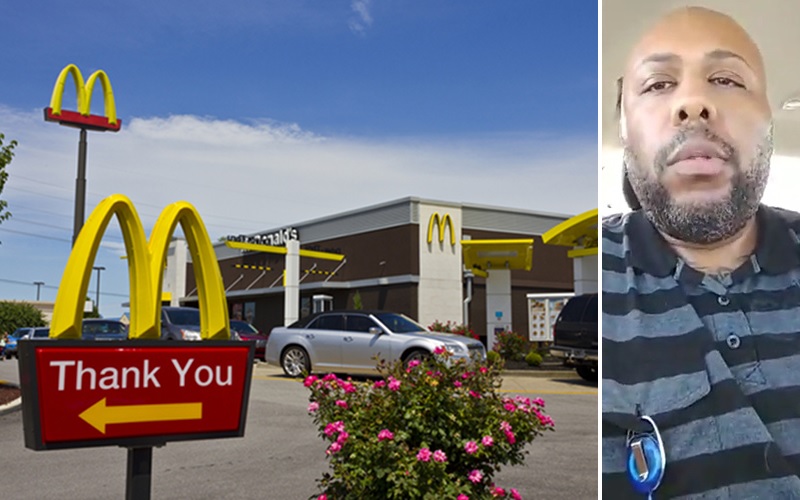 If you see something, say something. McDonald's employees in Erie, Pennsylvania followed this motto and subsequently ended the nationwide manhunt for the "Facebook Killer," Steve Stephens.
After killing 74-year-old Robert Godwin Sr. on Easter Sunday (Apr. 16) in Cleveland and uploading video footage of the murder on Facebook, police found "Stevie Steve" Stephens in Erie County on Tuesday (Apr. 18). A brief police chase ensued until Stephens' car was forcibly stopped by a police tactic and he committed suicide.
Police were alerted of Stephens' whereabouts by McDonald's employees. Around 11 a.m., Stephens approached the McDonald's drive-thru in Harborcreek Township. Her ordered 20 chicken nuggets and a large fry.
However, one of the employees thought the customer looked familiar. Other employees noticed the customer's car and determined it was the "Facebook Killer."
The Mickey D's employees reacted to the situation and devised a plan to delay Stephens. "We told him his fries were going to be a minute," said Henry Sayers, the McDonald's manager. Stephens received his 20 nuggets, but while he waited for his fries, a McDonald's employee called police.
"I am pretty sure he figured that we were on to him. He didn't wait for his fries," said Thomas DuCharme Jr., the restaurant's owner and operator. "He just took his nuggets and said, 'I have to go,'" added Sayers.
Stephens drove off at a normal speed without his fries and was stopped about 5 miles from the McDonald's. He committed suicide before he was apprehended. Though a cause of death was not immediately released, it's assumed Stephens shot himself. An autopsy is expected to be performed on Wednesday.
Police have referred to the McDonald's employee that tipped them as a "concerned citizen." Though not official, police say the tipster (and possibly other McDonald's employees involved) could receive the $50,000 reward that was previously announced by the Cleveland mayor for Stephens' capture.
Be the first to receive breaking news alerts and more stories like this by subscribing to our mailing list.