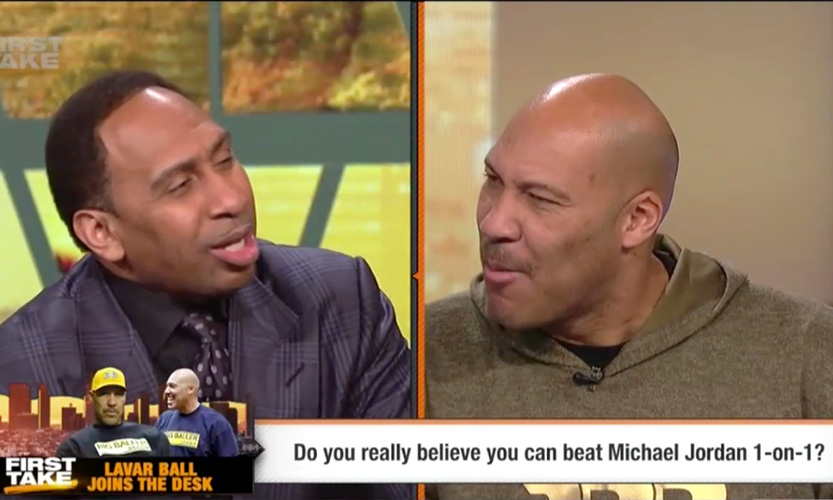 LaVar Ball has become well-known recently for a number of ridiculous claims about himself and his three basketball playing sons. Some of the most notable is that he expects his first born, Lonzo Ball of UCLA, to receive a billion dollar endorsement straight out of college, going after Charles Barkley's intelligence, and, of course, claiming he would've beat Michael Jordan 1-on-1 in their primes.
His proclivity to run his mouth off without seemingly stopping to think has garnered him a lot of negative press lately, but it hasn't slowed him down. He's confident in what he says, so much so, that he decided to go onto ESPN's First Take Thursday and take on professional arguer and gifted yeller, Stephen A. Smith.
And boy, it did not disappoint. Both of these guys have larger than life egos and even bigger confidence in their opinions, so when the two went toe to toe today, it made for great television. It started off as cordial as you could expect, but the pleasantries quickly dissolved into a full-fledged argument that seemed to be about who could yell louder.
Smith went after Ball on some of his more outlandish claims, but Ball, to his credit, stood his ground. On the Michael Jordan claim:
Smith: You were tired from dancing, and you're gonna talk about how you're going to beat Michael Jordan?

Ball: Michael Jordan. How he gonna beat me?

Smith: Pick your poison.

Ball: How is he going to beat me?

Smith: Why are you doing this? Is this another marketing tool of yours?

Ball: Check this out. Everybody used to say, 'who's the best? Michael Jordan or

LeBron?' They say, 'who's the best? Kobe or LeBron?' Guess what the story is now?! Who's better? LaVar, or Michael Jordan?

Smith: Ain't nobody gonna be picking no damn LaVar.

Ball: Yes they are.
And then when discussing if Lonzo Ball is better than Steph Curry.
Ball (on Steph): Soon enough they're gonna double him up and he's gonna lose the ball. He too little. Now you put Lonzo on there with all them athletes and running and gunning, and guess what?

Smith: You're son is that much bigger than Steph Curry?

Ball: He's bigger than Steph Curry. Steph Curry's what, 6'2"?

Smith: He's 6'3″, 6'4″.

Ball: OK, I'll let him be 6'4" and he's still shorter than my boy. Long arms! Can he jump?! Can he run?! Not like my boy.

Smith: Oh, my God, how do you…something is wrong with you!

Ball: Yes!
The whole interview, which clocks in at just over 20 minutes, is well worth watching, especially if you like to see two people, completely talking out of their ass, trying to out-yell the other. I, for one, am a big fan.
Be the first to receive breaking news alerts and more stories like this by subscribing to our mailing list.