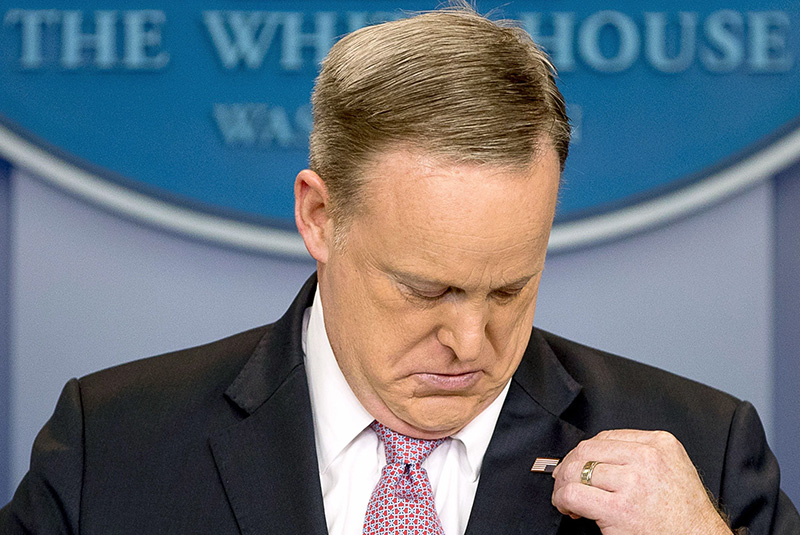 During a press conference today, walking SNL material-generator Sean Spicer took to the podium rocking the customary American flag pin. But it didn't take long for the press, and the internet, to notice that his flag was upside down.
It wasn't until a Fox News reporter pointed out the mistake that he finally fixed it, but as Swae Lee knows, the internet moves fast and the moment was quickly captured. While some would call it a simple mistake, others are saying it is a discreet cry for help for Trump's press secretary.
.@PressSec Sean Spicer fixes flag pin after @Omarosa delivers note to podium. Watch LIVE on C-SPAN3 https://t.co/OB60zuQzXH pic.twitter.com/9J0hlEBYxu

— CSPAN (@cspan) March 10, 2017
As most House of Cards fans know, an upside down flag is a sign of distress, meant to signal that something is wrong and help is needed. So when people saw Spicer sporting this variation of the flag, people saw it as a cry for help.
Spicer's flag pin is upside down…

….it's a cry for help! pic.twitter.com/7uWj9tnAHE

— jordan (@JordanUhl) March 10, 2017
Sean Spicer wearing pin upside down was completely appropriate given how this Presser went. https://t.co/FcUEoUZyhr pic.twitter.com/HCbfx6GtQM

— Amee Vanderpool (@girlsreallyrule) March 10, 2017
I'm not certain, but I'd wager Sean Spicer's upside down flag pin was a secret cry for help. @PressSec we can help, you just gotta open up. pic.twitter.com/SBZDfCrsbQ

— Matthew D. Dho (@MattDho) March 10, 2017
https://twitter.com/SteveKopack/status/840274791236042753
UPSIDE DOWN FLAG PIN! SPICER IS COMPROMISED! INITIATE OPERATION SPICER EVAC!!! pic.twitter.com/7Ujd4sb4eR

— Rex Huppke (@RexHuppke) March 10, 2017
Others took it a different way.
Sean Spicer wearing his flag pin upside down is the most accurate representation of this presidency I've seen so far

— Dakota Driver (@dakota_driver7) March 10, 2017
Not surprised Spicer didn't know his pin was upside down, it's hard to see with his head so far up Trump's ass #PressBriefing pic.twitter.com/APqcTEMTnm

— Alt Fed Employee (@Alt_FedEmployee) March 10, 2017
Sean Spicer's American flag pin was upside down.

Interesting theory being explored: He's a complete and total idiot.

— Jake Vig (@Jake_Vig) March 10, 2017
https://twitter.com/LiberalPod/status/840282246967918594
Even the House of Cards Twitter got in on the action.
Your loyalty has not gone unnoticed. https://t.co/ba1kz1yvXF

— House of Cards (@HouseofCards) March 10, 2017
Luckily for all of us, this happened on a Friday afternoon, so hopefully we'll be seeing Melissa McCarthy having some fun with it tomorrow night on SNL.
Be the first to receive breaking news alerts and more stories like this by subscribing to our mailing list.