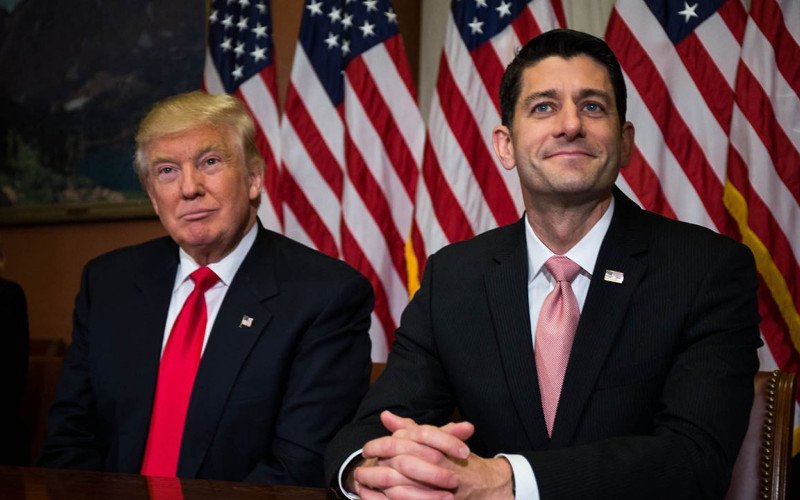 The GOP has finally done what they've wanted to for years. House Republicans unveiled a replacement to the Affordable Care Act, more commonly known as Obamacare.
The GOP ran on a "repeal and replace" healthcare platform for most of 2016. On Monday (Marc. 6), the replacement bill was announced. Republicans claim The American Health Care Act will keep popular aspects of the ACA like children can remain on their parents' insurance until they're 26 and people won't be denied coverage based on pre-existing conditions.
However, critics say the bill will cause 6-10 million Americans currently insured under ACA to lose their insurance. The bill will also end Medicaid expansion in 2020, which helps make insurance affordable, and will be disadvantageous for lower-income individuals and families.
Utah Rep. Jason Chaffetz defended the bill (and cost) and said low-income Americans will have to choose between the new iPhone and health insurance.
GOP Rep. Chaffetz: Americans may need to choose between "new iphone… they just love" and investing in health care https://t.co/5Hxwn2uOl5

— New Day (@NewDay) March 7, 2017
"Americans have choices, and they've got to make a choice. So rather than getting that new iPhone that they just love and want to go spend hundreds of dollars on that, maybe they should invest in their own health care. They've got to make those decisions themselves."
Chaffetz is clearly under the impression that poor people have the money to buy the latest Apple gadget in the first place. But of course, he's one of those Republicans who believes people just choose to be poor because they can't prioritize between iPhones and material items and rent, food and healthcare expenses.
The GOP replacement has been dubbed Trumpcare. Twitter wasn't too thrilled with the new bill and expressed its thoughts with #TrumpCare jokes and memes, causing it to become a trending topic.
Everyone will be covered. #Trumpcare pic.twitter.com/WAwRByTUf7

— E (@eSHEIKH_) March 7, 2017
Did you expect a coherent Health Care plan from someone who has this guy as his doctor?#TheResistance #TrumpCare #FraudsterDon #resist pic.twitter.com/hiSLVJhmur

— Elizabeth Warren (@EWarrenPersists) March 7, 2017
Saving up for my first mammogram #Trumpcare pic.twitter.com/QN4IcXZxTv

— Kelly Luce (@lucekel) March 7, 2017
You might die if you get sick, but Hillary's emails. #GOPHealthPlanIn10Words #TrumpCare #DumpCare

— Keala (@kealacarr) March 7, 2017
Oh My God you guys.

This is NOT, I repeat, NOT an SNL skit. But I honestly can't stop laughing. Lol ? #Trumpcare pic.twitter.com/JaMGU2JVSc

— Qasim Rashid, Esq. (@MuslimIQ) March 7, 2017
Wait, Sean Spicer basically just said new healthcare plan is better b/c there are fewer pages? #Trumpcare pic.twitter.com/s0tuxXSspe

— Jean Dunn ? (@jeandunn52) March 7, 2017
Guns: Yes
Healthcare once you get shot: No
Abortion: No
Healthcare for kids: No
Education for kids: No

Vote for us,

The GOP#Trumpcare

— John (@linnyitssn) March 7, 2017
Is this enough phone? #trumpcare #AHCA #Chaffetz #iphone pic.twitter.com/KE61QXKoB5

— PersonAmerican ? (@1personamerican) March 7, 2017
https://twitter.com/JustinTaylorBE/status/839013968161169409
#Trumpcare is a Pro-life Bill for Wealthy Old Republican Males (#WORMs); a death sentence for everyone else pic.twitter.com/KuYi0QyN1j

— ?BlueHumanity? (@BlueHumanity) March 7, 2017
#Trumpcare is an excellent oxymoron. Like Jumbo Shrimp. Or Great Depression. Or Friendly Fire….

— Hillary Miller (@CricketArt67) March 7, 2017
Be the first to receive breaking news alerts and more stories like this by subscribing to our mailing list.