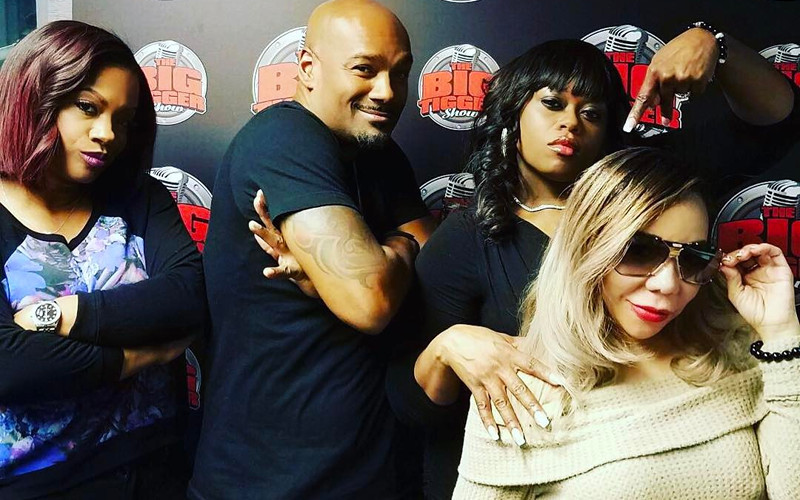 The one thing you probably thought never would happen just happened. Kandi and Tiny made up! And on top of that, Xscape reuniting with all four original members!
After 18 years of going their separate ways, Xscape is putting the old band back together again. Kandi Burruss, Tameka "Tiny" Harris, and Tamika Scott made the announcement Tuesday (Feb. 28) during an appearance on Big Tigger's radio show on Atlanta's V103.
We're Baaaackkk!! Xscape? @TinyMajorMama @kandi @officialTScott @iamlatocha what a way to end… https://t.co/UkNvSYmCwu

— Xscape™ (@Thegroupxscape) March 1, 2017
LaTocha Scott was unable to be in the studio live, but she called in. It was the group's first interview together in 18 years! LaTocha also confirmed the news on her Instagram account.
https://www.instagram.com/p/BREhwcHDzqu/
Nearly two decades since the release of their third and last album, Xscape is prepared to perform together again, as well as record new music.
The R&B quartet disbanded in the late 90s after three successful albums to pursue solo and other projects. A longstanding feud between Tiny and Kandi also kept the original four from reuniting. The two revealed they reconciled during a much-needed conversation that took place on Monday (Feb. 27).
Kandi: "It was emotional, but then we had a real conversation, which we haven't had in a long time. I was able to let it go after that."

Tiny: "Now, we grown. We gon' let the bygones be bygones. It's the last time you will hear this. Anything after this is going to be our legacy and what we doing next."
Kandi previously revealed during a 2013 V-103 interview that she felt Tiny purposefully spread rumors that she had sex with Jermaine Dupri's father in an attempt to damage her public image. The Real Housewives of Atlanta star said at the time:
"To this day now, I have to see people try to say that I had sex with Jermaine's father. She said that just to make me look bad to people. She came back to apologize to me, but she never apologized in public…It's not true. It was a flat-out lie. When people do stuff to try to damage you or bring you down to the public, that's hateful."
Fans couldn't be happier the two finally squashed their beef and are even more excited Xscape is back together.
WAIT! Xscape is reuniting!?!?!?! #BHM just won't let up! ?? ?? ?? pic.twitter.com/Tz93tLxREr

— Jasmyn Lawson (@JasmynBeKnowing) February 28, 2017
Manee Xscape is my group, you can ask anyone and they'll tell you ?? I'm excited they reunited ! Hopefully they make a movie????

— |12/26???| (@Reign_Lane) March 1, 2017
#JustKickinIt on #FatTuesday and This Happens…. #Xscape #V103 ??? pic.twitter.com/8YCcYIY8Cx

— Rachel Currence (@rachel_currence) March 1, 2017
So excited that Xscape is back together. I can't wait to buy a concert ticket. #Xscape

— Jeffery Lewis (@iamjefferylewis) March 1, 2017
WELL DAMMIT IT'S ABOUT DAMN TIME!!! #XSCAPE #HUMMINCOMINATCHA It's about to be a #TAKEOVER I cannot wait! @Kandi @TinyMajorMama @iamlatocha pic.twitter.com/9y2GHbf0BX

— DEIDRE (@MSDEELITE72) March 1, 2017
My favorite group is back…I'm in love all over again #Xscape ??

— Felice (@Feliz_NaviDa) March 1, 2017
Be the first to receive breaking news alerts and more stories like this by subscribing to our mailing list.