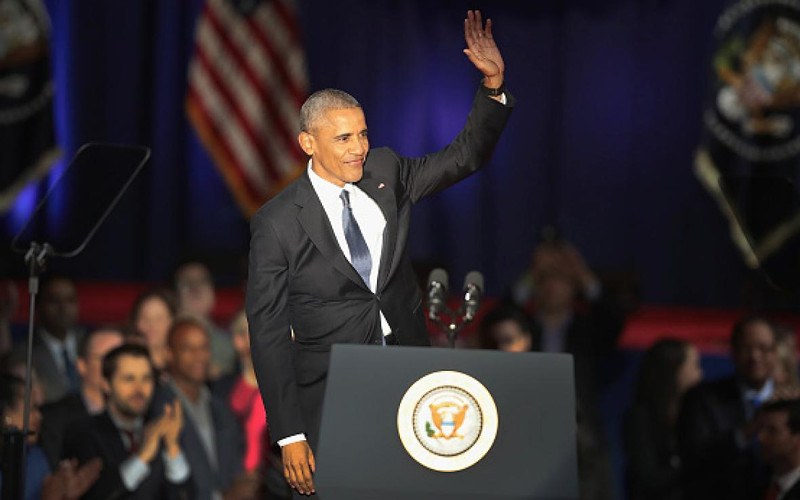 The time is sadly upon us, my friends. In just nine frightening mere days, Barack Obama will no longer be the sitting President of the United States. To say his goodbye to the country, the president gave his farewell address Tuesday (Jan. 10) at McCormick Place in Grant Park in Chicago, the same place where he gave his victory speech after the 2008 election. Here are a few highlights from President Obama's goodbye.
Pres. Obama: "Tonight it's my turn to say thanks…you made me a better president, and you made me a better man." https://t.co/J4h53AeTVl pic.twitter.com/lvXBWNPcDi

— ABC News (@ABC) January 11, 2017
The President defended his legacy.
I personally believe Barack Obama has been one of the greatest presidents the United States has ever had. However, some have constantly questioned his legacy. During his farewell, Obama briefly highlighted a few of his accomplishments over his two terms.
Obama's emotional goodbye #ObamaFarewell https://t.co/fmXk1CyuGG pic.twitter.com/8sQD8r3LU8

— BBC News (World) (@BBCWorld) January 11, 2017
"If I had told you eight years ago that America would reverse a great recession, reboot our auto industry, and unleash the longest stretch of job creation in our history — if I had told you that we would open up a new chapter with the Cuban people, shut down Iran's nuclear weapons program without firing a shot, take out the mastermind of 9/11 — if I had told you that we would win marriage equality and secure the right to health insurance for another 20 million of our fellow citizens — if I had told you all that, you might have said our sights were set a little too high."
And just imagine what more he could have done without petty Republican obstructionism.
Obama and the crowd thanks Vice President Joe Biden.
Who won't miss Joe Biden? He has been a respected figure in American politics for nearly 45 years. He answered Obama's call in 2008 and represented our nation with heart and humor as Vice President of the United States.
The VP and President were both visibly teary-eyed as Obama thanked his running mate and friend.
"In the bargain, I gained a brother." Pres. Obama thanks Vice President Joe Biden during farewell speech. pic.twitter.com/OKGtTUupOb

— World News Tonight (@ABCWorldNews) January 11, 2017
"You were the first decision I made as a nominee, and it was the best. Not just because you have been a great vice president, but because in the bargain I gained a brother. And we love you and Jill like family. And your friendship has been one of the great joys of our lives."
The crowd chants "Four more years!"
Given what we face with the president-elect's term, it was inevitable that a "Four more years!" chant would break out during Obama's farewell. And it did!
Crowd chants "four more years!" during Obama's final speech. @POTUS: "I can't do that." https://t.co/lQsZyz9iwS https://t.co/rVIxpsyMol

— CNN (@CNN) January 11, 2017
"I can't do that," Obama said with a smile before resuming his speech.
Barack gets emotional when he acknowledges and praises Michelle.
Barack Obama got emotional (and so did we) as he recognized his wife, partner, and First Lady Michelle Obama. He even needed a tissue to wipe away a tear.
WATCH: "You have been my best friend." Pres. Obama emotional in addressing wife Michelle. #ObamaFarewell: https://t.co/xgkSCSwfcs pic.twitter.com/GrqmIBE8uV

— Good Morning America (@GMA) January 11, 2017
"Michelle LaVaughn Robinson of the South Side…for the past 25 years you have not only been my wife and mother of my children, you have been my best friend. You took on a role you didn't ask for. And you made it your own with grace and with grit and with style, and good humor. You made the White House a place that belongs to everybody. And a new generation sets its sights higher because it has you as a role model. You have made me proud, and you have made the country proud."
I guarantee Barack wasn't the only one shedding tears during this heartfelt moment, but I think we may have been crying for different reasons.
(Please, don't go Barack and Michelle!)
The President tells his daughters, "I'm most proud to be your dad."
In addition to be an amazing president, Obama is also an amazing father. He and Michelle raised two black girls in the White House and, together, they were the shining example of not just the First Family, but an American family. "I'm most proud to be you dad," he said to Malia (18) and Sasha (15).
WATCH: "I am most proud to be your dad." Pres. Obama thanks daughters Sasha & Malia. #ObamaFarewell: https://t.co/xgkSCSwfcs pic.twitter.com/h7h14Ht3Cw

— Good Morning America (@GMA) January 11, 2017
"Under the strangest of circumstances, you have become two amazing young women, smart and beautiful, but more importantly, kind and thoughtful and full of passion. You wore the burden of years in the spotlight so easily. Of all that I have done in my life, I'm most proud to be your dad."
Sasha was notably absent during her father's farewell address and her whereabouts were not mentioned during Obama's speech. However, an official White House statement later explained she remained in D.C. to prepare for a Wednesday morning exam. This just shows how much the Obamas value education, even on important/historic moments like this.
The Obamas will also remain in D.C. until Sasha graduates from high school.
Obama addresses the state of race relations in America.
People have claimed that since we elected America's first black president twice, that we must now be "post racial." However, the opposition and racism Obama faced for 8 years and the current state of race relations would suggest this isn't so. Many (including me) would also argue the 2016 election just much power racists still possess.
Obama acknowledged racism continues to be an issue and that "hearts must change."
"Race remains a potent and often divisive force in our society. Now I've lived long enough to know that race relations are better than they were 10 or 20 or 30 years ago… But we're not where we need to be. And all of us have more work to do. Hearts must change."
He even defended those who protest against systemic racism.
"Laws alone won't be enough. Hearts must change." – President Obama on discrimination in his farewell address pic.twitter.com/0GYtDLt1Tc

— BuzzFeed (@BuzzFeed) January 11, 2017
Obama closes his speech with rousing "Yes we can!" slogan.
Obama ended his farewell speech with the very familiar and rousing slogan, "Yes we can!" Only this time, he added, "Yes we did!"
*I'm not crying, you're crying*
Alright, I'm definitely crying.
Here is President Obama's full Farewell address. You can also read the full text here:
Be the first to receive breaking news alerts and more stories like this by subscribing to our mailing list.