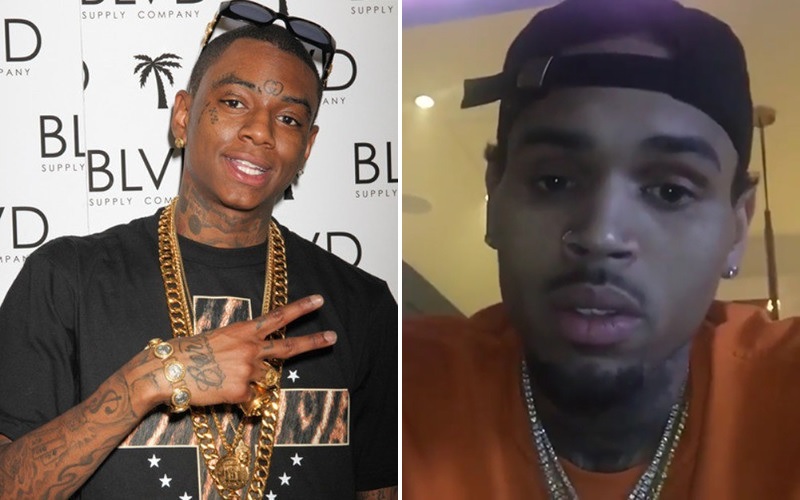 The fight between Chris Brown and Soulja Boy is apparently really about to go down. However, the celebrity boxing match may not be a clean fight because Soulja has gotten really dirty by bringing Chris' 2-year-old daughter into their beef.
Soulja accepted Chris' boxing challenge and has been getting ready for the match on social media. He has also enlisted the help/training of Floyd Mayweather to prepare him.
The champ said I got this ??? pic.twitter.com/7FAxZuouGi

— Soulja Boy (Drako) (@souljaboy) January 5, 2017
On Thursday (Jan. 5), to irritate Chris, SB mentioned Chris' daughter, Royalty, and her mother, Nia Guzman, who has apparently been getting close to Floyd lately.
In a now deleted post, SB reposted one of Nia's photos of Royalty with the tags "TheMoneyTeam" and "FloydMayweather." SB captioned his post with "#TMT."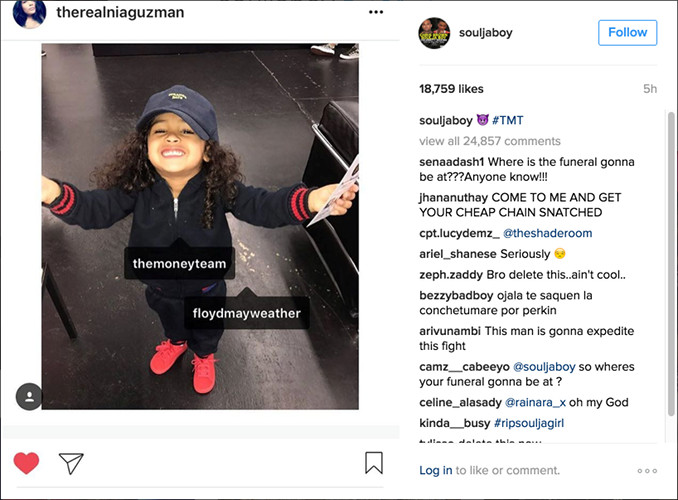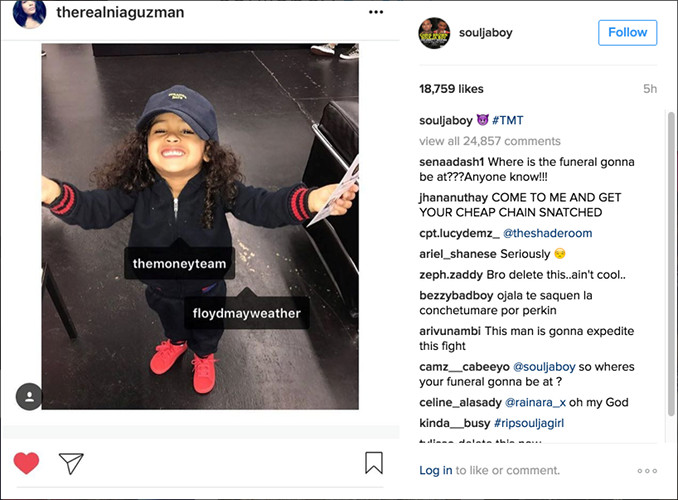 He also posted in a now-deleted tweet: "Chilled with royalty and Nia tonight at Floyds house."
The insinuation is that Nia and Royalty are both team Soulja.
Obviously, the low blow did not go over well with Chris. An angry Chris recorded an Instagram video to warn Soulja to stop talking about his daughter and bringing her into their beef.
"Ima be real with you, stop bringing my daughter into this, my ni**a. Stop saying sh*t about my f**king daughter, bro…I'm telling you right now, on Jesus Christ, on anybody you f**king believe in, Allah, Buddha, I don't give a f*ck, ni**a. On my daughter, stop talking about my daughter, bro. That sh*t ain't cool. Real gangstas and street ni**as know No. 1 rule, no girls, no daughters, no kids. You's a bitch, my ni**a. Stop."
https://www.instagram.com/p/BO5A4YaAA4C/
I don't know why, since it's a perfect reaction to such a low bow, but Chris has since deleted the original video from his account.
Nia also made it clear on her private Instagram account that she has nothing to do with the situation writing, "people love to twist a positive to a negative."
She says she was using the Floyd Mayweather tags before the beef even started because she is working with the boxer as he has been "sponsoring [Royalty] for 3 months," whatever that means.
https://twitter.com/B_APhillyated/status/817096813845053440
Here are more clips of Soulja preparing for the fight and training with Floyd.
https://twitter.com/souljaboy/status/816881875612377089
https://www.instagram.com/p/BO4pFGXFLCD/
https://twitter.com/mymixtapez/status/816750604802551808
The Money Team ????

— Soulja Boy (Drako) (@souljaboy) January 6, 2017
I invited Rihanna & Karrueche to the fight. I know they dont want this bitch nigga Chris Brown no more. But they can watch me knock him out.

— Soulja Boy (Drako) (@souljaboy) January 5, 2017
Be the first to receive breaking news alerts and more stories like this by subscribing to our mailing list.