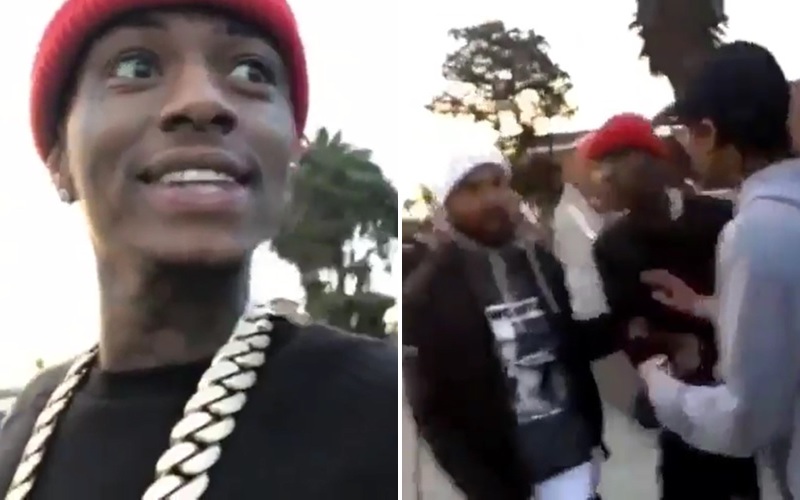 Chris Brown might not have fought Soulja Boy (yet), but somebody put hands on the rapper.
Soulja was continuing his fresh beef with Chris during an Instagram Live video in his own neighborhood when a group of guys got his attention. "What's going on, man? They say Soulja Boy ain't from the hood," Soulja shouted.
However, as he put his arm around one the guys, the man reacted "get off me, though." It looks like Soulja drops his phone and the audio suggested the two started to fight. Someone then picks up the phone and ends the video.
So Soulja boy just got robbed on Instagram Live ? pic.twitter.com/Y7VS7TKcob

— The Real Destiny Marilyn (@sweet_novacanee) January 4, 2017
Twitter immediately thought Soulja was jumped and robbed in his own neighborhood while talking trash about Chris Brown.
Lmfaooo I just seen @souljaboy get punked live on Instagram in the hood ahhahahahahhahha

— Fredo (@JasKnowsIt) January 4, 2017
soulja boy almost getting his life snatched from him on instagram is a dangerous yet necessary wake up call.

— aaron washington (@theaaronwash) January 4, 2017
Soulja boy should just shoot his self on top of the head. How you get robbed in ya own hood on Instagram live.The nigga got ya phone and all

— Tre_Byrd ? (@tredaddy101) January 4, 2017
https://twitter.com/IAMKRIS24/status/816461398343557120
I love seeing rappers get a reality check ?

— Waka Flocka (@WakaFlocka) January 4, 2017
After seeing the viral video for himself, Chris couldn't help but get in on the action.
https://www.instagram.com/p/BO0wzZElD6v/
https://www.instagram.com/p/BO0vj14FE4T/
However, footage from another angle of the confrontation gives a little more context of the situation. It seems Soulja puts his phone on the ground to prepare to fight, but someone intervenes so the two never go to blows.
https://twitter.com/DJRickDaRuler/status/816470388700053504
However, someone does yell, "Bro, stop all that weird ass sh*t… before I really knock you out." It's just unclear who said it and if it was directed towards Soulja.
As Chris previously suggested, maybe Soulja is all talk and can't actually back it up. He went in so hard on Chris only to get clowned like this. It's probably best for the Chicago-born rapper just to take this L and leave give it a rest.
Be the first to receive breaking news alerts and more stories like this by subscribing to our mailing list.