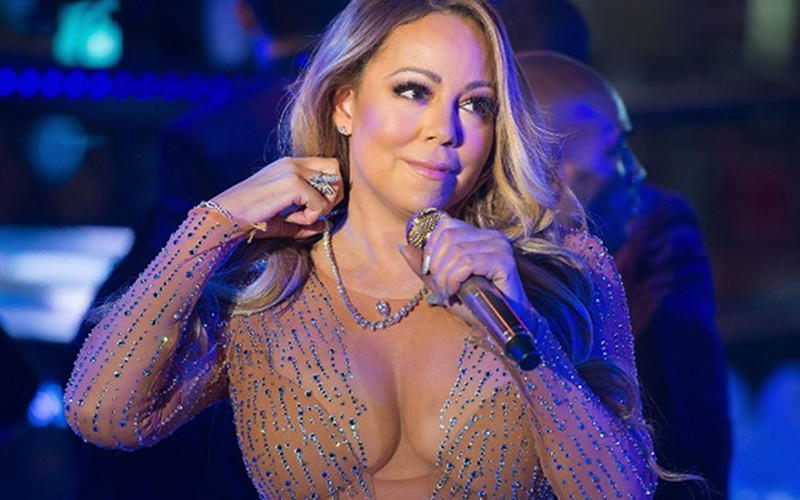 Pointing fingers and placing blame is the name of the game following Mariah Carey's New Year's Eve lip sync fail performance.
Carey's team has accused Dick Clark Productions of sabotage for the diva's disastrous performance on New Year's Rockin' Eve with Ryan Seacrest. However, DCP has released a statement rejecting the "defamatory," "outrageous," and "absurd" accusations.
"As the premier producer of live television events for nearly 50 years, we pride ourselves on our reputation and long-standing relationships with artists. To suggest that DCP, as producer of music shows including the American Music Awards, Billboard Music Awards, New Year's Rockin' Eve and Academy of Country Music Awards, would ever intentionally compromise the success of any artist is defamatory, outrageous and frankly absurd."
Performing just 20 minutes before ringing in 2017, Carey was the headlining act for the program. She was set perform three songs, but audio issues exposed her lip syncing and Carey was never able to recover during the six-minute set.
DCP admits that there were technical issues with Carey's in-ear monitors, but do not believe it was due to any wrongdoing on their end.
"In very rare instances there are of course technical errors that can occur with live television, however, an initial investigation has indicated that [Dick Clark Productions] had no involvement in the challenges associated with Ms. Carey's New Year's Eve performance. We want to be clear that we have the utmost respect for Ms. Carey as an artist and acknowledge her tremendous accomplishments in the industry."
So, that's DCP's official statement, but sources close to the company outright told Billboard that all blame lies with Carey's tech crew.
An insider revealed Carey had "ample time rehearse and chose not to" and opted to use a body double to stand in for her. "All was working" perfectly fine during this rehearsal the source added, suggesting any problem incurred during the live broadcast was Carey and her team's fault.
The main issue seems to be that the audio feed was "set to the wrong frequency," which caused Carey to be unable to hear the music through her in-ears.
Even Milli Vanilli is embarrassed by Mariah Carey's debacle. pic.twitter.com/8179cHu7jA

— Jimmy Traina (@JimmyTraina) January 1, 2017
I suspect the blame game will continue as Carey's camp is steadfast DCP did her dirty. "Production set her up to fail," a rep for Carey told Billboard.
"[W]hy would they want to run a performance with mechanical glitches unless they just want eyeballs at any expense," Carey's manager Stella Bulochnikov pondered after DCP allegedly denied her request to scrap Carey's performance from the west coast feed.
DCP actually denies ever having such conversation with Bulochnikov.
Still, I say this would NEVER happen to Beyoncé!
Be the first to receive breaking news alerts and more stories like this by subscribing to our mailing list.