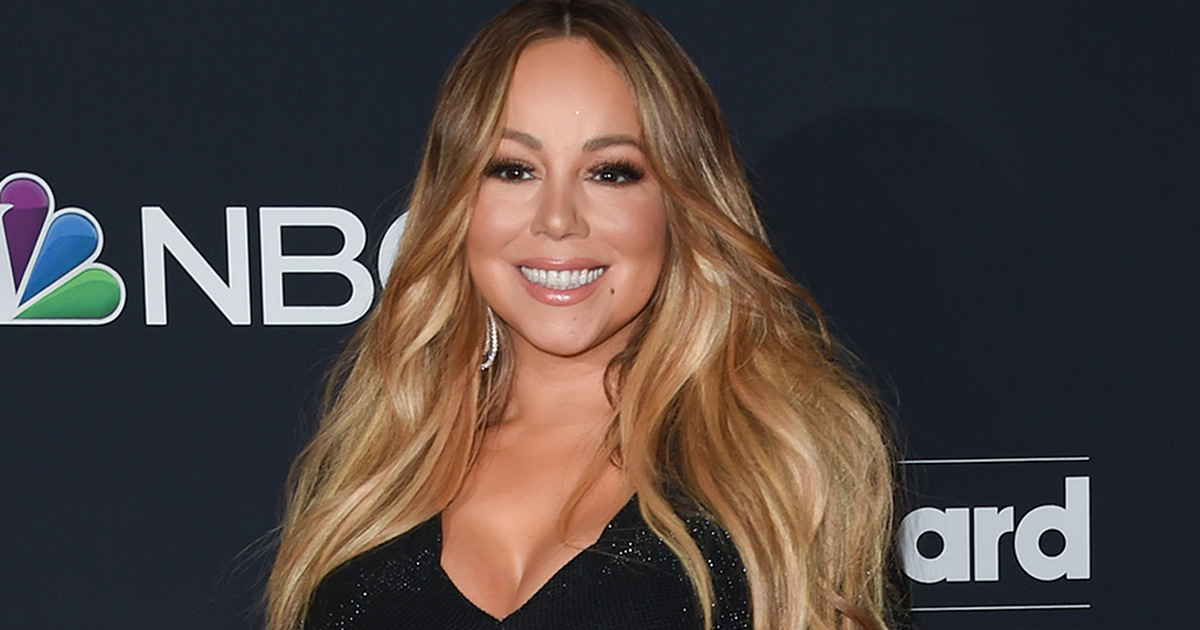 Did Mariah Carey just admit her thirst for Eminem, exposing their long-held feud as an elaborate cover-up of her true feelings? Not exactly.
Carey—who's been setting records and making history throughout December—seemingly went on a tweeting spree earlier this New Year's Eve afternoon.
But as soon as she tweeted: "Eminem can still hold this p***y," it was pretty clear that her account had been hacked.
Mariah Carey getting her twitter hacked is a beautiful end to this decade ?? pic.twitter.com/BKZoTP6lnk

— IGZ (@igzrap) January 1, 2020
Other tweets referenced Eminem's "little penis," his daughter, and used the n-word.
The hacker gave shoutouts to specific users and begged Carey's 21 million followers to follow several Twitter handles with photos and videos.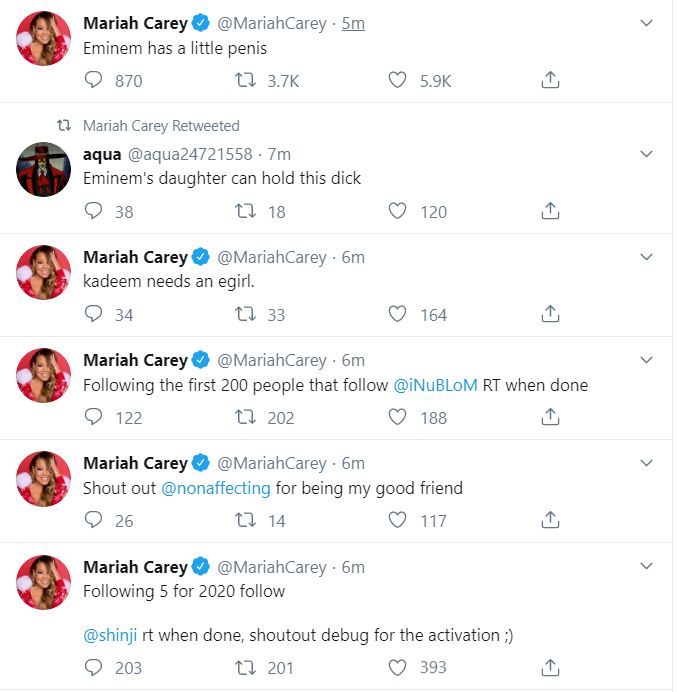 Some tweets also mentioned the Chuckling Squad, a hacker group that has been responsible for hacking several celebrity Twitter accounts, including the account of Twitter CEO, Jack Dorsey.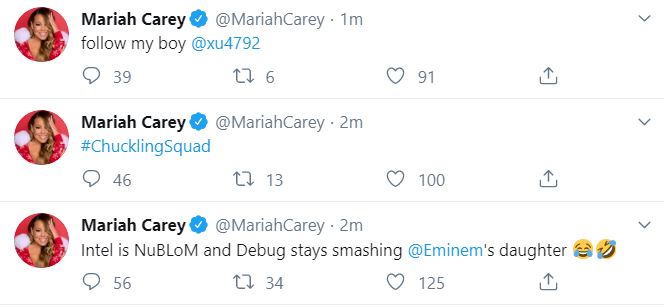 According to Variety, Carey's hacker sent over 50 tweets within just over 20 minutes.
A majority of the hacked tweets were deleted roughly 20 minutes after the attack ended. Carey has not addressed the matter, but it did cause her to become a trending topic.
Y'all don't ever hack the good stuff like Sallie Mae! Y'all really hacked Mariah Carey's twitter?? pic.twitter.com/771bOuByMJ

— ??WOO ???? (@TheJessieWoo) December 31, 2019
camila cabello after hacking mariah carey's twitter so she wouldn't be called racist anymorepic.twitter.com/O93Z5xtbij

— abbi (@fallawaybandito) January 1, 2020
now jlo be wonderin what to post next on mariah carey's twitter pic.twitter.com/J2FQMhkA0J

— ngii (@relcris_lerum) January 1, 2020
I take it back. The Mariah Carey Twitter mess tonight has me DECEASED! Ya'll are TOO much. I can't!! This is such a #Blessing pic.twitter.com/7H2lM0vUBE

— Conner Nix (@ConnerJ89) January 1, 2020
Carey has been trending for several other reasons this month as well. She scored her 19th Billboard Hot 100 No. 1 when her holiday classic "All I Want for Christmas," topped the chart for the first time since its 1994 release.
And since the song remains in the top spot for the week of January 4th, Carey also becomes the first artist in history to have No. 1 songs in four decades (the '90s, '00s, '10s, and '20s).
Though I'm sure she's upset her account was hacked, let's hope Carey is too comfortable sitting on her throne for legends to be too bothered by the cyberattack.
Be the first to receive breaking news alerts and more stories like this by subscribing to our mailing list.