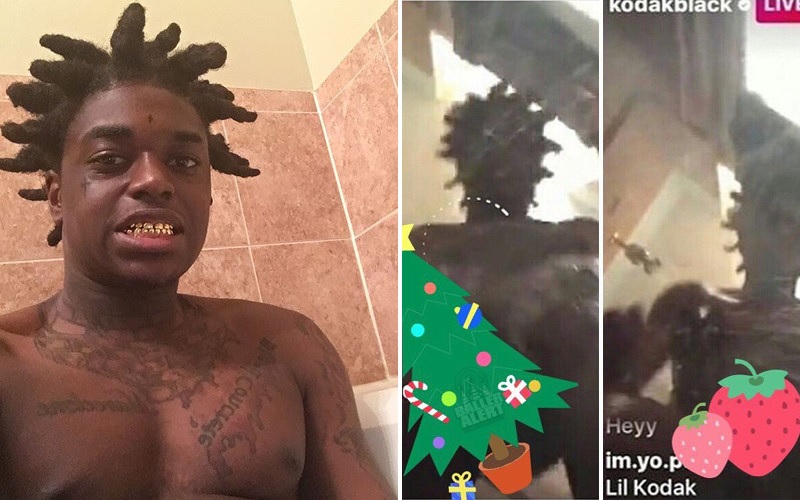 Kodak Black has been using Instagram's new live feature quite often lately. In thinking of more creative ways to use Instagram Live, Kodak thought it was good idea to connect with his fans while in the shower. Oh, but he thought wrong!
The Florida rapper was chatting on Instagram Live in the shower when his phone accidentally slipped. Those watching the stream got a peek at "lil Kodak" as the phone landed face up and the rapper bent down to pick up his phone.
https://twitter.com/iDailyRapFacts/status/813907508351766528
Screen caps of the NSFW IG live session quickly began to circulate online and let's just say, social media wasn't too impressed. Kodak and his private parts became the subject of hilarious memes and jokes.
https://twitter.com/IAmBobJohn/status/814177377467170821
— Ryan Syed (@RyanSyedd) December 28, 2016
Rain drop
Drop top

Kodak dropped his phone streaming live and everyone seen his beebop pic.twitter.com/sCbscIR2d8

— Daniel (@MyFavsTrash) December 28, 2016
"Rain drop, drop top this nigga kodak dropped his phone in the shower and showed his cock cock" #KodakBlack ????

— 7forever ? (@ne0slut) December 28, 2016
https://twitter.com/KyySaucin/status/813973408627261440
Kodak Black: I think I'm gonna get on Instagram Live while I take a shower today

Phone:

— Dat Guy ? (@Boss_TheMan) December 28, 2016
https://twitter.com/mr_gwiyomi/status/813935685992255488
Ending the year with the biggest L from #KodakBlack ?, Never live stream in the shower ! ??

— ? (@Yurnightmares) December 28, 2016
https://twitter.com/GawdTrill/status/814081367818371072
Kodak a disgrace to Haitian men cause they be slangin ?? https://t.co/AA9fkz8pK1

— Jaël????? (@chanellbabyyy) December 28, 2016
— Dee?? (@DEEJ0UR) December 28, 2016
Kodak responded to the Twitter memes, but was not too hard pressed about being the butt of the joke. He even believes he gets the last laugh.
Lol I Got All You Niggas Ol'Ladies Zooming In Tryna See My "Lil Kodak"

— Kodak Black (@KodakBlack1k) December 28, 2016
Kodak Black was released on bond in early December after spending months in jail facing criminal sexual conduct charges. While he may be enjoying his freedom, the rapper had to learn the hard way the some things never need to be shared.
Be the first to receive breaking news alerts and more stories like this by subscribing to our mailing list.