Is he, or isn't he? This simple questioned has plagued Shemar Moore for most of his career. But he still wants you to know, he definitely isn't.
Shemar Moore, once again, is addressing speculation regarding his sexual orientation. During a recent Q&A with BET, the 46-year-old shot down rumors that he is gay by emphatically stating he loves women. And if you don't believe him, he says "send your girlfriend over to my house."
"I just think it's all silly. If you're gay, you're gay. I'm not, and I know that and I'm very comfortable with who I am and I love women. I've dated plenty of them. If you think I'm gay, send your girlfriend over to my house for the weekend and see what happens. For real."
Don't mistake his disdain for the rumors as homophobic. He appreciates his gay fans but just feels the constant curiosity regarding his own sexuality is "simpleminded ignorance."
"I have fans that are gay, men that come up to me, and they're inspired by me, or they like me as an entertainer, and when they want to give me a hug or take pictures with me, what, am I supposed to not put my arm around them or stand next to them, and if the man next to me in the picture is gay, that makes me gay? That's just simpleminded ignorance, and I don't play that."
The hunky actor has faced gay rumors for several years, and had spoken out against them multiple times this year alone.
Back in March, a photo with a fan, seemingly in an LGBT club reignited the gay rumors. He addressed the issue on Instagram writing:
"Awwwwwww sh*t…. Let the controversy begin!!! I love him.. I hate him.. He's straight.. He's gay… He's sweet.. He's arrogant… Well, I would just like to say I LOVE women and life and people!!! I do not discriminate or allow people to feel small."
https://www.instagram.com/p/BCT1aFsLgyu/
The former Criminal Minds star's sexuality was put into question again in June after he posted a photo of himself carrying a male friend on his shoulders.
https://www.instagram.com/p/BHATJOWrgxA/
He responded to this via an Instagram video, calling out his haters that like "throwing shade."
https://www.instagram.com/p/BHBcACADBJC/
I have never been one to assume or assign a person's sexual orientation. However, Moore is extremely flirty during public appearances and seems to be comfortable with his own sexuality. While I wouldn't be quick to label him gay, I also wouldn't be shocked to learn he's… "sexually fluid," if you will.
That's to say, he may not have had a sexual experience with someone of the same-sex, but the possibility at some point down the road might not be out of the question, given how sexual/flirty he presents himself.
That flirtatious side was on full display during his December 11th appearance on Watch What Happens Live! with fellow guest, Phaedra Parks. A caller asked the newly divorced Phaedra what kind of man she was looking for, when Moore pounced on the opportunity to kiss the Atlanta Housewife and nuzzle her neck.
The two also did a little more. Blame on he alcohol, he said.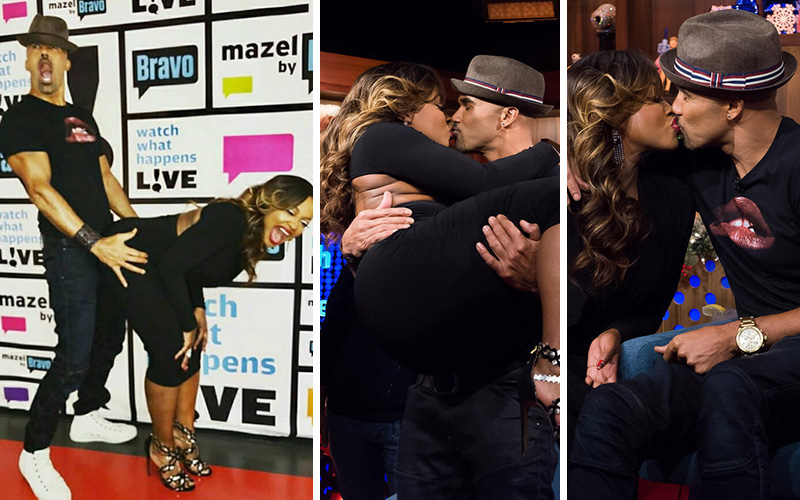 Maybe all the smooching he gave Phaedra and constantly gives to other random women he meets will help squash the rumors. But, one more time for the record, Shemar Moore is NOT gay! At least, that's what he says.
Be the first to receive breaking news alerts and more stories like this by subscribing to our mailing list.