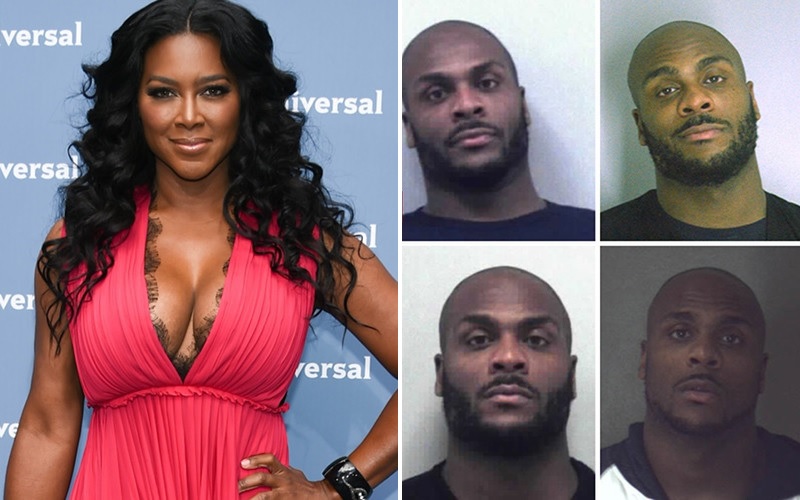 The war of words between Kenya Moore and Matt Jordan is beginning to get real ugly. It's been just over a week since Matt exposed Kenya as a liar on Instagram and now, the Atlanta Housewife is returning the blows.
In an Instagram rant last week, Matt insinuated Kenya was just using their relationship as a storyline and claimed he was not the "abusive boyfriend" Real Housewives of Atlanta producers were trying to portray him as. However, TMZ recently discovered the 29-year-old has been arrested four times in 2016 alone and published all four of his mugshots.
Using the mugshots, Kenya took to her own Instagram account to defend herself from Matt's accusations and exposed all of his violent behavior she witnessed during their relationship that was not captured by a camera crew.
She wrote in part:
There were no cameras around in Mexico when the door was kicked in and police escorted him out. There were no cameras the now FOUR times my home was vandalized. There were no cameras filming when my neighbors called 911. There were no cameras filming when the Vegas hotel kicked him out for being violent and destroying the hotel room. There were no cameras around when I posted bail, paid for tickets, back owed rent to keep from being evicted…

I'm not playing the victim. I'm fighting back. I Will not continue to be abused by someone who now wants to exploit something I was accused of 5 years ago by a scorned lover as payback to hurt me to justify violent his behavior…

The only thing Matt is guilty of is acting a fool. Yet to continue to abuse me by claiming to be an actor is a joke…

#bitchbye #IWillNeverBeLiedOnAgain #receipts #NotToday #IAmMyOwnStoryline #HeNeededMe #BitchesBeLike #OneStoryOneTruth #RHOA
https://www.instagram.com/p/BN7GFY0jrO9/
In the latest episode of RHOA (aired Dec. 11), things got extremely heated after Matt broke Kenya's glass garage door (off-camera) because she refused to let him in the house.
"What you're trying to tell me is that 'Oh Kenya you're responsible for me breaking your garage.' The next thing it will be 'Kenya, you're responsible 'cause I whipped your ass.'"
Fed up with Matt's violent outbursts, Kenya told Matt, "If I wanted to f**king bury you, I could." And it looks like she delivered her biggest blow yet with this IG post.
Even though I truly believe Kenya either used Matt for a storyline or because she's desperate for a man (maybe both), it's also very clear that Matt is overly aggressive, at the least. The relationship has been volatile for months and Kenya shouldn't have to subject herself to that type of abuse/aggression.
Its definitely time for the two to part ways and never look back.
Be the first to receive breaking news alerts and more stories like this by subscribing to our mailing list.