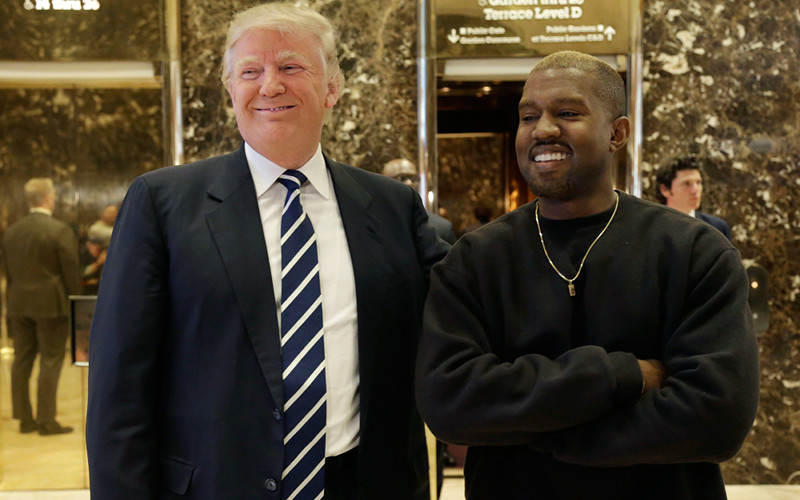 President-elect Donald Trump has no time for intelligence briefings, but he apparently has time for Kanye West. The recently hospitalized rapper shocked the media and Twitter today after arriving at Trump Tower for a meeting with the President-elect.
Making only his second public appearance since being released from the hospital, Kanye caught everyone off guard as he entered Trump Tower to sit and chat with Trump. Many were not sure what to make of the unexpected meeting.
Kanye (and entourage) arrives for a meeting at Trump Tower. Real life. pic.twitter.com/W9PQDgfQmg

— Tal Kopan (@TalKopan) December 13, 2016
Kanye eventually took to his own Twitter account to explain his visit to Trump Tower. Amongst other things, he says he wanted to discuss "multicultural issues" with the president-elect.
https://twitter.com/kanyewest/status/808767333065981956
https://twitter.com/kanyewest/status/808768768906235908
https://twitter.com/kanyewest/status/808769046208532484
Even more perplexing is that it seems Kanye is willing to give Trump 8 years, as he appears to push back his own presidential run until 2024.
https://twitter.com/kanyewest/status/808769227847036941
Following their meeting, the two briefly spoke to press in the Trump Tower lobby. "He's a good man. We've been friends for a long time," Trump said of Kanye. He says their conversation was about "life."
Kanye did not engage with press at the time, stating "I just want to take a picture right now."
"We've been friends for a long time": Kanye West and President-elect Donald Trump appear together at Trump Tower https://t.co/o1rQ4tF0NU pic.twitter.com/BPbpibiJPr

— CNN (@CNN) December 13, 2016
It's been reported that Trump is having a hard time booking A-list performers for his upcoming inauguration. Days prior to his "psychotic episode," Kanye revealed onstage that he would have voted for Trump had he actually voted in the 2016 election. Some assumed the meeting meant Kanye was being tapped to perform at the inauguration. Which, honestly, still might not be out of the question.
With Kim Kardashian's robbery and his nervous breakdown, the rapper has seriously been going through it these past few months. Dealing with mental health issues is no joke, so I initially was willing to let this go. But Twitter let him have it!
America at the start of 2016. America at the End of 2016. pic.twitter.com/2N8l5WJriv

— Ol' QWERTY Bastard (@TheDiLLon1) December 13, 2016
https://twitter.com/brxdthomas/status/808799841132417024
https://twitter.com/1800SAMIYAH/status/808792496172105728
Kanye is transracial..:it all makes sense now pic.twitter.com/DDNtx4itsX

— Velvet (@TheVelvetRope__) December 13, 2016
I miss the old Kanye.
The bad mood Kanye.
The always rude Kanye.
I hate the new Kanye
The Trump-Pence Kanye
Sit on the fence Kanye
Etc.

— Jules Howard (@juleslhoward) December 13, 2016
https://twitter.com/drugproblem/status/808775656771375104
Trump has to nominate Kanye for a cabinet post just so we get the spectacle of Kellyanne Conway defending a song called Black Skinhead

— Astead (@AsteadWesley) December 13, 2016
Kanye can post all those empty tweets all he wants, but he met with Sunkist Stalin to go beg for more white validation per his usual.

— Michael Arceneaux (@youngsinick) December 13, 2016
Is Kanye West for real, for real cancelled or is there hope the musical genius can find his way back? You know what, I blame the Kardashians!
Be the first to receive breaking news alerts and more stories like this by subscribing to our mailing list.