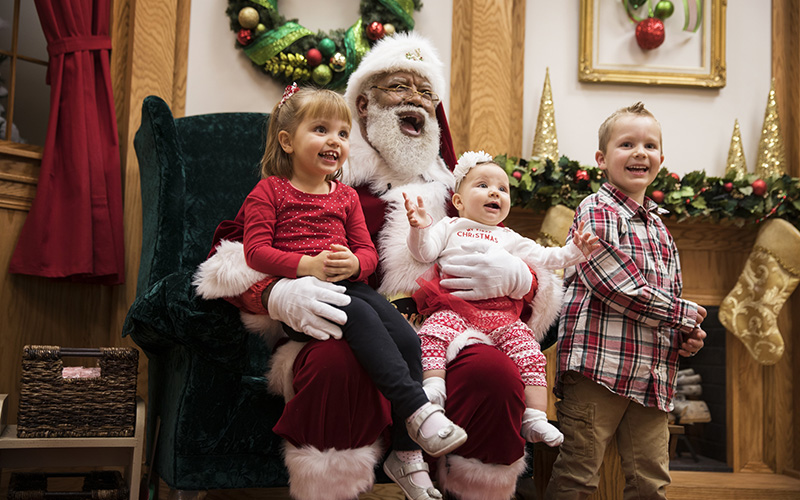 Just like Jesus, Santa Claus is white! Well, at least according to the racists that will argue until they're blue in the face that the fictional character is not, cannot, and will never be black or any other race/ethnicity.
The internet flooded with white tears as news spread that Mall of America had hired its first black Santa ever.
Army veteran Larry Jefferson is the perfect person to bring holiday cheer to children and families visiting the largest mall in the U.S. He has portrayed a version of Santa Clause since he was 12 years old, attended a "premiere Santa school," and is a member of the Lone Star Santas, a volunteer program that brings toys to children whose families have been affected by natural disasters.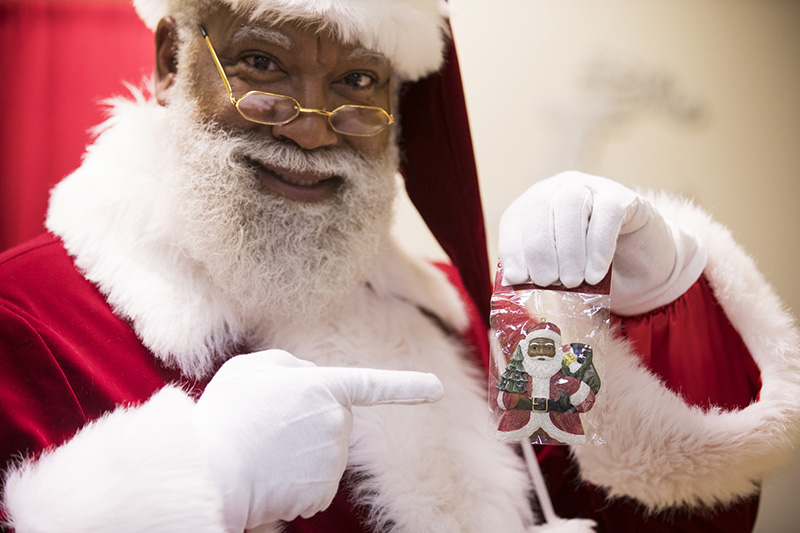 Jefferson tells the Minneapolis Star Tribune:
"I want to help inspire them to think good things about Santa, about the world in general: hope, love, peace, caring. It's about meeting the people and listening to them and making them smile and laugh."
Santa Larry needs to slow his roll with all that "hope, love, peace, and caring" stuff because, apparently, such holiday cheer can only be spread by a white Santa. The Star Tribune had to turn off the comments section on their article covering Mall of America's first black Santa due to racist and offensive remarks.
However, this didn't stop the white tears and racist rhetoric from infecting other news outlets covering the story.
Via CBS Minnesota affiliate comments: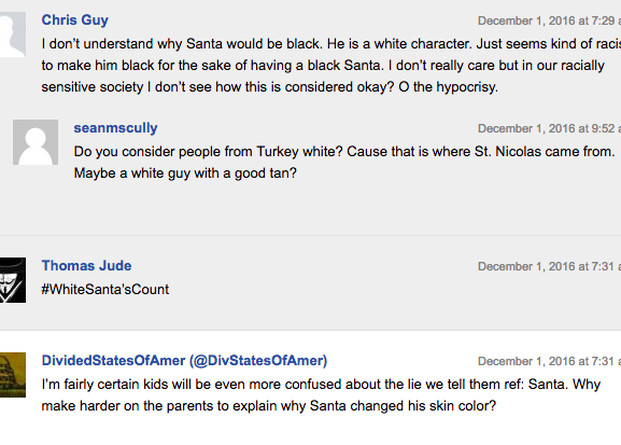 "I clicked on this story fully expecting that they picked a Somali to play Santa. That would be fitting for Minnesota. Have a radical Muslim who hates America and the western world play Santa. Give him a gun and some knives under his red suit and when the little Christian children come sit in his lap, he can cut their throats."

"Tell me why a white Santa can't be for everyone?"

"Because St. Nicholas is white. And the big deal is the double standard. White people get stabbed by blacks for cultural appropriation, last I checked they claimed to have a monopoly on hair braiding so keep their hands off Santa."
Some comments were fueled by hate, while some people blamed affirmative action for Jefferson's hire and claimed a black Santa was a form of "cultural appropriation."
(I'm still waiting for someone to explain how you culturally appropriate consumerism.)
Many compared a black Santa to white people portraying black people, again completely ignoring the fact that Santa Claus is a fictional character!
"I guess you could tell your kids he is an elf," one Yahoo News commenter wrote. Is that a slave reference?
Via Yahoo! News Comments:
And you know Twitter hates to be left out of any movement:
https://twitter.com/RepPeasant/status/804776926757916672
if the Santa was black from the start and they changed it to a white Santa, that's be racist tho. What a damn joke

— Tommas Rockstroh (@rockstroh89) December 2, 2016
https://twitter.com/JobianKenobi/status/804807521307242496
and I'm sure next year it will be the first one Islamic santa being Minnesota is overrun by Muslims

— patrick (@boater195) December 2, 2016
Despite the overflowing white tears, the Star Tribune tweeted out photos of the happy children taking photos with Santa Larry, the black Santa Claus.
For the first time in Mall of America's 24-year history, a black Santa greets families for Christmas photos https://t.co/TJ90SkjZLP pic.twitter.com/gNlXJh9ZKj

— Star Tribune (@StarTribune) December 2, 2016
It's easy to go from anger to laughter after reading this ridiculous story. It's almost unbelievable that white racists are really outraged over a fictional character's race being changed to anything other than white. I mean, what are kids in Asian, African, and other predominantly non-Caucasian countries supposed to do. Wait until a white man from Kansas can "save the day?" I'd rather have Santa Larry!
Racists can stay mad. I hope Mall of America and other malls across the US continue to hire black Santas!
Be the first to receive breaking news alerts and more stories like this by subscribing to our mailing list.