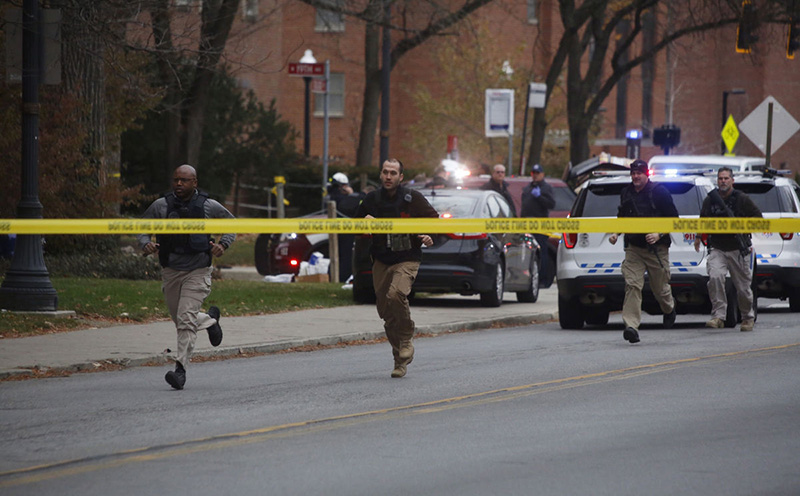 At least ten people have been injured and a suspect has been killed during a horrific "car-and-knife attack" that happened at Ohio State University Monday morning (Nov. 28).
The incident was initially reported as an "active shooter" situation, however, officials later confirmed that there was no shooting, and the suspect instead crashed his car into a crowd and attacked people with a knife.
A police officer was on the scene within one minute and reportedly shot and killed the suspect, whose name has not been released, but officers are saying he was a student of Ohio State University and a Somali refugee who was a legal resident of the United States.
The motive is currently unknown, but officials are saying the attack was intentional and may have been planned in advance.
Here are some things you need to know about the Ohio State University "car-and-knife attack":
1. Ohio State University emergency services initially warned their students of an "active shooter on campus," but it was later revealed that the suspect used a car and a knife to carry out his attack.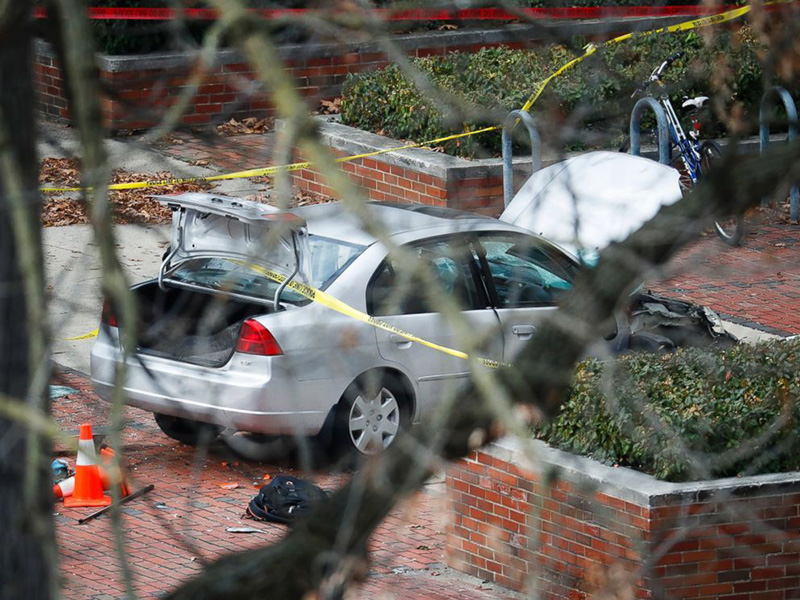 A tweet from @OSU_EMFP (OSU Emergency Management) just before 10 a.m. stated that there was an active shooter at Watts Hall, a "materials science and engineering" building, and urged students to "run, Hide, fight."
Buckeye Alert: Active Shooter on campus. Run Hide Fight. Watts Hall. 19th and College.

— OSU Emergency Mngmnt (@OSU_EMFP) November 28, 2016
Witnesses say police were quick to respond to the "active shooter" reports and arrived on the scene within one minute. The campus, where over 65,000 students are enrolled, was immediately placed on lockdown.
OSU sophomore Jacob Bowers told reporters he was sitting on a bench about 100 feet away when he noticed the chaotic scene of people running for their lives.
"Then I heard someone yell, 'He's got a knife.' And I saw a guy with a big-ass knife just chasing people around. When I saw that, I grabbed all my stuff and started running," Bowers told NBC News affiliate WCMH.
Bowers said when he looked back he saw a police officer on the scene who yelled to the suspect, "Drop it and get down or I'll shoot" before firing. "The man was going insane," he said.
According to some witnesses, a fire alarm sounded, causing people to clear the building, then a car came along and started hitting those who evacuated. The person in the car got out and began randomly stabbing people with a large butcher knife before being shot and killed by the officer.
2. Students and campus officials barricaded themselves in classrooms.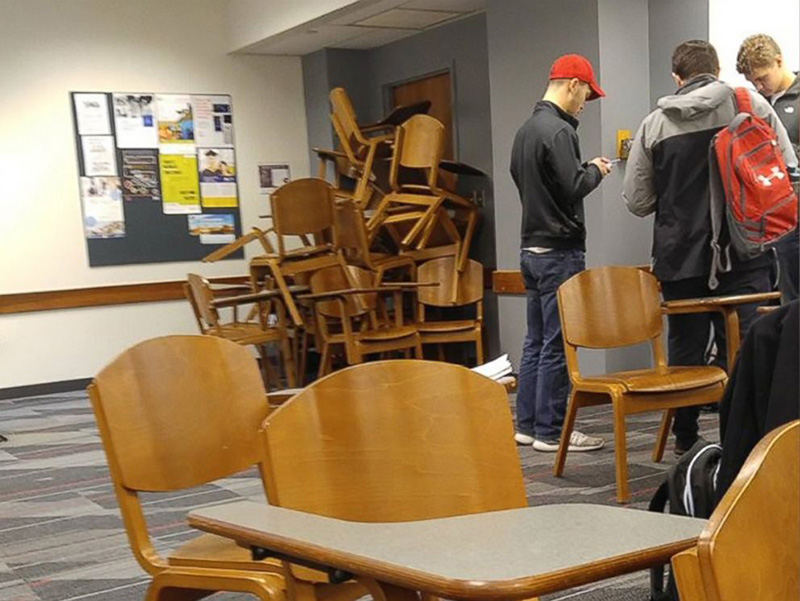 Immediately after the "active shooter" warnings were sent out to students via social media, text messages and e-mail, some students took precautionary measures by barricading themselves in classrooms. One student, Harrison Roth, tweeted, "I'm safe in a barricaded room. If you're on campus, get in a room and stay safe."
https://twitter.com/eliseantony/status/803270552211296257
Another student, Elise Antony, also tweeted a photo of a classroom she was in barricaded by desks and chairs. "Thankful. Please keep Ohio State in your prayers," she wrote.
Ohio State University students used chairs to block a classroom door after reports of an attack on campus https://t.co/EHdzcXGXlu pic.twitter.com/f5g7rtEqRE

— CNN (@CNN) November 28, 2016
Kendrick Price, an academic adviser at OSU told ABC News he ran to his second-story office window upon hearing screams. When he looked out, he saw someone (the attacker) running toward police before being shot multiple times.
3. The attacker was reportedly an OSU student and Somali refugee.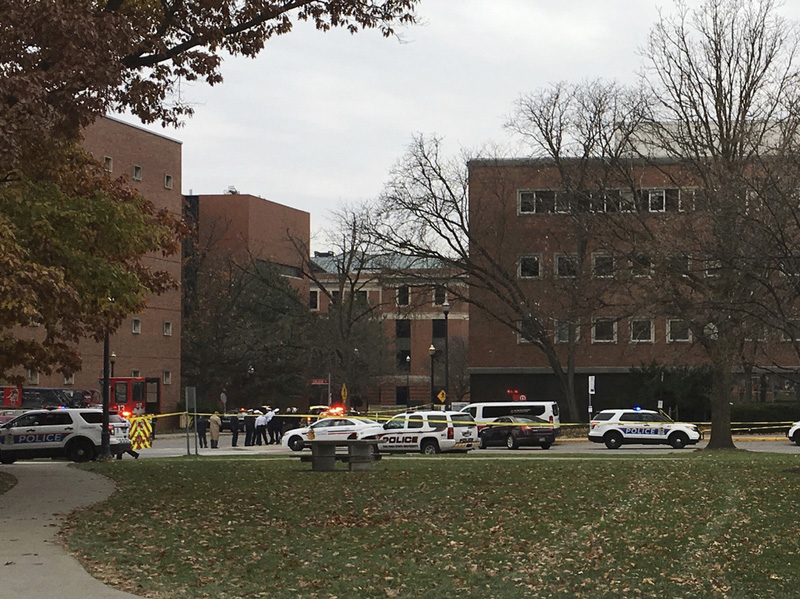 Early reports indicate that the attacker was a student of Ohio State University and a refugee from Somali who was a legal United States resident. His name has not yet been released, and some reports state he was 18 years old, while others are saying he was 20.
Columbus Police Chief Kimberley Jacobs said that terrorism hadn't been ruled out. "That's why our federal partners are here and helping," she said. "We had an attack earlier this year with a man with a knife causing multiple injuries. So we're always aware that that's the potential. And we're going to continue to look at that."
Student Jacob Bowers explained the chaotic scene to CNN: "He pulled a large knife and started chasing people around, trying to attack them. Luckily there were so many people, he couldn't focus on one target. I didn't see anyone get stabbed, but I saw the police officer take down the stabber. He waited 'til everyone was clear, and the stabber clearly wasn't stopping. (It) took three shots to take him down. (The) stabber had a crazy look in his eyes."
One student tweeted a photo of the attacker immediately after he was shot dead by the police officer.
https://twitter.com/_bennybeatz/status/803255261846761478
https://twitter.com/_bennybeatz/status/803258835670470658
4. Hospitals treating patients from the OSU attack said none of the injuries were life threatening.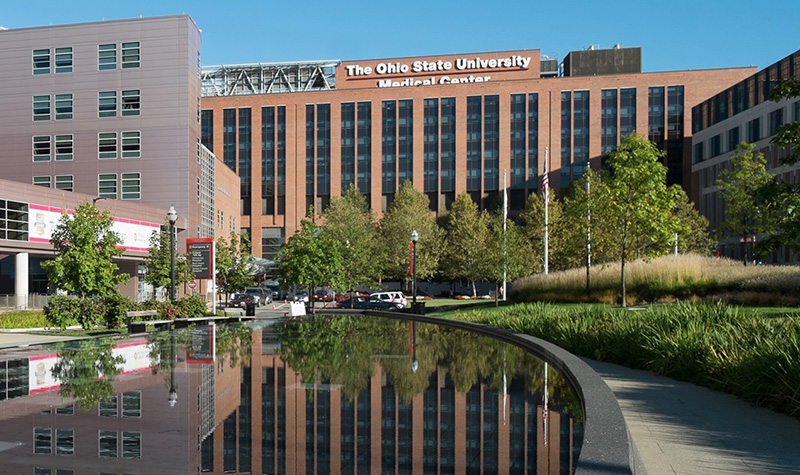 The best news to come out of the situation is the fact that none of the injuries sustained were life threatening, according to the hospitals treating the victims.
BREAKING: Hospitals say they are treating 8 patients from Ohio State University attack, none have life-threatening injuries.

— The Associated Press (@AP) November 28, 2016
Eight people were hospitalized following the attack with non-life threatening injuries, the Associated press reported.
"A suspect has been shot and reported deceased," the university said in a statement. "Victim injuries include stab wounds, injury by motor vehicle and other injuries that are being evaluated."
Four people were being treated for non-life threatening injuries at OSU's Wexner Medical Center, hospital spokeswoman Sherri Kirk said.
Two people were taken to OhioHealth Grant Medical Center, and two others were taken to OhioHealth Riverside Methodist Hospital.
5. OSU classes have been cancelled for the rest of the day.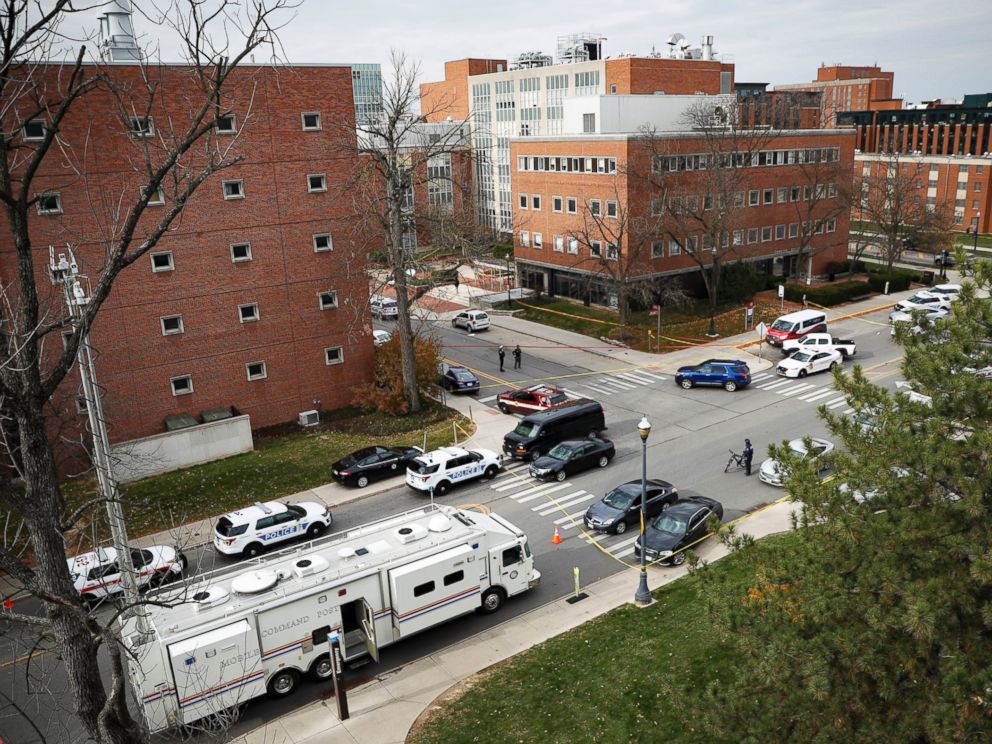 About an hour-and-a-half after initial tweets warning students of the attack, Ohio State officials said that the lockdown warning had been lifted and the scene was secure, but classes would be canceled for the rest of the day.
As far as enrollment is concerned, Ohio State University is considered one of the biggest colleges in the country, with over 65,000 students.
Monday was their first day back to classes after Thanksgiving break and after the OSU Buckeyes' football teams' big win Saturday over their rival school, University of Michigan.
The athletic department for Michigan tweeted their support for OSU students, urging them to "Stay safe."
Stay safe, Buckeyes.

— Michigan Athletics (@UMichAthletics) November 28, 2016
OSU students were also reportedly preparing for final exams, which begin next Friday (Dec. 9). It isn't known when classes will resume.
Be the first to receive breaking news alerts and more stories like this by subscribing to our mailing list.